College Athletics: A New Age Pangaea
September 19, 2011
Andy Lyons/Getty Images
Pangaea: A supercontinent believed to have once connected nearly all of the earth's landmasses.
A concept we learned about in some history class in grade school, Pangaea occurred nearly 200 to 300 million years ago. That's a long time ago. Yet, somehow one of sports' biggest entities, NCAA Division I athletics, is going backward, reverting to a Pangaea of its own after years of separation.
The age of superconferences is rapidly coming full steam ahead. The Pac-10 and Big 10 expansion was just the beginning, as most of us knew. Syracuse and Pittsburgh are the latest jumpers, bringing a Northeastern flair to Tobacco Road. But as evolution and natural phases of the earth broke up a large mass, college football is bucking that process—and it sure as heck doesn't feel natural.
When that one large continent broke into a bunch of different ones, they developed their own cultures, ways of life based on unique factors like geography. College athletics' unnaturally greedy presidents and conference commissioners are doing just the opposite, bringing their geographically misaligned, culturally different entities together.
Conferences are going from 10 to 12 to 14 and there's no reason to think they'll stop there. Decision-makers in college athletics now act under the pretense that bigger means better and the grass is always greener on the other side. But as we all know, those clichés are often quite false.
As we move closer to the age of the superconference dawning, the traditions that those in power claim to so badly cling to are on the brink of being all but erased.
Syracuse is leaving the Big East. The Orange are Big East basketball, a founding member in 1979 and the life-blood of the conference's rivalries.
So much for those traditions. No more Georgetown vs. Syracuse games that draw the Carrier Dome's biggest crowds and most fervent ire.
It's cafeteria traditionalism in college athletics. We're told the antiquated BCS and bowl systems must be preserved, because they are so deeply woven into the fabric of college football.

Please, let's cut the B.S. Just be honest with fans and observers. Your system is driven by one factor: the ever-powerful dollar sign.
Each and every year we hear nonsense about how the bowl system is so seeped in tradition. Because when you think of years and years of college football history the TicketCity or Beef 'O' Brady's Bowl are the first images that come to mind.
Even the games that actually do hold onto some of their tradition are going to see it washed away. Nebraska vs. Oklahoma, a possible superconference Rose Bowl, is a Big 12 Championship game, not the traditional Big 10/Pac 10 matchup that purists want to preserve.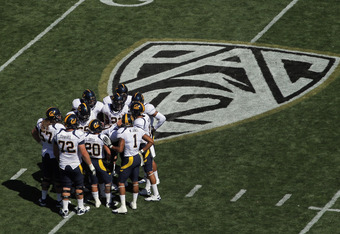 Doug Pensinger/Getty Images
ACC Commissioner John Swafford said about the latest additions:   
"We just felt that right now this was in our best interest," Swofford said. "I don't think it's really a reaction to that, although in a subtle way, when you look over the past year or so and see the movement with the Pac-12 that could potentially have gone further, the Big Ten expanded, the SEC expanding, that all comes into play -- not necessarily in a measurable kind of way, but our interest is always about what's best for us."
To make that more concise for you: We'll make more money. All the verbose language spewed out at these expansion press conferences is a façade for that one motivating factor. Lost in all that verbiage is that the real loser in this process is college basketball.
The NCAA Tournament is about to lose some of its novelty when an Elite 8 has six teams from the same conference, the cachet of unfamiliar opponents evaporated. Big East basketball, as we knew it, is all but dead.
Four of the most exciting back-to-back days on the hardwood at the Garden, which have produced some of the sport's most memorable moments (see: Syracuse/UConn 6OT), are about to become a shell of their former self.
More notable, though, is one of the major reasons Syracuse and Pittsburgh left the Big East and UConn and Rutgers may be next.
It got too big.
"The Big East has too many good teams, is too big and 18 [conference] games . . . is way too many games to play. And when we add two more schools, that's going to be fun -- a 20-game schedule," said UConn head coach John Calhoun in a post-game press conference this past season.
That's right…too big. A conference is about to break apart, just as the Pangaea did, because it was just too damn big. The backwards part of it all is that the really big Big East didn't work but everyone is following that lead.
The college athletics Pangaea is forming and nothing's going to stop it. So get ready for some eye-popping conference showdowns like Boise State vs. South Florida—in the Big East. Unusual potential bedfellows in an unnatural evolution.