Eagles vs. Falcons: 5 Things We Learned from the Philadelphia's 35-31 Loss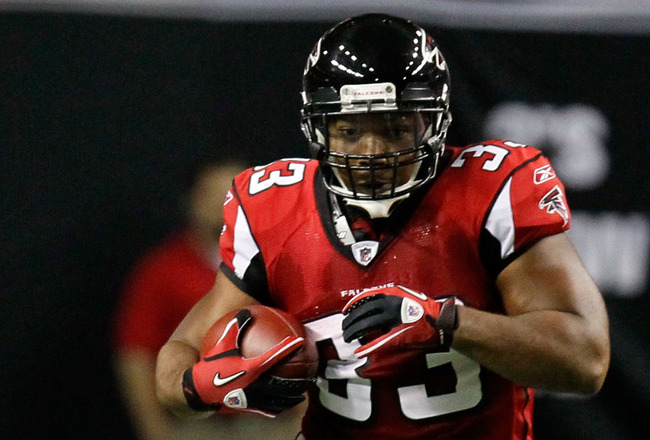 Kevin C. Cox/Getty Images
The Eagles dominated the Falcons Sunday night. Matt Ryan was held under 200 passing yards and Roddy White had just 23 receiving yards. The Eagles outgained the Falcons by 129 yards but still fell short in the end.
Michael Vick took a beating and was knocked out with a neck injury in the third quarter despite never being sacked.
It is still unclear if either Vick or Vince Young will be able to start next week against the Giants. Mike Kafka did a good job in relief of Vick, completing seven of nine passes, with the final pass being dropped by Jeremy Maclin.
Both teams came into the season as serious contenders in the NFC and they didn't disappoint. It's still clear that both teams still have a lot to work on, but it's very likely that these two teams will meet again come playoff time.
Eagles Still Suffering from Red-Zone Woes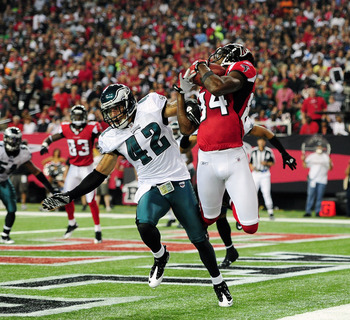 Scott Cunningham/Getty Images
The Eagles were in position to not just win this game, but win it convincingly. The red zone bit the Eagles in the butt once again, on both sides of the ball.
The Eagles and Falcons both drove inside the 20 five times. The Eagles scored three touchdowns, one field goal and a fumbled handoff that led to a Falcons red-zone touchdown. The Falcons scored a touchdown on all five red-zone trips. That was the difference in the game.
Four less points on any of those drives would have set the Eagles up for a tie-breaking field goal on their final drive, which instead resulted in a turnover on downs.
Last season the Eagles couldn't stop anyone in the red zone, and that seems to be the case this season once again. Until that changes, the Eagles won't be able to bring home the Lombardi Trophy to Philadelphia.
The Ealges Front Four Is Just Plain Nasty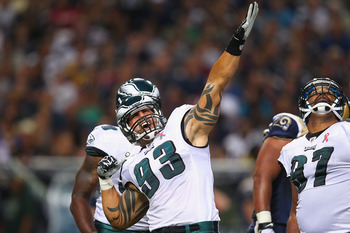 Dilip Vishwanat/Getty Images
The run defense was still a bit shaky at times, but the pass rush was relentless. The Falcons offensive tackle duo of Sam Baker and Tyson Clabo looked helpless against Trent Cole and Jason Babin.
Cole was especially dominant, racking up six total tackles and one sack. Those numbers don't even begin to do him justice.
Babin and Cole each had one sack while Cullen Jenkins had two sacks. That's four sacks tonight, and now nine total for the Eagles front four through the first two games.
It is clear that the pass rush will be a major strength for the Eagles defense this year. This will be a focal point for the New York Giants game plan going into Week 3.
Jason Peters Has Gone from Great to Dominant Under Howard Mudd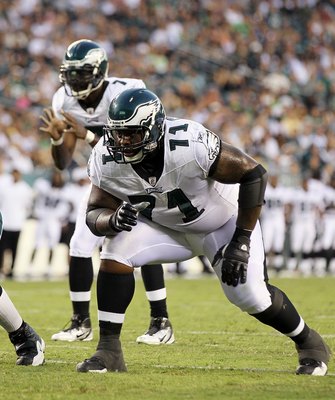 Jim McIsaac/Getty Images
Jason Peters was already an All-Pro before Howard Mudd was hired as the Eagles' new offensive line coach this season. Peters is already taking his game to a rare level in just the first two weeks of the season.
Peters dominated Ray Edwards for much of the night and attacked upfield on screen plays as well. It's safe to say that whoever Peters took on Sunday night had no impact on that play.
Jason Peters is becoming the best tackle in the NFL under Howard Mudd. His play makes everyone's job on the offensive line that much easier. Expect more screens on Peters' side next week.
The Eagles Corners Are Scary Good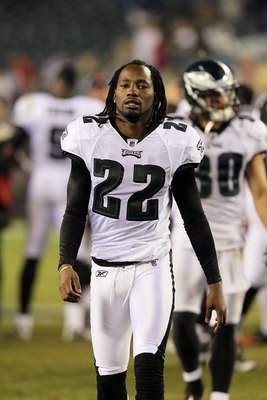 Jim McIsaac/Getty Images
The Eagles had absolutely no answer for Falcons tight end Tony Gonzalez, but the Falcons wide receivers were shut down for the most part by the super cornerback trio of Nnamdi Asomugha, Asante Samuel and Dominique Rodgers-Cromartie.
No Falcons wide receiver had a catch for at least 20 yards all night. Both Samuel and Asomugha both had picks and Rodgers-Cromartie played well on a hurt ankle. Roddy White and Julio Jones were held to just 52 receiving yards.
Matt Ryan was held to less than 200 passing yards in the same week where Cam Newton threw for over 400 yards, again. The corners took away the deep ball and also locked down the receivers on short passes.
The corners will get another good test against the Giants receivers in Week 3.
It's Not Overblown: Michael Vick Can't Take This Many Shots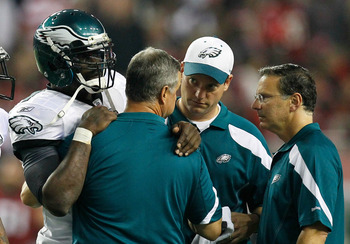 Kevin C. Cox/Getty Images
Michael Vick took 21 hits against the Rams in Week 1, and he took even more against the Falcons, despite not taking a single sack.
Vick went down in the third quarter with a concussion. It's unclear if either Michael Vick or Vince Young will be ready for Week 3.
Vick has to learn to help himself in order to limit the number of hard shots he takes during the course of the season. He needs to learn when to throw the ball away and when to take off under duress.
Vick still panics and throws into double coverage when under heavy pressure. The better Vick can handle the blitz, the fewer shots he will take.
Keep Reading

Philadelphia Eagles: Like this team?