UFC 135 Fight Card: Is Jon Jones Looking Past Rampage Jackson?
September 18, 2011
In less than one week's time, Jon "Bones" Jones will defend his UFC light heavyweight championship belt against Quinton "Rampage" Jackson in Denver, Colo.
The aging Rampage will look to defeat the young phenom in Jones at UFC 135. Considering the age of Jackson and the abilities of Jones, one may wonder if the current champ is looking past Rampage.
Jones was thrust into the limelight and bestowed mega-star success in just seven UFC fights. Transforming into more of a fable than an actual fighter, the accolades and admiration provided to the young "Bones" is typically warranted for those with more experience and Octagon dominance.
Rampage Jackson is no stranger to the big stage. Battling for years within the Pride Fighting Championships and now in the UFC, Jackson has engaged in memorable fights with Wanderlei Silva, Chuck Liddell, Rashad Evans, Dan Henderson and Mauricio Rua, just to name a few.
Considering that Rampage has been fighting since 1999, Jones and his camp may fall into the trap of looking past Jackson as a worthy adversary come this Saturday.
That point could not be further from the truth.
Quinton Jackson is known for two things within the fighting industry. First, his in-cage abilities are exceptional. Possessing raw power and a very gifted skill-set that has made him relevant for more than a decade, Rampage is still very lethal inside the Octagon.
Jackson is also known for his self-promotion, entertaining interview decorum and verbal attacks of his opponents outside of the Octagon.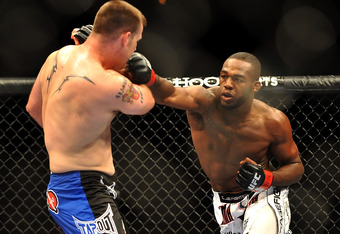 Jon Kopaloff/Getty Images
In a story that broke on August 30 on MMAJunkie.com, Jackson planted a seed of contempt in the mind of Jones claiming that "Bones" planted a spy in his training camp.
A brilliant tactic by the veteran, Jones was rendered to defend himself of these allegations, distracting him from his overall goal of preserving his championship.
Firing back in a story provided by MMAFighting, Jones responded by saying, "Just so you know, I'm not a person who looks for shortcuts in life. Unlike you, MMA is not something I do because of money. It's a way of life for me and I would never disrespect the integrity of that."
Further adding fuel to the fire, Jackson retorted to Jones's statement with a Tweet of his own.
"Yeah I keep it real, I fight 4 $ cause I hate training, but I love giving ass whoopins, and ill b giving 1 on the 24th, btw grow up!," Rampage posted.
Most recently, the feud between the two light heavyweights continued during their interview with Joe Rogan at UFC Live 25.
Firing the first shot, Jackson stated, "On the 24th, he's [Jon Jones] going to be watching the lights from on his back."
Attempting to remain out of the verbal bashing, Jones did slip in his own zing or two against Jackson during the interview.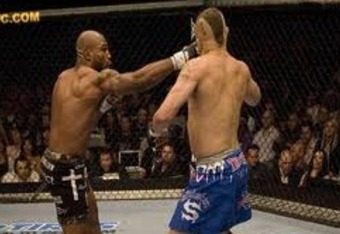 "While he's playing video games, I'm watching him," Jones said to Rogan regarding continued allegations of a spy in Jackson's camp.
As this verbal war outside of the Octagon ensues, do I believe that Jon Jones is looking past Quinton Jackson?
Absolutely not. How could he? Jackson does not provide Jones with a moment of peace during the pre-fight interviews and publicity leading up to this main event.
In retrospect, I can only assume that Jones is not looking past Jackson and is in fact more motivated than ever to shut Rampage up with a beating inside the Octagon.
Whether or not Rampage can back up his words is left to be seen.
And whether or not Jones can successfully defend his championship against Jackson will be determined that Saturday at UFC 135.
What is certain, however, is that the press conferences involving these two competitors will be full of sound bytes and entertaining material for the media.
I welcome your comments.
You can "Like" Todd Seyler on Facebook and Follow me on Twitter