New York Jets vs. Jacksonville Jaguars: Halftime and Postgame Commentary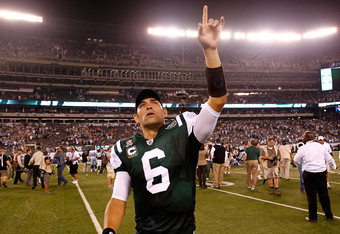 Jeff Zelevansky/Getty Images
Jets 32, Jaguars 3 (final score)
Entering Week 2 of the 2011 NFL Season, "The Miracle Jets" will host the Jacksonville Jaguars in a battle of two 1-0 teams.
The Jets, of course, produced an opportunistic comeback at home last Sunday night against the Cowboys, turning two Tony Romo turnovers into points, and icing the game with a 50-yard Nick Folk field goal (final score 27-24).
In Week 2, the Jets face a Jacksonville team that edged out the Titans 16-14 at home last week, shutting down running back Chris Johnson with a motivated and revamped defense. The Jaguars are trotting Luke McCown out at quarter back, after surprisingly parting ways with veteran QB David Garrard just before the season.
The Jets main goal in this game will be stopping RB Maurice Jones-Drew, who is fully healthy from off-season knee surgery and is coming off a 97-yard, one TD effort. On offense, the Jets MUST get the running game going after mustering just 45 yards on the ground against Dallas.
Can the Jets pull off another close victory? Can they cover the generous -9 spread the Vegas odd makers have bestowed on them? (For anyone participating in "legally sanctioned" gambling activity, I like the Jaguars to cover in this one. Let's say, 27-20 Jets.)
This live blog will provide commentary at halftime as well as after the game. Here we go!
5 Awards:
MVP - Antonio Cromartie. I've discussed it already, but lets just look at the bottom line (the statline). He had 2 picks (one a pick six that was called back) for 63 total return yards, as well as 2 returns for 85 yards. Huge day for #31.
Goat- Plaxico Burress. Dreaded goose egg for the Week 1 star. It doesn't spell doom for the Jets, or Plaxico for that matter, but his fantasy owners clearly aren't happy. Bottom line, being a no. 2 WR on the Jets isn't going to exude consistency, until proven otherwise.
Play of the game - Safety puts Jets up 9-0. I know this may sound like an odd choice, but the safety seemed to really swing things for me. I thought the Jaguars would be a lot more focused out of the gate, and looking back, I'm not sure why. Funny thing is, their opponent from last week who they beat, the Titans, pulled off a huge home upset against the Ravens. Go figure.
Breakout Player - Muhammad Wilkerson. Well obviously, the 2011 first-round pick who got the safety is receiving the honors for this one. After catching the public eye for his spat with Brandon Jacobs in preseason action, the Jets rookie hopeful made the play that set the tone of the game.
Fantasy Stud - Dustin Keller. While the fantasy TE position is deep, Keller is a player that can separate himself from the pack of mediocrity. As I previously stated his TD potential seems untapped, and the Jets still have plenty of targets when you consider the non-existence of Derrick Mason. A Top 5 finish is well beyond the realm of possibility.
5 takeways from Jets game
- Sanchez finishes 17/24, for 182 passing yards, 2 TD and 2 picks. For a game he just needed to manage, Sanchez did a good job. He added another 2 passing TD to give him four on the season, but is also up to 3 picks right now.
- The Jets running game bounces back to the tune of 110 yards. Not a monster performance, but enough to take control of this game, and Greene did his part by churning out 16 for 49 and a TD. All hope is not lost, but the Jets lack explosiveness in the ground game.
- Dustin Keller catches 6 balls for 101 yards and a TD. We've been here before; Keller scored 5 TD in the first four weeks last season, before disappearing for the rest of the year. Still, the skill and athleticism is evident in the young TE, not to mention his chemistry with Sanchez. Those invested in Keller in fantasy are hoping for a full-year of this type of production.
- The defense was stifling today, albeit going against an opponent that showed it trues colors. Jacksonville should be a mess this year on offense, especially on the passing side of the ball (rookie QB Blaine Gabbert made his debut and looked solid, going 5/6 for 52 yards). The Jets finish with 2 sacks and 4 picks on the day.
- Antonio Cromartie looked electrifying in the best way he knows how (making game-changing picks and thriving in the return game). So much is said about Cromartie, as far as the "headache" outweighing the "talent." Still, when you consider how advantageous it is to roll with an opportunistic, game-breaking CB in Cromartie, across from the most steady, shutdown guy in the league in Revis, you just can't be upset as a Jets fan. The team missed out on Nnamdi, but proved that they still employ the best CB duo in the NFL.
Jets add a FG, go up 32-2 in a true blowout.
Josh Mauga picks off McCown, for the QB's 4th into of the day. The line for McCown right now: 6/19, 59 yards, 0 TD, 4 picks
CORRECTION: TD called back. Cro glided to the left of the pile on. RB Shonn Greene leaps in for the goal line score, 29-3 Jets. Yeah, think I was wrong on that cover call.
Cromartie with the pick-six. Second pick of the game for Cro, who has also been solid in the return game. Can't understate how important it was to get this guy back after missing out in the Nnamdi sweepstakes.
TD, Sanchez to Keller. The TE now has 5 catches for 90 yards and a TD. Another hot start for fourth-year pro.
Key stats:
-The Jets have held the Jaguars to 108 yards from scrimmage (53 passing, 55 rushing), so obviously, the McCown-led Jacksonville offense has been no match for the Jets defense.
-Greene is an efficient 8 for 43 on the ground, and the Jets have total 78 rushing yards. The amount is just 12 yards shy of last week's total, so things are already looking much better on that front.
- Sanchez has two picks, and the poor decision making is why this game is only 15-3, as opposed to possibly 25-3.
The Jets lead the Jaguars 15-3 after the first half behind a stifling defensive performance. This game would be an even bigger blowout if the Jets offense ran more efficiently.
Nice into from Eric Smith. The Jets should improve in that category this season. Half-time notes coming up.
POTENTIAL HUGE INJURY: Jamaal Charles carted off the field after colliding with Lions mascot. This post is factually correct.
Elsewhere in the league, Cam Newton vs. Green Bay on his "I am not a fluke" campaign: 6/7, 90 yd, TD opening drive. Yup.
Defensive lineman Muhammed Wilkerson (who infamously beefed with Brandon Jacobs) just racked up a safety on a three-man rush. Jets riding a high wave right now.
Sanchez to Holmes for the 17-yard TD strike. That makes two TD now for the duo on the year. Holmes can post his first 10 TD season this year, easily.
Three keys to the game:
1. Blitz often and early. The Jets need to keep McCown on his toes, and take advantage of a very limited (and injured) passing opponent. The Jags have literally no one who can hit a home run.
2. Give Shonn Greene a steady dose of carries early on. The game flow and opponent wasn't ideal for "ground and pound" last week, but the Jets need to establish Greene as an early-down key, and at least give him the opportunity to amend for a weak Week 1.
3. Don't get creative by the goal line. If the Jets can successfully get the ball inside the five today, OC Brian Schottenheimer needs to not get cute and run on first and goal. The Jets should look to run again on second, and then spread things out on third. Keep it simple.
Off-topic, I just had a Chicken Francese hero (with fresh mozzarella) from a certain Italian deli in Astoria, Queens. This place should be world-known. I will post the name if Bleacher Report allows me to do so.
On the injury front, WR Santonio Holmes will play, despite being questionable with a knee injury. The Jags will be without two offensive starters, WR Jason Hill and TE Marcedes Lewis, the latter scored 10 TD last season.
It's 66 degrees in East Rutherford for today's 1 p.m. kickoff. The last time these two teams faced off in November 2009, the Jags squeaked out a 24-22 victory, winning with a Josh Scobee field goal as time expired. Jacksonville is 6-2 all-time in this match-up.
This article is
What is the duplicate article?
Why is this article offensive?
Where is this article plagiarized from?
Why is this article poorly edited?

New York Jets: Like this team?