Field Hockey
India Field Hockey: What Rajpal Singh Said, Really Meant and Definitely Did Not
Phil Walter/Getty Images
September 18, 2011
Rajpal Singh Is Victoriously Disgruntled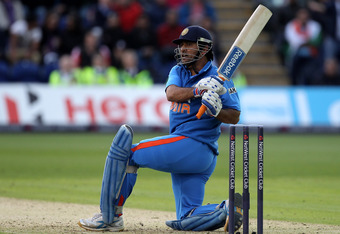 MS Dhoni: A king in comparison.
Clive Rose/Getty Images
What he said:
"Hockey players do not have shoes to wear."
Indian hockey team skipper, Rajpal Singh, is justifiably bitter about the treatment meted out to hockey players and other sportsmen. The proud Sikh was speaking to Gaurav Kanthwal of the Times Of India (TOI) News Network following the recent fiasco wherein returning triumphant players were offered a measly reward of Rs. 25,000 each for bringing home the inaugural Asian Champions Trophy.
In an earlier interview, the Indian captain slammed the revised prize money of Rs. 1.5 lakhs saying:
It was total injustice. It's not just about 18 to 20 players who go play hockey, it's about national pride, and they should have at least treated us well. Unless they encourage and motivate players, how can we promote the game? It's very disappointing. We ought to have been rewarded well... It was wrong and this is not the way to treat the national players. Such incentives will not only demotivate us.
Field hockey is the national sport of India.
Rajpal said:
Jab sponsorship ki baat hoti hain toh players ko pata hi nahi chalta hain ki kya ho raha hain. (When it comes to sponsorship, the players are clueless as to what's happening.) Even when we travel abroad the sports authority of India spends and takes care of us. We wear sponsor shirts but, pata nahi kyun. Kuch nahi milta woh shirt pehenkar. (Nothing comes of wearing the sponsor's shirt). Every player in the team's upset.
Rajpal added that the Indian hockey skipper is hardly recognised when compared to his cricketing counterpart, MS Dhoni:
Agar hum cricket ko compare kare,BCCI ko hatake aur government ki baat kare toh cricket ko bhi utna hi izzat deti jitna hockey ko. (The government should give equal importance to hockey). But when they won the World Cup, then every state government facilitated (sic) their captain. Main apni baat nahi kah raha hoon, lekin hockey team ke captain ko kabhi bhi Dhoni ki tarah dekha nahi jaata hain. (I am not referring to myself but no hockey captain is adulated like Dhoni).
What Rajpal really meant:
"Rs, 25,000 can buy no more than two pairs of decent sports shoes. There are no real sponsors."
"I wish the BCCI were running Indian hockey. They'd monetise everything."
"We're playing hockey, not hooky."
What Rajpal definitely didn't:
"It kind of reminds me of the glorious Indian past when our predecessors played barefoot."
Like the new article format? Send us feedback!