Maryland Uniforms 2011: Black Uniforms Are Huge Improvement over Garish Whites
September 17, 2011
Uniforms in college football have been second only to conference realignment in terms of time spent talking about a given subject this season.
We're used to hearing conversation and complaints about uniform combinations at places like Oregon–but most of the talk this season has not surrounded the Ducks, but rather the University of Maryland.
The story of the Terrapins' new uniforms is very similar to the story of the Oregon Ducks uniforms when they first starting rolling out multiple combinations and highlighter yellow on highlighter yellow sets.
Oregon had the money of Nike's Phil Knight behind them. Nike headquarters is not too far from Oregon's campus and Knight is an alum. He ran track there from 1957 to 1959.
Knight wanted his alma mater to be the first name in college football uniforms, and so he got to work coming up with literally dozens of gaudy uniform colors and combinations. The rest, they say, is history.
Maryland's big name in the uniform industry is Kevin Plank, the creator of Under Armour. Plank played football at Maryland in the mid-90s.
Under Armour has long been the uniform provider for the Maryland Terrapins, but this is their first foray into gaudy uniforms.
Maryland's uniforms first burst onto the scene in their Labor Day matchup with the Miami Hurricanes.
In that game, they debuted a white uniform with red lettering. The lettering had a turtle shell design inside of it and was outlined in white.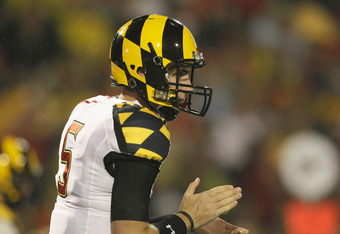 Rob Carr/Getty Images
The helmets and shoulders were the real story, though. Both featured a design based on the flag of the state of Maryland. The state is very proud of its flag, but it's not one that is easily transposed onto a helmet and jersey.
Now, Maryland is rolling out an all-black uniform. Uniforms used for a team's "black-out" game are pretty played out, but Maryland hit it out of the park with this one.
On these, the lettering is yellow and the numbering is red. The helmets, rather than featuring the flag, are now plain black matte with a checkerboard stripe down the middle.
It's tough to keep up with the times in college football uniforms these days, but Maryland is doing a great job of it.