Jared Crick, Nebraska: A Leading Candidate for the 2011 Outland Trophy
September 16, 2011
Eric Francis/Getty Images
The best linemen in the nation are playing hard in pursuit of 2011 Outland Trophy nominations.
Players on both offense and defense can be nominated for this award providing they play an interior line position. This award is given by the Football Writers Association of America (FWAA).
Notable winners in the past have gone on to prestigious NFL careers, most notably Ndumakong Suh of Nebraska. In fact, Nebraska has produced the most players to have won the Outland Trophy with nine...which leads to this season's leading candidate on the watch list, defensive tackle, Jared Crick.
Crick is a 6'6", 285-pound senior this 2011 season and has had quite the distinguished career with the Cornhuskers.
After being awarded as a three-time all conference selection,  Crick improves each year in tackles and was second in the Big 12 in sacks for 2010. He needs just 10.5 more sacks to hold the Nebraska school record.
This senior was injured in March 2011 with a torn MCL in his right knee. He was removed from spring training to let the injury mend. After a four-week rehabilitation, Crick was back on the Husker practice squad.
He has started this regular season with eight recorded tackles, thus far, and has yet to record a sack. That does not deter him from motivating the defense. "I've always been confident in our defense, just knowing the kind of guys we have. We're a very selfless bunch, and we're very team-oriented," Crick said (ESPN's Adam Rittenberg).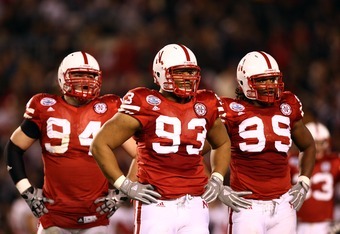 Donald Miralle/Getty Images
He has put up impressive numbers for a defensive tackle. His junior year he recorded 70 tackles and 9.5 sacks. He continues to charge this Husker defense into stopping the rush of the opponent at 125 yards per game while Nebraska is averaging 224 rushing yards per game.
In the Big Ten conference, known for rushing, he could only hope that the rushing average allowed will get smaller. For Crick, it is not about the stats. He wants to win games and play football.
After all, he's a kid from Cozad, Nebraska that has followed football his entire life.
It is just something that is instilled in a kid of the Midwest. You don't play for Nebraska without understanding the history and what is expected of you when you play in Memorial Stadium.
In doing so, Jared Crick is continuing to rack up the accolades of his college career and having his name announced as the recipient of the 2011 Outland Trophy would add to the proven excellence this player brings.
The finalists for the Outland Trophy will be announced on November 21 and the winner will be announced in Lake Buena Vista, Florida, on December 8, 2011.