Ottawa Senators: Should They Trade Daniel Alfredsson?
September 16, 2011
Al Bello/Getty Images
This season for the Senators is one focused on retooling the franchise and rebuilding a once proud franchise back to respectability. With a 38-year-old captain (soon to be 39 later on this year), many fans wonder how much longer Daniel Alfredsson will remain with the Senators.
Alfredsson has been a Senator his whole career. A 15-year NHL career, he has had many personal accolades and accomplishments.
Alfredsson has played in many All-Star games, been a runner-up for multiple NHL Awards and is the longest standing captain in the NHL (since 1999-2000). He also reached the 1,000-point milestone 11 months ago. Alfredsson is such an iconic presence in Ottawa that the 10th of April is officially 'Daniel Alfredsson day'.
At nearly 39 years of age, Alfie is clearly not part of the rebuilding process. That being said, his abilities would definitely be welcomed by other NHL teams looking to bolster their scoring on the wing.
Could the Senators trade him for draft picks as a rental and have him return if they so desire?
Alfredsson signed a four-year contract with the Senators before the 2008 season, meaning he will be a free agent at the end of next season. I am sure Alfredsson would love one more kick at the can with another squad for his swan song playoff push.
It would help the Senators tremendously in their rebuilding process as they would net some solid players and draft picks in a trade.
This situation is eerily similar to that of Mats Sundin in 2007-08. The Leafs wanted to trade Sundin to a contender at the trade deadline in order to garner some draft picks, but Sundin stated that he would not waive his no-trade clause and didn't believe in being a 'rental player'.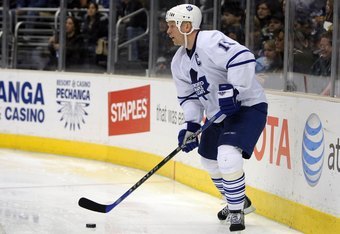 Harry How/Getty Images
This turned into a media frenzy and Sundin was lambasted for not helping out the Leafs rebuilding plans. Unfortunately, one of Toronto's all-time greatest Leafs left on a sour note.
So we return to Alfredsson—who is in a similar situation to Sundin in 2008—who has a decision to make. The 2011 Senators seem to be in a similar situation to the 2007-08 Leafs where they are focused on rebuilding and not foreseen to be a contender.
Although this is not the final year of Alfredsson's contract, he could still attract many buyers at the deadline and could easily retire at season's end. If Ottawa waited until the end of the 2012-13 season, Alfredsson would probably have little to no value at the age of 40.
So what should Alfredsson and the Ottawa brass do?
Well personally, I believe that Alfredsson should waive his no trade clause if the Senators want to deal him at the deadline. The Senators would receive much compensation for Alfredsson's rental services, and would continue to help the franchise that he helped bring such success.
Ottawa fans would be overjoyed, and he would never be seen in a negative light in Ottawa as he always did what was best for the franchise. It would be a typical win-win.
So how will this situation unfold in the nation's capital? Grab some popcorn and get ready to watch the season play out.