Milwaukee Brewers and Doug Melvin in the Final Analysis
September 16, 2011
Mark Hirsch/Getty Images
It feels like we've been here before. Back in 2008, the Brewers were going for the whole thing. They acquired C.C. Sabathia midway through the season even though they knew there was very little chance he would come back. He pitched like the stud he is and the club made it the playoffs. Unfortunately, he had to pitch on three days rest a few times to get the Brewers there and pooped out in the NLDS.
This year, they brought in Zack Greinke, Shaun Marcum, and kept Prince Fielder around in spite of his expiring contract. So far, the gamble appears to be paying off. The Brewers appear to be on the brink of clinching the division and their deep staff and powerful lineup will be a load in the playoffs. They even added Francisco Rodriguez at the all-star break to bolster the bullpen. The question is whether they will have enough to dethrone the Philadelphia Phillies.
Key Statistics
Team Payroll: 85.5 million (17th)
Lineup: 20.8
Rotation: 10.5
Bullpen: 16.3
Composite Ranking: 15.9
Analysis Score: +1.1
Lineup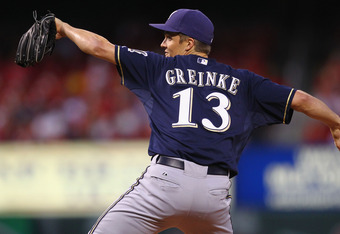 Dilip Vishwanat/Getty Images
It is hard to believe that they would rank this low, but most of that is due to poor plate discipline. Moreover, they have a lot of power isolated in a few spots. Jonathan Lucroy has been good this season, but coming into the season, no one expected he,Yuniesky Betancourt or Nyjer Morgan would do a whole lot.
Another issue with the lineup has been the collective defense involved. 2011 has turned out a lot better based almost solely on the basis of their outfield defense. Carlos Gomez and Nyjer Morgan have combined to be the best defensive centerfield combination in baseball by far. That coupled with Ryan Braun and Corey Hart's above average defense made them look decent enough. No one could have predicted that coming into 2011.
With Nyjer Morgan, Yuniesky Betancourt, and Jonathan Lucroy all hitting well, the lineup looks much better than it actually is. Only Casey McGeehee is producing below career expectations. That's usually how things go when you are a playoff team. I just don't know how much the Brewers can count on that in the future.
Rotation
Doug Melvin is one of the senior GMs in the league. Most casual observers wouldn't be able to identify too many signature moves he's made outside of the C.C. Sabathia deal. This offseason changed that when he reeled in Shaun Marcum and Zack Greinke in, a move which converted the rotation from a weakness into a strength. The two joined veterans Randy Wolf and Yovani Gallardo to create a very dynamic four man group.
Chris Narveson has been about as good as one could expect for a fifth starter. If the fielding behind them were better then this rotation would look better. Flyball pitchers fare well with the new and improved defensive outfield. Groundball pitchers like Greinke don't fare that well. If you look at the FIP numbers this will bear this out.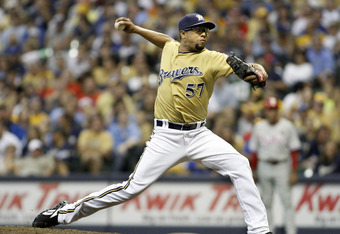 Mark Hirsch/Getty Images
Bullpen
John Axford has been about as reliable as a closer could be this season. If it's possible, he's stepped it up lately and hasn't blown a save opportunity in the second half. Melvin brought in Francisco (K-Rod) Rodriguez at the all-star break to extend the bullpen. It may not have been needed. Latroy Hawkins has been solid this year. Kameron Loe and Takashi Saito have been solid as well.
K-Rod has been vocal lately about his lack of save opportunities. Axford has 42 saves and is arguably the best closer in the National League this season. I'm not sure why K-Rod feels he should get those chances. There comes a time in a pitcher's career when he has to stop being "K-Rod" and become Francisco Rodriguez.
Response to Crisis
The crisis is coming. Melvin has to figure out if he can find a way to keep Prince Fielder. K-Rod and his act are probably on their way out of town. He's already paid Ryan Braun, so paying Fielder will be a tough call. Zack Greinke won't be up this offseason, but it is a decision that is coming as well. Success brings these decisions and the Brewers have been successful.
Analysis Score: +1.1 (14th)
Final Analysis
Doug Melvin is about as average as average gets. He has been at the helm while a ton of talent came through. Ryan Braun, Prince Fielder, Rickie Weeks, and Corey Hart have all been very effective. All of them have their flaws (defense in most cases) but they have been extremely productive and durable as a group.
Yet, they've lacked that certain something that makes a championship team. For Melvin's sake, we hope they have what it takes this time around because he is going to have a really difficult winter. To the victor go the spoils, and sometimes they get left with the check.