Los Angeles Angels and Tony Reagins in the Final Analysis
September 15, 2011
Stephen Dunn/Getty Images
In Greek mythology, Hercules had to undertake numerous task to prove himself worthy. Greek literature portrays him as very strong and resourceful, but he wasn't the sharpest tool in the shed. Atlas held up the world on his shoulders and hated the assignment. So, he tricked Hercules into doing it for him. Now, according to tale, Hercules was able to trick him to take it back, but we know in the real world these things just don't happen.
Somehow, Vernon Wells' agent was able to dupe J.P. Ricciardi and the Toronto Blue Jays into giving him a seven year, 126 million dollar deal. The contract quickly became an albatross that the Blue Jays seemed destined to take on forever. This winter, Alex Anthopolous of the Blue Jays played Atlas and sold Tony Reagins (aka Hercules) on the value of taking on Wells.
Heck, he'd even throw in five million per season for the trouble. It's hard to judge a GM on one move, but when that move is so indefensible it is difficult not to. Unlike the Greek myth, Reagins is not going to be able to dupe anyone else into taking Wells. This is real life we are talking about.
Key Statistics
Team Payroll: 138.5 million (4th)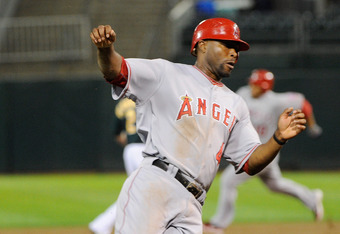 Thearon W. Henderson/Getty Images
Lineup: 23.2
Rotation: 12.5
Bullpen: 15.5
Composite Rank: 17.1
Analysis Score: -13.1
Lineup
It is difficult for me to call someone the worst general manager in baseball based on one move. After all, the Angels are two games out of first as we speak. What I will say about Reagins and the Angels staff is that they do an excellent job of maximizing the talent they have. Part of Wells' value trouble was a relative lack of range in centerfield. No matter, the Angels had Peter Bourjos, so they moved Wells to left. Now, he might be the best defensive left fielder in the American League (at least this season).
Bourjos will finish either first or second in most major fielding metrics (competing with Austin Jackson). Torii Hunter might be the best defensive right fielder after serving as a sub-par defensive centerfielder throughout his tenure in Anaheim. So, they have done a good job of getting a lot of defense out of three players that would have been collectively average in centerfield.
Of course, Reagins and Mike Scioscia also have an unusual fascination with Jeff Mathis behind the plate. This caused them to see Mike Napoli as expendable and he was dealt for Wells. Napoli has put up gaudy numbers for the Rangers this season leaving both the Blue Jays and Angels to do the collective Homer Simpson, "D'oh!".
Thearon W. Henderson/Getty Images
Rotation
I was shocked to see the rotation finish this far down, but we have to remember we are looking at analysis and not performance. Jered Weaver and Dan Haren are both having strong seasons. Ervin Santana is coming on strong and Tyler Chatwood has been a credible number four starter. Weaver will be here for the long haul after signing a new extension. Only Joel Pineiro hasn't had a better than expected season. The combination has the Angels in the hunt when they probably have no right to be.
Bullpen
This is another area where Reagins has struggled of late. He's thrown a lot of money at Fernando Rodney and Scott Downs, but neither is serving as the team's closer. Currently, Jordan Walden is serving as the team's closer. Downs is having a great season, but Rodney is struggling. Combine the two and you get a couple of pitchers that are credible setup guys. Rich Thompson and Hisanori Takahashi provide solid depth. It really isn't the performance that is getting Reagins per se, but that this is not an exceptional bullpen for the money.
Response to Crisis
Reagins created his own crisis in a sense. He went after Adrian Beltre and Carl Crawford in free agency in the hopes of making a big splash. Well, that didn't happen, so he rushed into the next dealership to see what was available. The salesman led him straight to the back where he had the suped up sports car with high mileage. Yet, it was waxed and washed and had a fresh coat of paint.
The Vernon Wells contract made it impossible for the Angels to address any needs. Fortunately, they didn't have any that they hadn't already accounted for (say, a catcher that couldn't slug his weight). The team in front of them was able to add three relief pitchers and a backup catcher. Being strapped has its negatives.
Analysis Score: -13.1 (30th)
Final Analysis
It isn't going to be good for Tony Reagins, but he isn't the worst GM out there. The Angels have been in either first or second in the division since Reagins has been the GM. The Vernon Wells decision was beyond bad, but one horrible decision should not land you in the bottom spot. That has to be earned through a serious of brainless blunders. Reagins and his team do a good job of paying attention to the little things like defense and baserunning. The little things have a way of adding up.