Actor, MMA 'Convert' Joel Edgerton Talks 'Warrior' Movie with B/R
September 14, 2011
The new feature film Warrior hit theaters nationwide on Friday to glowing reviews and a strong box-office showing.
Australian actor Joel Edgerton—who stars as Brendan Conlon, one of two estranged brothers (Tom Hardy) from an alcoholic father (Nick Nolte) whose lives reconnect through MMA and a "Grand Prix"-style, winner-take-all event—took a few minutes this week to discuss the film and his role. 
B/R: First, congratulations on an outstanding performance. I really enjoyed the film. Did you expect this kind of positive response to it?
JE: It's hard to be objective about movies that you are in, but once I saw the [completed] film, I realized that [director] Gavin [O'Connor] had kind of pulled this whole thing together, and I knew it was going to be well-received. 
B/R: What was your experience or knowledge of MMA before you got involved with this project?  Do you follow the UFC and other MMA organizations now?
JE: Definitely. I'm a convert.  I wasn't even a fan before. I knew it existed, but I was not a fan.  But through the experience, I became one.  If I'm in L.A., I get together with the guys from the film to watch the UFC.  I've been to a couple.  I went to Montreal to watch [Lyoto] Machida fight.  I follow the sport, I'm interested in the new fighters.  I love the whole world of the sport, and I definitely classify myself as a convert. 
B/R: Can you describe the training regimen you did to prepare for the movie?
JE: Before the film, about 10 weeks out, Tom Hardy and I went to Pittsburgh, to the Pittsburgh Fight Club with Eric Hibler.  We turned up at 7 a.m., out in the afternoon.  During the six or seven hours we mixed a lot of stretching, strength and conditioning, Muay Thai—my character, that is a big part of his game—jiu-jitsu, wrestling, ground work, lift a lot of weights and then ate a truckload of food.  We were surrounded by great info from many guys with such a solid foundation in fighting.
B/R: Many fans and moviegoers probably realize that the key fighting action is choreographed, but was there any free fighting that you did on camera that made it into the film, maybe some moves you learned that you incorporated into the scenes?
JE: It was pretty much choreographed—J.J. Perry and Fernando Chien did an amazing job—but what I found interesting, within the moves, there was a lot of room for free form.  Gavin would see the fights, and make sure that we did everything we could to make sure it didn't look choreographed, so if one character punched and the other punched back, he wanted to see them vie for positioning, messing it up as much as possible so it felt like it wasn't just in a movie—the moves between the moves, so to speak.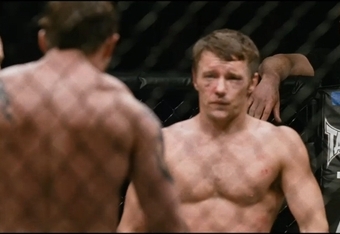 B/R: A big thing for MMA fans, like fans of any sport, is that the action is realistic in a movie—it's been a sticking point for some earlier MMA dramas. How much did you worry about that as you were doing the scenes?
JE: That was the general feeling, some of the stuff in the early choreography, where we were doing certain moves that were too big, too much of a movie moment.  To his credit, Gavin wanted the action to be more realistic.  We have a couple of body slams in there that have come under some criticism, but you will find that all those moves are from actual fights, and that's how the fights were built.
But we're making a movie, so if you're looking at a fight like [Anderson] Silva [against Chael] Sonnen, where the whole time it was on the ground, before that last minute when Silva threw his leg over, it's like they aren't going to go for that; he needed to spice it up a bit, enough to satisfy the movie audience and the well-schooled audience.
B/R: Is this your most challenging role to date? How does it compare to what you had to do in the Star Wars films? Or King Arthur?
JE: It definitely was up there.  I love film roles that involve physical training, especially a new skill.  In King Arthur, there was a lot of archery and horse riding, almost like summer camp.  This felt a little more serious and more edgy, definitely since I'm a bit older it was pushing the envelope for me physically.  But as sore as I was, I tore an MCL, got busted up a lot, I didn't want to be the one moaning that I was sore since these guys are doing this all the time. 
B/R: What do you see as the key message in the film?
JE: I think, to me, it's what are you willing to fight for, and finding the strength in yourself.  Personally, it is how much family is willing to fight for, how important family is.  There is so much love in Brendon's family. 
B/R: Do you think you'll do another MMA movie any time soon?
JE: Not that I would necessarily do another MMA movie, but if we can come back around and people love this story enough, then if I would do another MMA film, I think "Warrior 2," or whatever they would call it, would be the one.