Golf's Wretched Woes: How the PGA Tour's Fed-Ex Cup Fuels a Vicious Cycle
September 14, 2011
S.Greenwood/Getty Images
This season alone, Webb Simpson and Nick Watney have won over $5 million in prize money—each.
Granted they have both played phenomenally well, both having career seasons and winning multiple times in big purse events. If one of these men wins the Fed-Ex Cup (Sept. 25), which is a very likely possibility considering their standing and momentum in the playoffs, that will mean one will have won $15 million since January when the season began.
Has anyone else been hesitant to buy into the Fed-Ex Cup and the whole system of position, points and payout?
The entire organization of these Playoffs in particular is not only confusing to fans, but also to the players. The only thing we collectively have a handle on is the importance of basic addition—if you play well and finish high in tournaments, you earn more points.
High finishes = good. Points = even better.
But what do these high finishes and points add up to? An opportunity to win an insane amount of money.
How much exactly? $10 million to the winner of the Fed-Ex Cup, which is just the bonus, mind you, to that player's season-long earnings.
Is this outrageous amount of prize money motivating players to compete at the highest level or just fueling pecuniary greed? Could it be both?
Webb Simpson, the PGA Tour's poster boy during the last month of the 2011 season, said in his presser Tuesday before the BMW Championship:
"You know, $10 million is a ridiculously large amount of money and an unbelievable prize…You know, at the end of the day, we want to win golf tournaments, but when $10 million is at stake, you can't not think about that."
Simpson's candidness is telling.
Although these guys compete for massive amounts of money throughout the season (a typical event will usually payout over $1 million to the winner, not too shabby for four days of competition), $10 million is almost obnoxious; it's like giving a dog bite size pieces of New York Steak for seven months and then unloading a truck full of steaks into their doggy bowl one day.
Simpson's sentiment is honest—if that amount of money were on the line, how could you not think about it, or at least have it in the back of your mind?
Unfortunately, the PGA Tour has turned a cold shoulder to the fact that in a struggling, turbulent economy, a $10 million payout is a slap in the face. This is already a game that preaches the "anyone can play" mantra, yet ultimately hides behind that façade in a world of wealth and exclusivity.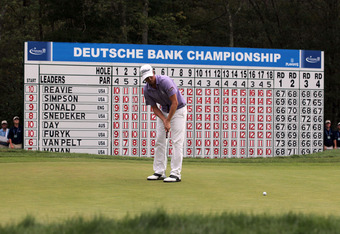 Jim Rogash/Getty Images
To play golf you need two things, money and time, and lots of it. Who has that? People that can afford it.
To award $10 million to a player that has already benefited from a wealth of resources is unfortunately just another way golf is separating itself as an undemocratic, elitist sport.  This is nothing to say of how difficult the sport is or of how hard these players work throughout the season. However, for those who've already profited from an array of good fortune to only getting their bank accounts replenished fuels a vicious cycle.
A solution that involves less money might sound ideal, but is unrealistic. There might as well be unicorns flying along rainbows of M&M's.
But, a system that rewards the best for playing the best does not need to—and should not need to—win over its competitors with superfluous amounts of money (We saw where that got the NFL and now where it's gotten the NBA).
What happened to glory? To getting your name etched in golf's history books? When did the Money Earnings statistic usurp stats like Scoring Average, Scrambling and Strokes Gained (Putting)?
Gripe is good. Anytime you recognize flaws in something, it means you care enough to want to improve it; there are more than enough flaws ingrained in the Fed-Ex Cup system. As the sun sets on the final hole of the season, it's time to outline a new course of action that doesn't rely on obscene monetary rewards, but rather restores the integrity that separates golf from every other sport.