UEFA Champions League Group Stage Preview: Villarreal- FC Bayern
September 13, 2011
Bayern demolished Freiburg 7-0 on Saturday while Villarreal drew 2-2 against Sevilla.
Bayern's performances so far this season have mostly been terrific. However, rarely has Bayern produced such a flawless performance as they did against Freiburg. The transition from defence to attack was quick. Only few attacks were broken down. And most of all, Freiburg had only one good chance to score in 90 minutes of play.
Mario Gomez bagged four. He has seemingly found his scoring boots and his customary luck. A ball from Oliver Barth ended up hitting Gomez's outstretched boot and landed at the back of the net. Franck Ribery bagged two in what was his best display of the season so far. Even Nils Petersen got in on the act and scored, opening his account for Bayern.
As for Villarreal, a 22nd minute send-off of keeper Diego Lopez did little to stop them from playing eye-catching football. Giuseppe Rossi equalized with a penalty. Marco Ruben scored a wonderful goal but Sevilla equalized at the death.
Playing about 70 minutes with one less man can take its toll on a team. While Villarreal is most comfortable when they are attacking, they cannot possibly expect Bayern to sit back and absorb the pressure without launching attacks of their own.
Instead, Villarreal might sit back and absorb the pressure themselves. They might try to frustrate Bayern as Borussia Moenchengladbach did on Match-day One in the Bundesliga. Nilmar and Rossi should be able to provide Jerome Boateng and Holger Badstuber with a lot more headaches than they have become accustomed to in recent weeks.
This game is the biggest test so far for Bayern's back four and Manuel Neuer. Neuer has had so little to do this entire season; he will surely have more to do at El Madrigal.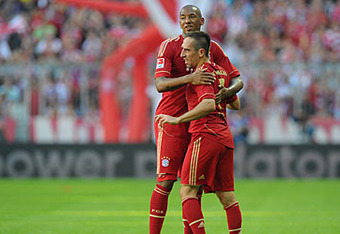 Philipp Lahm was substituted on Saturday. This was a surprise, as Lahm is rarely ever substituted. Later, it was seen that he had picked up an injury but he should be fit for Wednesday. Not surprisingly, Arjen Robben is injured and will not play a part against Villarreal.
Toni Kroos provided a very encouraging display. Kroos has come under the gun a bit for his average displays so far in the season. Against Freiburg he played a part in the first goal and tried to score himself. Jupp Heynckes recently said that Kroos should score more goals. Toni has seemingly taken his advice.
While Thomas Mueller is yet to get off the mark in the Bundesliga and the Champions League, his contribution to the team cannot be denied as he provided another great performance against Freiburg. Bastian Schweinsteiger played extremely well to everyone's delight.
Bayern will look to attack Villarreal, but knowing Heynckes, he will make sure that the balance is right between the defence and the attack.
Villarreal will perhaps try to frustrate Bayern. Playing Carlos Marchena frustrates every opposing side, let alone Bayern. Marchena has a 'Van Bommel' side to him.
If Villarreal starts to attack Bayern, Luis Gustavo could be very important. Gustavo's constant tackling and pressing has paid dividends for Bayern this season. Bayern missed Mark Van Bommel after his departure last season. Gustavo has seemingly made the former FCB captain's position his own.
Finally, I was terribly wrong with the prediction for the Freiburg game. However, I do think this match will not be as easy as the others have been for Bayern. They will win but not emphatically.
Prediction: Villarreal 1-3 Bayern