Champions League Preview, Group Stage Predictions, Group A the group of death!
September 12, 2011
Tullio M. Puglia/Getty Images
The time has come. The Champions League proper is upon us, 32 teams of Europe finest clubs will be competing for the big prize, and the likes of Rooney, Messi and Ronaldo will be strutting their stuff on the big stage. I will be previewing all eight groups—each one in a separate article. So, enjoy reading and let me hear your opinions.
Group A
Bayern Munich 
Intro: Probably the only team with proven CL pedigree. They have been there done that and got the trophy, winning last in 2001 and reaching 2010 final.
Positives: With the majority of the squad possessing a solid core of champions league experience, the likes of Lahm, Schweinsteiger, Robben and Ribery, and the exciting young talent of Muller and Kroos, they certainly will be interesting to watch.
The summer capture of Manuel Neuer has added solidarity and consistency in the goalkeeping area. Unlike last season when both Butt and Kraft had unconvincing runs in the team and made numerous mistakes.He will be a tough man to beat.
A good start to their domestic season winning four out of five, they will be high on confidence.
Negatives: Last season they were heavily reliant on the goals of Mario Gomez, who hit 28 league goals. This season they will once again be reliant on Gomez. If injury should befall him they may be a bit lightweight in the striking position. Defensively they also lack depth if first choice back four get injured 
Key man: Bastain Schweinsteiger. It would be very easy to mention the likes of Robben and Ribery, However, over the past few years he has been one of there most consistent players, and keeps things ticking over in the Bayern Munich midfield. He possesses great vision and one hell of a shot. He will be a calming but important influence.
Prediction: 1st—Their experience will count for a lot, and will more than likely be seen in the latter stages. They will be formidable at the Allianz Arena.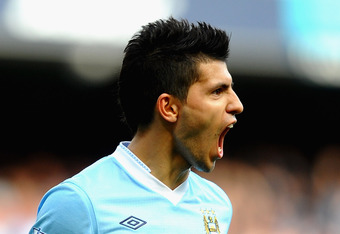 Laurence Griffiths/Getty Images
Intro - They have finally reached the promised land. Several hundred million pounds later, Manchester City have reached the Champions League for the first time since the new format. They have started the Premier League season in scintillating form, and have invested in some Cl quality players in Aguero and Nasri, adding to their plethora of expensively assembled talent such as David Silva, Yaya Toure and others. They will be watched with interest by many.
Positives: Although this is the club's first foray into the Champions League, they certainly have players with noteworthy experience. Yaya Toure a former winner while Nasri, Silva, Dzeko, Balotelli and Aguero all have experience in the competition, and will be relied upon by Roberto Mancini. Mancini, himself, is no stranger to the competition, both as a player and a manager. 
Out of the four teams in the group Man City possess incredible depth up front with Aguero, Dzeko, Tevez and Balotelli they certainly are filled with dangerous options. 
Roberto Mancini. They finally seem to have developed a balanced midfield and is able to defend and attack in equal measure. The sheer power of Yaya Toure paired with the and guile and guise of David Silva will be tough for any team to overcome.
Negatives: Although their midfield is packed full of experience defensively, I do think they may potentially struggle. Bayern and Napoli have players capable of penetrating the best of defences and having not really faced teams of that quality yet could come short, as they did against Manchester United in the Charity Shield. Clichy is also unconvincing defensively.
Secondly, although they seem united as a team, question marks remain over the commitment  and disruptive nautre of Tevez and Balotelli. With the two never out of the news for long, this could prove an unwelcome distraction 
Key Man: David Silva. A player whom I admire a lot, Silva has great vision and creativity, which help him make the team tick. When he is at his best anything is possible. 
Prediction: 2nd - They have the quality to make an impact in the competition. However, I think they wont have it easy in qualifying due to some tricky away games which will test them.
Napoli
Intro: Another new comer to the CL, they have made consistent progress over the past few seasons and they are also quietly establishing themselves as a force in the Serie A. Finishing third last season was a fantastic achievement and fans are now dreaming of a potential repeat of the glory days in the late 80's and early 90's spurred by the one and only Diego Maradona. In 2011, they once again possess some very talented young players and they could be this season's surprise package.
Positives: Unknown Quantity—certainly in the eyes of English fans, no one really knows what to expect from them. However, as a keen follower myself, they are very much un-Italian in their style of play. With creativity in numbers, and a potent attack, they will surprise many. With the much coveted Hamsik and the lethal Cavani, the star turns in the side, they have players who are potentially capable of excelling despite the squads' relative inexperience on this stage. 
Rather than losing their best players, as smaller clubs often do when they have a good season, they have strengthened well with the likes of Mario Santana and Gokhan Inler in midfield, and the addition of the talented but unpredictable Goran Pandev, they look in good shape. They have also won 3-1 in their first fixture of the delayed Serie A season.
Negative: Although upfront and in midfield they possess undoubtedly talented players, it could be argued that they lack any real pace and impulsiveness to penetrate the very best. Additionally, Morgan De Sanctis, who fails to convince me as being a top class keeper, certainly at this level, and could be exploited. There defence also lack any pace and experience at this level, and again this will be noted by other clubs. 
Key Man:  Marek Hamsik.  Only 23, he has been one of the best players in the Serie A for the past three seasons.  He scores and provides in plentiful quantity. The talented goalscoring midfielder is certainly coveted by many of Europe's top clubs and will have the perfect stage to prove his class
Prediction: 3rd—Had they been drawn in another group, I would predict with relative confidence they would progress into the last 16. At home they will be very strong and will cause some shocks, but, taking into account the quality of Bayern and City, they may just lose out. Watch out for them in the UEFA Cup. They are dark horses certainly.   
Villareal
Intro: A small club, who have consistently overachieved over the past few years on a very small budget, again find themselves in the Champions League after finishing fourth—although a million miles behind Barcelona and Real Madrid. They are again hoping to exceed expectation. 
Positive: They relish in the position of being consistent underdogs, and will be labelled under the same tag in what is an incredibly tough group. They do possess some talented, creative players with the likes of Borja Valero, and Giuseppe Rossi, as well as exciting new signing Jonathan De Guzman.
In Nilmar and Rossi they have a front-line that will cause trouble for all the defences they will encounter. With Rossi, in particular, vital to there hopes of progression. 18 la liga goals last season helped  prove his pedigree
Negative: With the diminishing influence of Marcos Senna and his recent injuries, it is questionable as to whether he can still be the influence he was a couple of years ago. Generally speaking, they lack a commanding presence in the centre of midfield, both offensively and defensively. The departure of Joan Capdevila to Benfica hardly helped matters and it remains to be seen whether the likes of Valero, who was hardly a hit with West Brom and the promising but untested De Guzman, can perform at this level against the quality of opposition in this group.
Over-reliance. In Giuseppe Rossi they posses the only player in their team who can really hurt top class opposition. With a quality left foot and predatory instincts, he will be dangerous. But the problem is, if he is injured, the alternatives are hardly in the same bracket quality wise—although Nilmar could prove me wrong. I do worry that they do not have enough of a goal threat when you take into account their group rivals.
Key man: Giuseppe Rossi—As mentioned, he is a top striker, who will eventually move to a bigger club, and is there only hope of surviving this incredibly tough group.
Prediction: 4th—They wont disgrace themselves, but, for me, they lack the quality to progress.