Manchester City
Manchester City vs. Napoli Preview: Game Guide, Team News and Predicted Lineups
Laurence Griffiths/Getty Images
September 12, 2011
Manchester City have emerged as the "dark horses" of this year's Champions league campaign, considering that they have an extremely strong squad and despite them being newcomers to the competition, many of their players—like Yaya Toure and Samir Nasri—have experience in the Champions League. This is their first time in the Champions League after finishing third in the 2010-11 Premiership season and it is a huge season for the club.
Their first game in the Champions League is against Italian team Napoli, who are also in the Champions league for the first time, which is a huge achievement considering that they have progressed remarkably in the last few years. Napoli also have some quality players in the side like Ezequiel Lavezzi and Edinson Cavani, who was one of the best strikers in the world in the last season.
Napoli and Manchester City were drawn together in a group which also involves Bayern Munich and Villareal, which makes it arguably the most competitive group in the Champions League this season. Bayern Munich and Manchester City are the favorites to qualify for the round of 16 but with tough opponents like Napoli and Villareal, this will be a tough group for all the teams.
City will take on Napoli this week and it will be the first taste of Champions League football for both the sides. Though City will be the favorites going into the game, Napoli will have a good chance as well considering that they have a strong squad and with high quality players like Lavezzi and Cavani, they have the quality to threaten any club in the world. 
With City adding more quality to their squad with the signings of Samir Nasri, Gael Clichy, Stefan Savic and Sergio Aguero, it is going to be very hard for Napoli to beat them. The Manchester based club have strengthened their team considerably and they do have players who can guide youngsters to reach their best potential.
Manchester City
Manchester City have got one of the strongest squads in the world and it will be difficult to predict his starting line-up considering the wealth of options at City. Mancini has done well to sell some of the deadwood at City and it will do well for the atmosphere at the club. Most players who have joined the club have joined it with the ambition of winning many trophies and they want to have regular playing time as well.
It is one of the biggest squads and for every single position, there are a number of player vying for a role and it will be up to Mancini's man-management skills to keep them motivated. They have managed to attract some quality players like Sergio Aguero and Samir Nasri in the summer and these players could help the club move on to the next level.
There is a lot of optimism surrounding the club at this moment and the supporters believe that they can win trophies on a consistent basis and become the strongest club in Manchester ahead of their rivals, Manchester United. Mancini is a pragmatic manager and will understand the need to take it one game at a time and their first job is to win against Napoli. This season could be one of the most important in the history of Manchester City and Mancini needs his players to be focused and motivated for their Champions League game against Napoli.
Predicted Starting Line-up:
Joe Hart, Vincent Kompany, Joleon Lescott, Micah Richards, Gael Clichy, Nigel De Jong, Yaya Toure, Samir Nasri, David Silva, Sergio Aguero, Carlos Tevez
Napoli
Napoli had an excellent season last year and they did challenge AC Milan for the Serie A title but eventually, Milan did win the league. However, Napoli showed that they did have the quality and determination to fight for the title and though they could not keep up with Milan in the race, they showed that they can be a force in Italy in the future if they can hold on to their best players.
Edinson Cavani has developed into one of the best strikers in the world and he has an excellent support cast in Ezequiel Lavezzi and Marek Hamsik. Also, they have an astute manager in Walter Mazzarri who has been instrumental in Napoli's progress. The difficult thing for Napoli is to stay in the Champions League and he is important in ensuring that the club stays at the top in the future.
Napoli have also made some intelligent signings like Gokhan Inler and they certainly have the quality to trouble City if they are at their best. With the Italian side going into the game as the underdogs, they will play with no fear which is why they could be a dangerous opponent for Manchester City.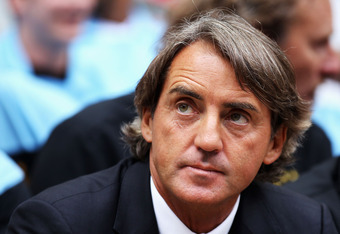 Clive Rose/Getty Images
Predicted Starting Line-up:
Morgan De Sanctis, Paulo Cannavoro, Salvatore Aronica, Hugo Armanda Campagnaro, Victor Ruiz, Gokhan Inler, Walter Gargano, Marek Hamsik, Ezequiel Lavezzi, Goran Pandev, Edinson Cavani
Prediction for the Game
Though Napoli do have a good team, City are in excellent form and all the players will be highly motivated for their first Champions league game as well. It will not be an easy contest for both teams, but City do have the quality to record their first win in the Champions League against Napoli
Manchester City 2, Napoli 1 
Like the new article format? Send us feedback!