10 Bold Predictions for Texas A&M in 2011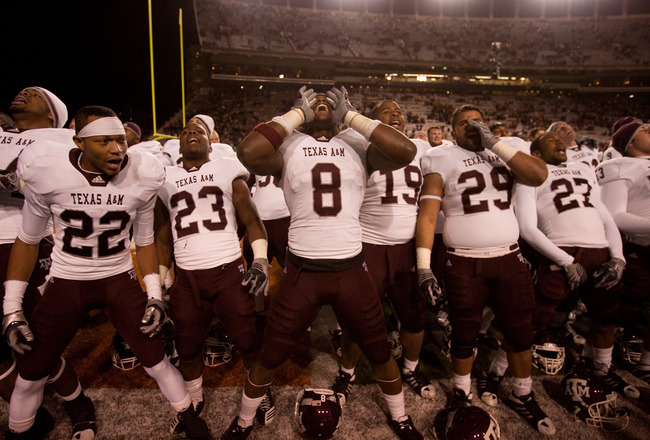 Darren Carroll/Getty Images
Coming strong out of the gates with a 46-16 drumming of the SMU Mustangs, the Texas A&M football team is proving it's more focused on winning football games in 2011 than figuring out which conference it'll represent in 2012.
Mike Sherman returns 18 of 22 starters from last year's 9-3 squad and had the Aggies ranked in the preseason top 10 for the first time since 1999. Now ranked No. 9 in the nation and with a massive battle against No. 7 Oklahoma State looming just two weekends away, here are 10 bold predictions for the Fightin' Texas Aggie football team.
1. The Aggies Win Double-Digit Games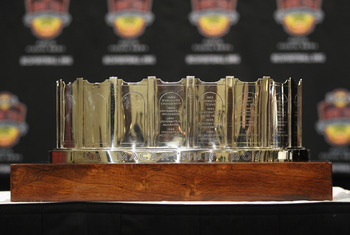 Christian Petersen/Getty Images
Last season, the Ags ended up close to the double-digit marker with nine wins, an astounding feat considering they started a pedestrian 3-3 before backup quarterback Ryan Tannehill took the starting job and ripped off six wins in a row before losing in the Cotton Bowl to LSU.
The matchup against No. 7 Oklahoma State on Sept. 24 will tell a lot about this team's mettle, as will heading north to JerryWorld the next Saturday for the Southwest Classic against the No. 17 Arkansas Razorbacks. The No. 19 Baylor Bears visit Kyle Field Oct. 15 looking for blood, and No. 24 Texas comes to Aggieland for the annual Thanksgiving Day battle on Nov. 24.
That's a gauntlet if there ever was one.
The Aggies' road schedule looks to be a bit more inviting with Big 12 cellar-dwellers Texas Tech, Iowa State and Kansas State on the menu. None of the three teams is in Texas A&M's league talent-wise, but those are three tough stadiums to leave unscathed.
As good as the Aggies are, I'll concede a loss at the hands of No. 1 Oklahoma on Nov. 5 in Norman. And college football is always fluky, so the odds are in favor of the Aggies dropping at least one of those games mentioned above.
This leaves the Aggies at a 10-2 season, and my pick to be the Big 12's representative in the BCS Tostitos Fiesta Bowl.
2. Cyrus Gray Wins Doak Walker Award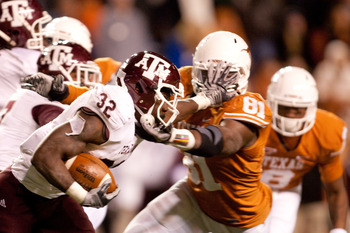 Darren Carroll/Getty Images
After tallying just 195 yards the first six games (32.5 yards per game) of 2010, running back Cyrus Gray rushed for 938 yards in the final seven games (134.0 yards per game) and surpassed the 100-yard mark in each contest.
He opened up the 2011 season with 132 yards and two touchdowns against SMU and looks poised to tack on another triple-digit effort against Idaho. The real tests start with Oklahoma State on Sept. 24 and a tough Arkansas front line the next weekend, but bear in mind that Gray's streak of seven games of more than 100 yards to end 2010 came against seemingly impenetrable defenses like Oklahoma, Nebraska, Texas and LSU.
Gray is a big-time rusher in the Emmitt Smith mold and will prove it with the Doak Walker hardware and a mid/late first-round selection in the NFL draft.
3. Gray, Michael Each Surpass 1,000 Yards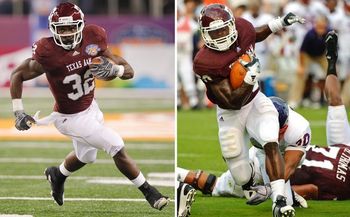 With the Aggies leading and looking to eat up clock, look for head coach Mike Sherman to ride the Aggie Express to victory. Gray and Christine Michael comprise one of the nation's most formidable backfield duos, and a 1,000-yard season from each of them is possible.
Gray posted 132 yards on 21 carries (6.3 yards per carry) in the first game of the season; Michael made the most of his 14 carries, rushing for 85 yards (6.1 yards per carry) and two scores. Sherman said he'll continue to feed whichever back is the hottest, and against SMU, both ball carriers were en fuego.
Michael clearly possesses the chops to break the 1,000-yard plane—the only roadblock will be his usage rate. If Michael can net 150 to 200 carries, he's a sure lock to join Gray in the exclusive 1,000-yard club.
4. No Conference Clarity Until 2012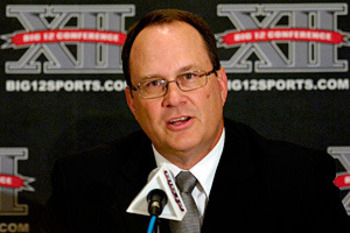 This conference situation is excruciatingly messy and doesn't look like it'll be cleaned up anytime soon. Texas A&M president R. Bowen Loftin said his school was effectively "being held hostage" against its will and, while a bit hyperbolic, is a pretty veritable statement.
First, Baylor levied its concerns about Texas A&M bolting for the SEC and threatened to take legal action against the school. That started a domino effect that has resulted in every Big 12 school except Oklahoma poised to levy lawsuits against College Station.
The Oklahoma Sooners are the missing piece of the puzzle. If they assure the other members that they will in fact remain in the Big 12 rather than head for greener pastures (Pac-16, anyone?), it will do wonders to assuage the ire stoked in Baylor, Iowa State and other schools—with Oklahoma and Texas as headliners, the Big 12 has a solid enough foundation to remain a top conference provided it pulls in another team like TCU, Houston, SMU or Air Force. If Oklahoma remains mum on the situation though, it will prolong the Aggies' inevitable exit.
The Aggies will leave for the SEC, and it's the Big 12 bottom-feeders like Baylor that fear being left behind in the mass exodus. They're sticking their boots in the ground, kicking and screaming until they get a massive pay off, but rest assured: Texas A&M will be playing SEC football in 2012.
5. DaMontre Moore Leads Team in Sacks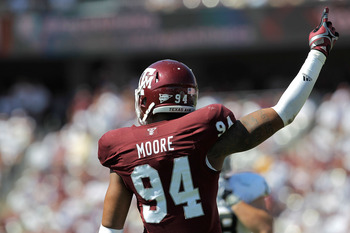 Sarah Glenn/Getty Images
This is a very bold statement considering defensive tackle Tony Jerod-Eddie is leading the NCAA in quarterback sacks with an average of 3.0 per game after his performance in the season opener against SMU and Moore sat out with an injury.
Defensive coordinator Tim DeRuyter's scheme isn't built for the linemen to sack the quarterback; they generally clog up the middle in run defense and the linebackers come in for the QB takedowns. Moore spent much of his freshman year in Sherman's dog house but is the most athletically gifted backer for the Aggies. Moore plays the "Joker" position in DeRuyter's hybrid 3-4, a spot vacated by the graduation of current Denver Broncos rookie Von Miller.
His race for the sack title begins when he suits up against the Idaho Vandals on Saturday, Sept. 17.
6. Jeff Fuller Becomes Most Heralded WR in School History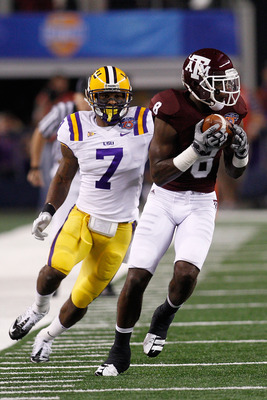 Chris Graythen/Getty Images
After becoming the first Aggie receiver to surpass the 1,000-yard mark in 2010, Jeff Fuller was named to preseason watch lists for the Walter Camp Player of the Year Award, the Maxwell Award, the Biletnikoff Award and the Pony Express Award.
Fuller has caught at least one pass in every game of his career (34 straight) and looks poised to rewrite the record books in a number of categories. Fuller is already the career receiving touchdowns leader by a large margin with 28 scores and is within shooting range of Terrence Murphy's records for catches and receiving yards. The 6'4" specimen needs only three catches and 284 yards to match Murphy's school records of 172 receptions and 2,600 yards.
Fuller will likely eclipse the reception record against Idaho and the yardage marker in the battle at Cowboys Stadium against Arkansas.
7. Fuller, Swope Both Eclipse 1,000 Yards Receiving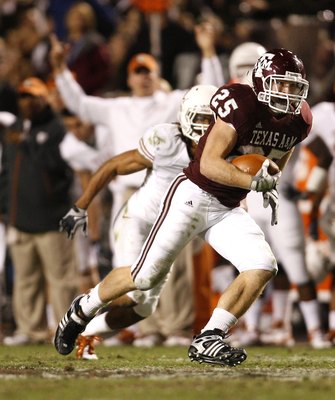 Aaron M. Sprecher/Getty Images
Much has been made of Fuller's remarkable career in College Station, but shifty slot receiver Ryan Swope has made his own considerable dent in the Aggie record books. Swope needs just one reception to become Texas A&M's 10th receiver to hit the 100-catch, 1,000-career receiving yards bench mark.
Swope enters the Idaho game with 99 catches for 1,106 yards in his 26-game A&M tenure. Two of the previous nine 100/1,000 receivers are currently starting for the Aggies: Fuller and wide-receiver-turned-starting-quarterback Ryan Tannehill.
As long as he stays healthy, Fuller is a lock to go over 1,000. Swope made a strong case for his inclusion in that conversation with his performance against SMU in the season opener, tallying 108 yards and a touchdown on eight catches. In 2011, Tannehill will ensure that Fuller and Swope become the first wide receiver tandem to accrue 1,000-receiving yard seasons in school history.
8. Aggies Go Undefeated Against Texas Schools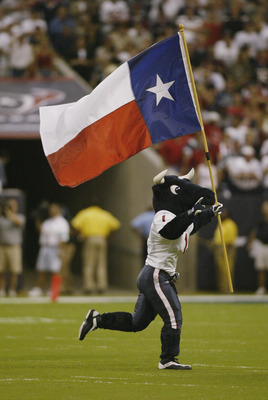 Ronald Martinez/Getty Images
The Aggies have won five straight games against teams from the state of Texas and haven't lost to a Texas school since the regular season finale in 2009.
With SMU already taken care of, Texas A&M needs to beat Texas Tech on Oct. 8, Baylor on the 15th and Texas on Nov. 24 to complete the Lone Star sweep. The Bears and Longhorns will both have to overcome 90,000 raucous fans at Kyle Field, but the Aggies must travel to Lubbock for their bout with the Red Raiders.
All three games have upset potential but the maroon and white should emerge victorious.
9. Secondary Leads Big 12 in Takeaways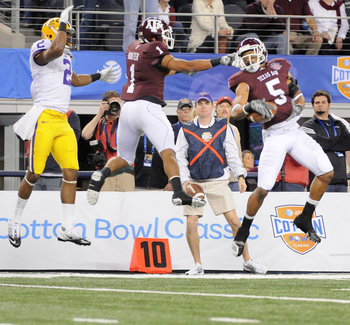 The strength of the Aggies secondary remains one of the most overlooked portions of their championship-caliber resume. Cornerback and electric kickoff returner Coryell Judie nabbed All-Big 12 preseason honors and safety Trent Hunter brings veteran leadership to the fast and physical group. Hunter and Steven Campbell both picked off SMU's Kyle Padron in the season opener, and Campbell came a mere six yards short of putting the ball in the end zone.
In a Sept. 12 press conference, cornerback Terrence Frederick addressed the Aggies' depth in the secondary: "We just compete with each other. We push each other every day in practice. We want to be the best for each other. We have four that start but another six or seven that rotate in. That's good to have at that position. We just feed off each other and enjoy being around each other."
Lionel Smith has earned a lot of playing time with a strong offseason, and Dustin Harris, one of the team's fastest members, covers the slot to perfection. Look for the hard-hitting Aggies to lead the conference in take aways in 2011.
10. Luke Joeckel Emerges as Best Tackle in Big 12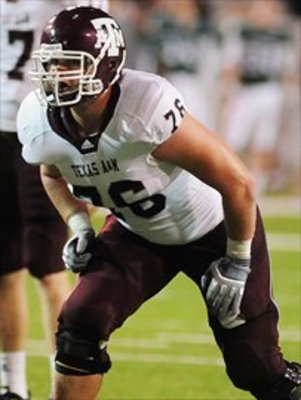 Joeckel was thrown into the fire early, starting every game at the crucial left tackle position his freshman year. Now a season later, Joeckel's outstanding play as a rookie is being noticed.
After garnering preseason first-team All-Big 12 honors, Joeckel has once again been given the task of protecting quarterback Ryan Tannehill's blindside. The 6'6", 310-pound behemoth possesses freakish quickness for a man his size, and Sherman's continued tutelage will make Joeckel the undisputed top tackle in the conference.
With Joeckel and Jake Matthews, son of NFL Hall of Famer Bruce Matthews, functioning as bookends for the Texas A&M offensive line, the Aggies will be near the top of the conference rankings in both rushing and passing offense.
Keep Reading

Texas A&M Football: Like this team?