Barclays English Premier League Round 4: Match Previews
September 10, 2011
Alex Livesey/Getty Images
The Barclay's Premier League is back after the international break and is as tense as ever for at least some clubs (cough, cough, Arsenal). Well nevertheless, let's start off with the games on Saturday.
Arsenal vs. Swansea: Both teams are looking for their first win of the season. Arsenal are struggling in the Premier League now, but with the players Arsene Wenger has recently brought in, I believe Arsenal will get back to their stride and take an easy win home.
Prediction: Arsenal 4-0 Swansea
Everton vs. Aston Villa: Aston Villa have started the campaign brightly under Alex McLeish and with the loss of Mikel Arteta, Aston Villa should see this game through.
Prediction: Everton 0-2 Aston Villa
Manchester City vs. Wigan: Man City is in great form, especially their forward Edin Dzeko, who scored 4 against the Londoners, Tottenham. I believe this game will be another blowout but I don't trust Man City's defense to keep a clean sheet because they seem to be a little disorganized. If you play fantasy, make Dzeko your captain and take out any Man City defender. I know I have.
Prediction: Man City 5-1 Wigan
Stoke vs. Liverpool: Liverpool as well are in great form but five of the six previous games they played against Stoke produced two goals or fewer. I can tell this match will be boring and long.
Prediction: Stoke 0-0 Liverpool
Sunderland vs. Chelsea: Even though Chelsea are getting in the results, their chemistry and passing has looked shaky and off compared to what Chelsea can do. I still think Chelsea will get the result, but only when Juan Mata comes on. I don't think he is going to start.
Prediction: Sunderland 0-2 Chelsea
Wolves vs. Spurs Wolves have started brilliantly and even resembled the older days when they were a top team. However, Spurs have recently acquired Scott Parker but have lost Peter Crouch. I believe Luka Modric will be the key today, but he looks like he doesn't care about Tottenham anymore and doesn't want to play, so Tottenham will have no very good creative midfielders.
Prediction: Wolves 1-0 Spurs
Bolton vs. Manchester United: Manchester is going crazy with both rival teams having great starts. There should not be anything different in this game..
Prediction: Bolton 1-4 Man U
The following games will be played on Sunday: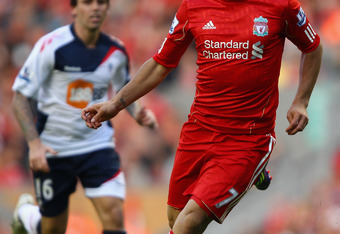 Clive Brunskill/Getty Images
Norwich vs. West Brom: West Brom have already gotten rid of Chelsea and Manchester United and played a well-defending side in Stoke City, but sadly lost. Now, it is their turn for some victory as they take on new boys Norwich and show them how it is done.
Prediction: Norwich 0-2 West Brom
Fulham vs. Blackburn: Both teams have started the campaign poorly with Fulham being the only one to pick up a point and I think their bad form is going to continue.
Prediction: Fulham 1-1 Blackburn
The last game takes place on Monday.
QPR vs. Newcastle: Newcastle started this season well with seven points in three games, but QPR have bought last-minute signings like Armand Traore and Anton Ferdinand, to strengthen their defense as well as Shaun Wright Phillips to burn the opponent's defense. I think QPR will be able to hold Newcastle.
Prediction: QPR 2-2 Newcastle