Green Bay Packers vs. New Orleans Saints: The Power of the Packers Abounds!
September 10, 2011
Jonathan Daniel/Getty Images
Greetings from the Frozen Tundra, my dear, dear friends.
Sigh...
Oh yes, 'tis a happy sigh, as yesterday (Thursday), I walked into work with a bounce in my step and a gleam in my eye.  What caused my happiness?  Well, while driving into work, I saw the most awesome vehicle on the face of the planet—an older VW Bug, painted green and gold, with the grill making it look like a Packer football helmet.  I walked into my place of employment nearly skipping with joy and made a direct bee-line to my new football buddy's office.
"Bob the Builder, come here.  We need to go steal this car."
"The Packer car?  I'm on it."  Whatever Bob was doing was set aside as he sprang to his feet, a determination in his eyes that I've not seen before.  This was Packer related warfare, my friends, and Bob is the fearless leader in this expedition.
"Bob, we may have to enlist Lila's help to obtain this vehicle." 
Lila, for those of you who do not know, is my Norwegian partner-in-crime.  While I am nearly six feet tall, Lila is not even five feet tall.  While I am slightly more reserved, Lila is quite possibly one diagnosis away from a prescription for anti-psychotics.  We are both Norwegian, and furry, however.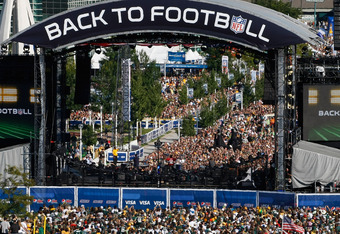 Scott Boehm/Getty Images
She's crazy, but not like the bad crazy that stands in the streets ranting about werewolves (and it turns out that it is just the neighbor's Schnauzer).  No, my buddy Lila is funny crazy, the type of girl who will do just about anything and usually great hilarity ensues.
Seriously, she can make you laugh at a funeral.  I have seen this in person.
Bob and I procured Lila and headed out into the parking lot.
"See it?"  Asked I, pointing in the general direction of our neighbor's parking lot.
"What are we looking at?"  Lila asks.  Since she is about a foot shorter than both Bob and I, she could not see the object of our affection.
"The Packer helmet car!"  I shriek, nearly foaming at the mouth (which is probably a rather disturbing mental image—A nearly six foot tall, furry Norwegian girl foaming at the mouth is probably not the best look).
"What?  Are the Packers playing?"  Lila asks innocently.
"YES!"  We both shriek.  After a few deep calming breaths, we regroup.  This must be done.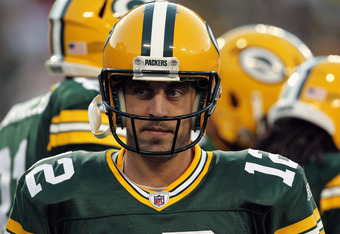 Jonathan Daniel/Getty Images
"We must obtain that car."  Bob's eyes begin to gleam.  I can see the boy's imagination spinning as he imagines himself driving the Packer helmet car, probably thinking only things that a 20-something year old young man who loves the Packers can think.  It's time.
"Lila, we need you."  I say, hands on her shoulders.  Time to rally the troops!  "We need you to do what you do.  We need your cleavage."  I closed my eyes, waiting for the "no" and trying to think up the argument that will get Lila to assist Bob and I in obtaining the Packer car. 
What my little friend lacks in height, she more than makes up in cleavage.  It is a weapon to be used sparingly, as the true devastation of her cleavage is awe-inspiring.  I have seen grown men stunned by its awesomeness.  And that was the plan of action right there—stun the owner of the Packer helmet car with Lila's bountiful bosom, take the car (with permission of course).  Hilarity ensues.  No problem!
"Okay."  Lila shrugs.  "Point me in the general direction and I'll do what I gotta do..."
See?  Crazy!  And what an awesome friend to help her friends in their time of need!
Ahh, seriously, we did not obtain the Packer helmet car, which was a great disappointment to all.  However, next week, we already have the ground work set.  Now, it's just time to attack.
However, I digress.
That little scenario above is a true account of how my day started, my dear friends.  And from there on, it just got curiouser and curiouser.  I have still not recovered.
The main point here is this, my friends—I was absolutely ASTOUNDED at the level of joy in Wisconsin yesterday and generally impressed by the level of devotion by the fans of the Green Bay Packers.  Being at work yesterday and seeing Bob wear his denim green and gold striped bib overalls was one of the first signs of devotion.  Even though one of my other co-workers saw the most awesome bibs ever made and shrieked, "OH MY GOD!  WHY DO YOU HAVE THOSE?" at Bob, his reply was better:  "I bought these bibs in the Motherland of Green Bay.  I wear these to games.  They are AWESOME!"  And all I could do was nod.  Yup, they are awesome, Bob. 
Some of my co-workers are not fans of the Packers, and therefore do not understand that the most devoted fans, while sane for six months out of the year, turn into ravenous football watching wildebeests in August/September.  Game on!
I waited patiently as the Chicago Bears Fan-in-Chief, aka President Obama, discussed the American Jobs Act.  I started to growl as game time neared and he was still talking.  I thought, at first, pre-empting the Packers game was his little passive-aggressive way of getting back for that whole kicking the Bears out of the Super Bowl thing. 
And then I smiled as Manpig stated that the President had to switch his speech time due to the Packer game.  I smiled because the President KNOWS what would happen if the Packer fans couldn't watch all of the game and I'm not talking about Lila showing some cleavage in order to stun him into silence.  I mean re-election, my friends.  How could he campaign in Wisconsin if he denied the fans of the green and gold their beloved Packers?
Additionally, the Green Bay School District dismissed school early in order to make sure the littlest Packers fans made it home safely.  There was some discussion at Casa Moen-Kadlec about this:  Was it really in the children's best interest to dismiss school early?  And the resounding answer is yes!  Wisconsin finally has something to celebrate other than the weekend, holidays, Thirsty Thursdays and every other day.  Let us celebrate with tailgating abandon!
And, yes, I did watch the game last night.  I yelled when Aaron Rodgers was sacked (PROTECT THE QUARTERBACK!!!).  I yelled when Randall Cobb ran back the 108 yards for a touchdown (self explanatory, I think).  I yelled when the Saints woke up and started to play ball.
My neighbors, thankfully, are used to football season.  They haven't moved yet, so I am assuming that they have purchased ear plugs.  What a great game and what a great way to start off the season.
I was, however, slightly surprised this evening when I was completing the weekly hunting/gathering at my local box store (ie the most unhappiest place on earth).  A clerk was talking to a lady in line ahead of me and she was saying, "What's with everyone wearing Packers stuff?  Is it football season?  Did they play last night?  Did they win?"
After I quit hyperventilating, I calmly said, "You are not a football fan.  I cannot relate to you."  The other option?  Walking this poor, deluded girl back to the entertainment area and making her watch Super Bowl XLV repeatedly until she gets it.  Jeez.
Anywho, I am filled with joy at the start of the football season.  The Packers move on to the Carolina Panthers next week.  I am hoping that Clay Matthews "introduces" Cam Newton to the NFL in his own special way...
Have a good week all!
* Names have been changed in some cases to protect the mostly innocent.  Aaron Rodgers, Clay Matthews, Randall Cobb and Cam Newton are really who they are.