BYU at Texas: Saturday Night Game Preview
September 9, 2011
Bob Levey/Getty Images
Saturday, September 10th
7:00 PM EDT on ESPN2
BYU
BYU scraped by Ole Miss in Oxford last week and did not look great doing it.  They struggled to score, although they did play good defense against an SEC team that averaged over 30 points per game last year.
Quarterback Jake Heaps was inconsistent and will need to find the groove that he was in last year as a standout freshman.  BYU has enough talent on the field to score a good amount of points, but needs to find consistency to realize that potential.
The defense played very well in Week 1 and is really the reason that BYU won the game.  With the offense sputtering, the Cougars defense was able to hold a strong Ole Miss offense to only 13 points at home.  This accomplishment shouldn't be overlooked as they head into Austin to play the Longhorns.  A BCS bowl certainly is not out of the question for this BYU team, but getting by the Longhorns in Week 2 is HUGE for the Cougars.
Players to watch: QB Jake Heaps, RB JJ Di Luigi, LT Matt Reynolds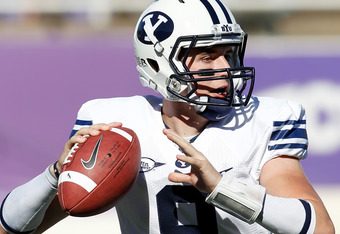 Tom Pennington/Getty Images
Texas
Texas looked like shades of last year's Longhorn squad as they struggled to put away Rice until a few late scores led to a 34-9 victory.
The defense looked solid, allowing only nine points to a squad that should be able to score a little bit this year.  Keenan Robinson and Jordan Hicks should be outstanding contributors for the Longhorns on defense, which may need to carry the team while the offense figures out its strengths and weaknesses.
Garret Gilbert once again did not look comfortable early in the game and really didn't finish with the numbers that would be expected of him against a lower-level team like Rice.  Quarterback may be a big concern for Texas this year as they look to rebound from an awful 2010 season.  Freshman running back Malcolm Brown looked solid and may be a very exciting watch for Texas this year, as he carried the ball 16 times for 86 yards. 
I fully expect Texas to have a rebound year, but they will need to get their inconsistencies squared away before they can compete with the big boys again.
Players to watch: RB Malcolm Brown, WR Mike Davis, DE Alex Okafor, LB Keenan Robinson, LB Jordan Hicks
For analysis and picks on this game and the other big games of the week, visit Saturdays in the Fall.
Follow Erik Underwood on Twitter at http://twitter.com/#!/ErikUnderwood