Los Angeles Kings: The Philadelphia Flyers of the Western Conference?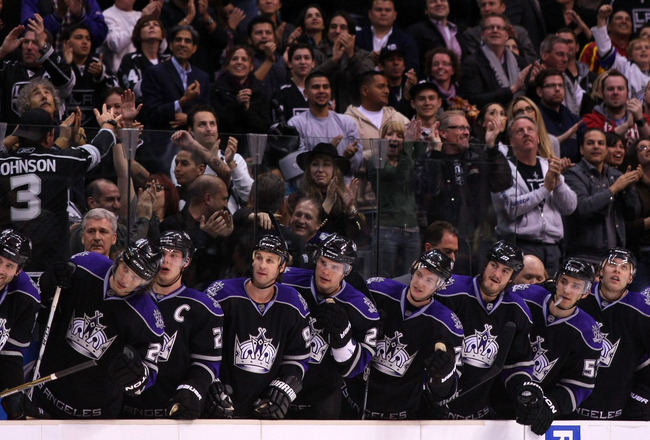 Victor Decolongon/Getty Images
When taking a closer look at a team, if you find that several players or coaches share a similar history, questions are often asked of their current team's future.
So seems to possibly be the case with the Los Angeles Kings.
The Kings currently have five former members of the Philadelphia Flyers franchise in their system, all in very important roles.
What could this be suggesting about the upcoming season for the Kings? Could they really follow in the Flyers' footsteps and claw their way to the top seed in their division and conference?
From the following slideshow, a conclusion can be gathered after a more in-depth look at each individual.
Former Flyer No. 1: Simon Gagne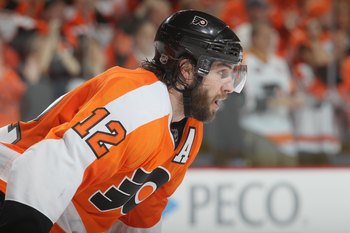 Jim McIsaac/Getty Images
Position: Left Wing
Seasons with Philadelphia: 1999-2010
Seasons with Los Angeles: 2011-present
One of the biggest signings of the offseason was the Kings' taking action and locking Simon Gagne up for a couple years.
Gagne was a long-term Flyer, including an impressive 10 seasons in Philly, and he was undoubtedly one of the biggest names on the market.
Now that he is sporting an LA jersey, he might have some chemistry with either of the next two players, considering he played on teams with each.
Former Flyer No. 2: Mike Richards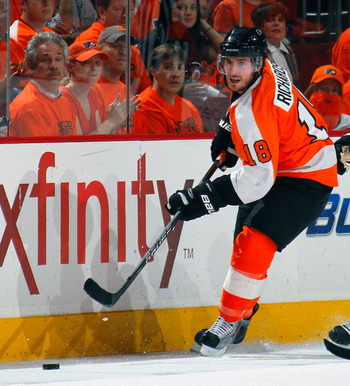 Paul Bereswill/Getty Images
Position: Center
Seasons with Philadelphia: 2005-2011
Seasons with Los Angeles: 2011-present
Without a question, the biggest trade for the Kings was the one that brought All-Star Mike Richards to Southern California.
Granted the trade cost LA prospect Brayden Schenn and forward Wayne Simmonds, yet Kings fans still consider it well worth the prize.
After four consecutive seasons putting up no fewer than 60 points in each, Richards was a huge name in the NHL, and is an undeniable asset to the Los Angeles lineup.
Add to the statistics the energy and youthful maturity at age 26 and, honestly, Richards will be adding a lot to the power and skill to the Kings roster.
Former Flyer No. 3: Justin Williams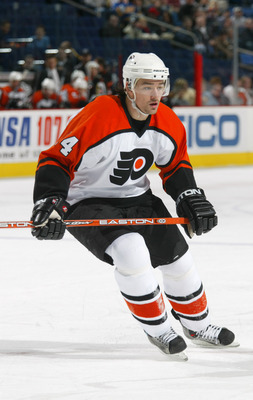 Rick Stewart/Getty Images
Position: Right Wing
Seasons with Philadelphia: 2000-2004
Seasons with Los Angeles: 2008-present
It's difficult to predict if Williams will race out of the gate with chemistry with former teammate Simon Gagne, considering the time that has passed since they played in the same jersey.
However, when healthy, Williams has proven he can post over 50 points in a season, and upward of 20 or 30 goals.
Williams is somewhat of a quiet threat, often flying under the radar and filling the gaps as a solid support player. Now that an even more talented squad around him, he could absolutely see some boosts in his statistics this coming season.
Former Flyer No. 4: Terry Murray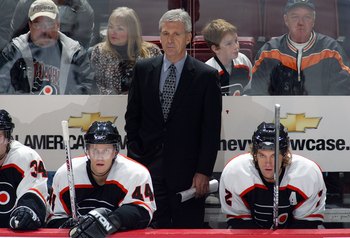 Chris McGrath/Getty Images
Position: Head Coach
Seasons with Philadelphia: Head Coach (1994-1997) & Assistant Coach (2003-2008)
Seasons with Los Angeles: 2009-present
As head coach of the Flyers, he posted a 118-64-30 record from 1994 to 1997.
Then in the 2003-2008 stint with Philadelphia, Murray landed the role of assistant coach, apparently teaching him more about coaching, which would end up helping him as LA's head coach.
Since 2009, Murray has had two seasons with the LA Kings, giving him a record of 80-64-20, including last season's impressive 46-27-9.
Former Flyer No. 5: John Stevens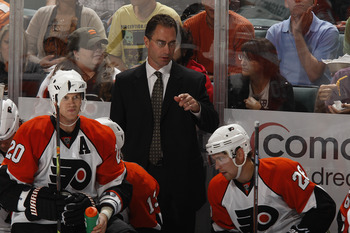 Joel Auerbach/Getty Images
Position: Assistant Coach
Seasons with Philadelphia: 2006-2009
Seasons with Los Angeles: 2009-present
John Stevens was head of the Philadelphia coaching staff during his time with the Flyers from 2006-2009.
Oddly enough, Stevens was the head coach for part of the time that Murray was an assistant coach. Now the roles have flipped, and Stevens is assisting Murray with LA.
Considering John Stevens and Terry Murray have already worked together, the coaching staff might have a head start on other coaching staffs which don't have that shared history.
Conclusion: Yes! the Kings Will Have a Similar Season to the Flyers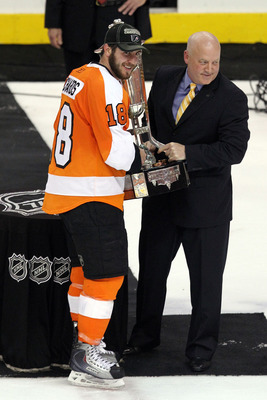 Bruce Bennett/Getty Images
When you look at all the players and staff members who have previously worked together, it makes you expect at least a little more chemistry.
LA has spent the past several years trying to rebuild a powerhouse of a team, and they have succeeded.
Not only do they now have a talented roster that is littered with previously successful Philly players, but they also have the strong coaching staff that could lead them well into the postseason.
In short, considering the similar paths the teams have taken in the past, and the fact that the Kings have been just a bit behind the Flyers' progress, I expect the Kings to have a strong season and one similar to Philadelphia's two seasons ago. Thus earning them the title of the "Flyers of the Western Conference."
Keep Reading

Los Angeles Kings: Like this team?