Vikings vs. Chargers: TV Schedule, Live Streaming, Radio, Game Time and More
September 7, 2011
Christian Petersen/Getty Images
The new-look Minnesota Vikings are not ready to compete with the San Diego Chargers. This much, even before the season starts, is true.
No team in the league was better statistically than the Chargers last year, but they simply couldn't find a way to win when it mattered. That has to change this year, or the team will continue to waste Philip Rivers' prime years.
The Vikings, on the other hand, signed Donovan McNabb in the offseason so as to win now with Adrian Peterson in the backfield. The running back is still the best in the league and starting rookie Christian Ponder before he is ready would set this team back.
Both have playoff aspirations this season and need to get off to a good start if they wish to make anything of them. The Vikings, though, will need time to put everything together. 
Week 1 will be a great start for both of them to see exactly where they stand moving forward.
Where: Qualcomm Stadium; San Diego, California.
When: Sunday, 4:15 P.M. EST. 
Watch: Locally on FOX affiliates. Direct TV 713.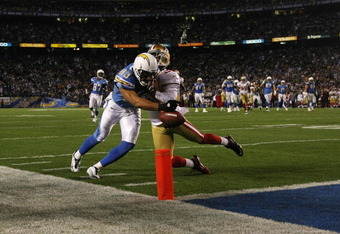 Donald Miralle/Getty Images
Listen: Sirius XM: 139 (Vikings), 93 (Chargers). Local: KFAN (Vikings), KIOZ (Chargers).
Betting Line: Chargers -8.5
San Diego's dominant offensive attack expects to be too much for the Vikings to handle.
What's at Stake
Measuring stick. The San Diego Chargers and Minnesota Vikings are two out of conference teams just looking to see where they stand.
The Chargers are the early favorite in the AFC West. The Chiefs and Raiders both took a step backwards and the Broncos are a threat only to themselves. There isn't much at stake in terms of playoff chances other than a "W," but proving early that they're the team to beat is important.
As for the Vikings, they need something positive to build on going forward. Christian Ponder is too smart and too talented to stay on the bench longer than one year so McNabb has to make things happen immediately.
Taking on the Chargers will show just how close, or far, this team is from competing.
Vikings' Injury Report
Kevin Williams, DT - The Vikings' big defensive tackle is suspended for the first two weeks of the season for violating a banned substance policy.
Chargers' Injury Report
Patrick Crayton, WR - The veteran receiver underwent ankle surgery towards the end of August. He is, however, listed as probable for the Week 1 matchup.
Fantasy Start 'Em
Vincent Jackson, WR, Chargers - Philip Rivers will be ecstatic to see Jackson's matchups against the Vikings. The Chargers' receiver will be targeted often by Rivers and should have a big opening day.
Fantasy Sit 'Em
Ryan Mathews, RB, Chargers - The second-year pro is looking to make better in his second season, but won't find much luck against the Vikings D. Even without Kevin Williams it will be tough to run and Mathews has to deal with Mike Tolbert taking carries as well.
Fantasy Sleeper
Visanthe Shiancoe, TE, Vikings - Minnesota's starting tight end is hoping to have a better start this year than how his injury-plagued 2010 went. The Chargers gave up a good amount of points to tight ends last season and Donovan McNabb is going to have to throw to someone as the Chargers focus on Peterson and Percy Harvin.
What They're Saying
The Twin Cities of Pioneer Press is saying: 
Minnesota's roster is composed of eight 2011 draft picks, five free-agent signings, three former Vikings practice squad players, one undrafted free agent (linebacker Larry Dean), one United Football League signing (defensive end Adrian Awasom), one waiver claim (former Texans linebacker Xavier Adibi) and 34 returning players from last year's roster.

More moves could be ahead, but this is what the Vikings have for now.
The USA Today is saying: 
It has slid under the radar, what with the team's concerns over its run defense. But nothing is more important regarding the Chargers than the health of one Philip Rivers. The team's offense and persona is built around this Pro Bowler, and for good reason: the guy is an elite player.

But Rivers can't do his thing unless the front line plays to its level. And that's no more important than at left tackle, with Marcus McNeill holding down Rivers' blindside.
Vikings' Player to Watch
Adrian Peterson, RB - The best running back in the league means everything to the Vikings' offense. There is nothing he cannot do and this entire offense depends on how defenses play him. Even when it seems he's simply chipping away at three yards per carry, he has the ability to break one at any time. If the Vikings are going to compete in this game it will come down to Peterson.
Chargers' Player to Watch
Bob Sanders, S - Newly acquired Bob Sanders could be the steal of the year should he stay healthy. But all that starts in Week 1 and his injury history shows that even the slightest thing can cost him a season. If he's on the field though, he can be a true playmaker in their secondary.
Key Matchup
Vikings front four vs. Chargers offensive line. Keeping Philip Rivers standing, or in the Vikings' case on his back, will determine this game. Minnesota lost Ray Edwards in free agency this season and are without Kevin Williams. If they cannot generate any pressure on the quarterback it will be a long, long afternoon for the Vikings' secondary.
On the Hot Seat
Norv Turner, Chargers coach. If Turner fails to get off to a good start again this season, and misses the playoffs, he'll be out of San Diego. GM A.J. Smith certainly doesn't make things easy at times, but Turner has to find a way to win more football games this season.
Prediction
Chargers 28, Vikings 17