Ten Golfers Who Shocked by Missing the Playoffs. Who's in Danger, Who Surprised?
September 6, 2011
Stuart Franklin/Getty Images
This year has been nothing but surprises when it came to winners on the PGA Tour and in the majors.  The Playoffs are no different. Golfers we would think should have been a lock for the final Playoff event in Atlanta may not make it.  And, like the rest of the year, there are surprises at the top.
Who didn't make it:
1. Number one shock at not being in the Fed Ex Playoffs at all is Tiger Woods.  
OK, at this point, there's not much left that would shock us about Tiger Woods, but even in January, nobody expected he would be on the bench in September. Or that Fred Couples would tell him to play more golf if he wants to be on the Presidents Cup team.  
2. Graeme McDowell, the darling of the second half of 2010, from the US Open to the Ryder cup and beyond, could do nothing wrong for six or seven months.  Then he took a break and has had a hard time doing anything right on the golf course since.  But, given that he was the first European to win the US Open since Tony Jacklin, he's entitled to slide a little for a while.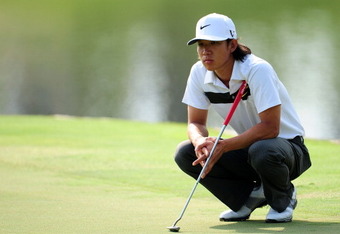 Stuart Franklin/Getty Images
3. Anthony Kim, who rose to stardom at Quail Hollow, and then went on to a great rookie performance on the Ryder Cup team in 2008 winning 2.5 points, has been wandering in the golf wilderness since his thumb surgery.  What?  Did the doctor take out Kim's game while he was stitching up tendons and muscles? 
4. Ian Poulter, winner at the Accenture Match Play, rolled steadily down hill after that victory, except for the partnering to victory at the Shark ShootOut with Dustin Johnson.  Then again, the PGA Tour victory gave him a two year exemption, and that can both help and hurt.  He's not in danger of losing his card, but it's a shock that he's not in the last two playoff events.  Maybe it was the ghost in the Hilton Head house that put the final kibosh on him.
5. Padraig Harrington. This is one of those cases of "what was he thinking?".   After winning back-to-back British Opens and a PGA event, he was thinking he could get better, and began the swing tweak.  The swing tweak after success has ruined more golfers than anything else.   The exception up to now has been Tiger Woods.
6. Stewart Cink. It's hard to know what's up with Cink's game.  Maybe tweeting caused him to have thumbs that were too strong for putting.  It could happen.  Like others who have won majors, there's an adjustment backlash after success, and some come back from it better than others.   
7. Retief Goosen.  A two time US Open champ, Goosen has taken to the long putter to overcome recent putting woes.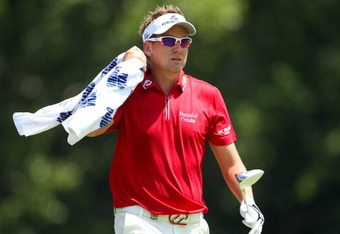 Andrew Redington/Getty Images
8 & 9: Stewart Appleby, Robert Allenby.  This is really a surprise.  The A-team has been dependably in the top 30, as dependably as—well—Tiger Woods. 
10. Paul Casey.  He couldn't help it, really.  Turf toe.  He had  x-rays, blood tests for gout, and he did not get a diagnosis until after an MRI.  He's not able to put pressure on his right foot, which is just about as bad as Tiger Woods not being able to use a left knee.
Who is still in danger:
1. Ernie Els & Geoff Ogilvy—hanging in at #68 and #69,  they need to post good finishes at the BMW or they will not be in Atlanta at the Tour Championship.  They are at 506 and 509 points, respectively, behind the 30th place player,  Kyle Stanley.   There are so many combinations of how everybody could finish that it can give you a headache and would take two weeks to do the computations.   But they probably have to finish top five or top ten and have the guys far down in the list stay far down in the list.  It would help them if those near 30th played worse, which, of course, those players do not want to do.  
2  Camilo Villegas winner of the BMW in 2008, needs to bump up from 47th to 30th to get into the last event. It's doable.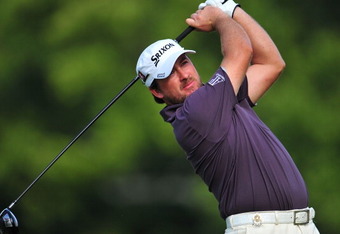 Stuart Franklin/Getty Images
3. Sergio Garcia.  He took some time off, and this year has been regaining form.  Give him credit.  He did not go back to Europe to prove he was still a world class player.  He jumped into the deep end called the PGA Tour.  Currently he's 54th.  one ahead of Tommy Two Gloves.
Who surprised us with success:
While some of our known quantities surprised us this year by not having great performances, others amazed us with what they were able to do during the season and during the first two weeks of the playoffs.
1.  Chez Reavie
2.  Webb Simpson
3.  Keegan  Bradley
4. Jason Dufner
5. Kyle Stanley
Kathy Bissell is a Golf Writer for Bleacher Report. Unless otherwise noted, all quotes were obtained first-hand or from official interview materials from the USGA, PGA Tour or PGA of