International Football: European Clubs Declare War with FIFA?
September 6, 2011
Michael Regan/Getty Images
The European Club Association has made its first announcement from Geneva this week—and it marks an escalation in a war of words with FIFA.
Every two years the ECA meets to decide on the future of club football and at the top of the agenda is undermining the power of FIFA's governance, firstly through decreasing the international football calendar.
Currently there are 12 international days that FIFA demands the release of clubs' players to attend, the ECA wants this number reduced to six.
Karl-Heinz Rummenigge, president of ECA, recently launched a scathing attack on Sepp Blatter, head of FIFA, for the corruption scandals which have rocked football's governing body. Rummenigge and the ECA sense a weakening in FIFA's hold on power, and with it an opportunity for clubs to gain ground in their control over the direction of the sport.
A number of players, such as Jack Wilshere in the game against Switzerland, have been injured on international duty and the clubs desire both greater compensation for releasing their employees but also a stronger influence on when they are released for FIFA duty.
Although there is no doubt that corruption is a serious issue that needs full investigation in the opulent halls of FIFA, one can point at the sharing of wealth as another cause for the ECA's chagrin.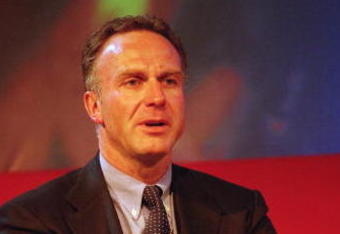 Getty Images/Getty Images
The World Cup in South Africa (as reported by Bloomberg), brought in $3.7 billion in revenue for FIFA which currently holds over $1 billion in cash reserves.
From that herculean revenue stream, the clubs who pay the wages of all of the players received less than $50 million to share amongst over 500 institutions.
The current agreement between the clubs and football's two main bodies, UEFA and FIFA—which ensures adherence to the current structure of international football—lasts until 2014.
In the current climate, it is difficult to speculate what the shape of international football might be after the current deal expires.
If an agreement cannot be reached between ECA and FIFA, the prospect of clubs breaking away to form their own competitions can not be ruled out.
UPDATED:
Amazingly, as reported by David Gold of Inside World Football, Karl-Heinz Rummenigge has now come out in support of Sepp Blatter's stewardship by announcing that ECA believe Blatter will make the necessary changes.
The rebellious nature of the ECA's announcements seems to be political posturing of a "carrot and stick" variety; a warning to FIFA of the consequences if they do not move closer to the clubs' demands.
Rummenigge believes that FIFA are making the necessary adjustments after holding recent meetings with Blatter.
Only time will tell if ECA's newly found faith in FIFA will last.