Pittsburgh Steelers Preview: 5 Biggest Questions Now That The Rosters Are Set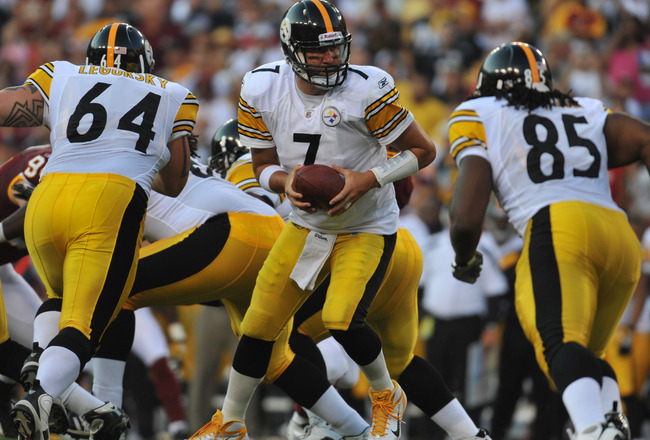 Larry French/Getty Images
The Pittsburgh Steelers' team roster is now set and the team is ready to prepare for the Baltimore Ravens in Week 1.
The Steelers looked pretty good this preseason and did not look phased at all by all the missed time due to the lockout.
I have predicted and still have the Steelers going 16-0 and winning the Super Bowl in 2011, however, that does not mean the team does not have any issues to fix before the season starts.
Cornerback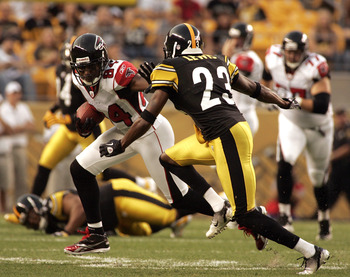 Justin K. Aller/Getty Images
Ike Taylor is clearly the top guy and I assume Bryant McFadden will start on the opposite side, however, both missed basically the entire preseason.
Keenan Lewis has finally shown some improvement and I was hoping that he did enough this preseason to allow the team to cut McFadden.
William Gay is just terrible and it is going to be frustrating watching him get burned on a consistent basis once the season starts.
Curtis Brown was not awful when he saw time and I would not be surprised to see him get on the field more during the season.
Cortez Allen saved his spot on the roster by playing well in the preseason finale against the Panthers and probably will not see the field at all this year.
It will be interesting to see how the roles pan out at this position during the season especially if McFadden cannot stay healthy.
Left Tackle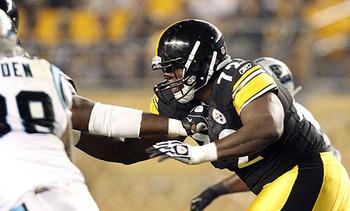 When the Steelers drafted Marcus Gilbert I said that I thought he could develop into our starting left tackle and Jonathan Scott did a decent job at left tackle last year, however, I was very surprised that they cut Max Starks.
Both Gilbert and Scott missed time with injury in the preseason so neither was able to really pull away and take the starting spot.
In the end, Scott will most likely start, as long as he's healthy, although, Gilbert did a good job in my opinion at tackle and I like him as the future at the position.
If Scott is unable to stay healthy or is just ineffective, Ben Roethlisberger could have the rookie protecting his blindside this season.
Right Guard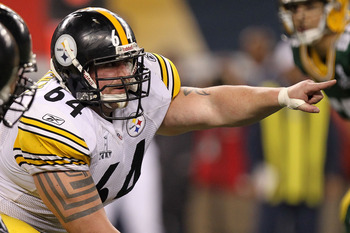 Ronald Martinez/Getty Images
Who is starting at right guard on the Steelers?
First it was Chris Scott, then Tony Hills, now Doug Legursky?
If the Steelers are so confident in Jonathan Scott at left tackle, maybe they should consider moving Willie Colon to right guard and putting Marcus Gilbert at right tackle.
You could switch Colon and Gilbert however, I thought it would be easier for the rookie to play tackle than guard and everyone has been dying to see Colon make that move anyway.
Either way the Steelers offensive line better get it together and find a way to open up holes in the running game as well as keep Ben Roethlisberger alive.
James Harrison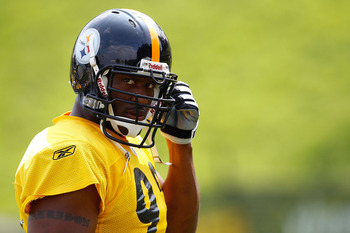 Jared Wickerham/Getty Images
The Steelers defense needs to get pressure on the quarterback and the team needs James Harrison to continue to be a beast opposite LaMarr Woodley.
James Harrison is coming off offseason surgery and does not appear to be in as good of shape as he usually is to start the season.
The team does have Jason Worilds behind Harrison to give the veteran plays off and keep him fresher in games, however, that still takes him off the field.
When James Harrison is healthy, he can terrorize the opposing offense and brings an attitude to the Steelers defense.
Youth Movement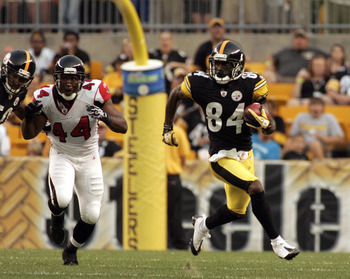 Justin K. Aller/Getty Images
Even though the Steelers are a veteran team, they are going to be looking for some younger players to step up and contribute to the team.
Jason Worilds is going to need to get consistent pressure on the quarterback so that the defense does not miss James Harrison on the field as much.
Emmanuel Sanders and Antonio Brown are both going to be huge parts of the Steelers offense this season and Isaac Redman is going to be getting a lot more carries.
Marcus Gilbert could be a big factor on the offensive line for the team and Maurkice Pouncey needs to stay healthy.
Both Keenan Lewis and Curtis Brown will be needed in the secondary and first-round pick Cameron Heyward looks poised to contribute on the defensive line.
I am going to be looking all season to see which young guys actually step up and help the team to the Super Bowl.
Keep Reading

Pittsburgh Steelers: Like this team?