Tony Moeaki Injury Leaves Kansas City Chiefs in Need of a Tight End
September 4, 2011
Dilip Vishwanat/Getty Images
With the recent injury to Tony Moeaki resulting in his absence for the entire season, the Kansas City Chiefs find themselves thin at the Tight End position.
It is important that the Chiefs find someone to help fill the gap that Moeaki leaves behind as it will be needed to alleviate the extra burden that it will place on the wide receivers and running backs.
Without a solid starter at tight end, or at least a capable tandem, the Kansas City Chiefs will have a sore spot in their offense this season.
Leonard Pope is the heir apparent to assume the starting role and although his numbers aren't that of Moeaki's, Pope will provide something for Matt Cassel to throw to.
The deficit will be felt, however, as Moeaki was one of the Chiefs quarterback's most reliable targets.
Behind Pope are two players that haven't much of an ability to duplicate the role of Moeaki and will be hard pressed to contribute to a level that will realistically make a dent in the game plan.
Anthony Becht is a player of years past whose talents and productivity had peaked early and trailed off consistently since the 2007-08 season.
It would be hard to accept the possibility that Becht would be able to make any significant contribution to this team as his role would be best served in blocking schemes.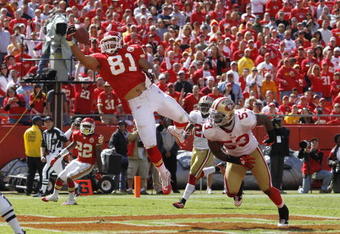 Joe Robbins/Getty Images
The upside to Pope is his size.  At 6-8 he gives Cassel a huge target and possesses better athletic talents than that of Becht.
The issue is that Pope has never been a dominant or vital part of any offense he has been in, as he has mostly been in supporting roles.
The question is who is available that has the ability to elevate this position?
With the final roster cuts past us, there are many players that would be happy to help a team and continue to play in the NFL.
Although the players available are on the "scrap heap," sometimes garbage picking can yield a hidden treasure.
Out of all of the released players available there are really only two that stand out as having the ability to help the Chiefs and support Pope on a consistent basis.
They would be Desmond Clark and Dante Rosario.
With Clark it is known that his best years are behind him, but for a 34-year old player that still has some gas in the tank, he may be something to consider.
Until the 2009-10 season, Clark was still capable of producing decent yardage and had the ability to be a respectable target in the red zone. Clark is still capable of bringing depth to the position, teaching the young Jake O'Connell and filling the role better than Becht.
The more feasible choice in this scenario is Dante Rosario.
Rosario, 27, was recently released by the Denver Broncos in a somewhat surprising move considering head coach John Fox usually has loyalty to his veteran players and he has played for Fox in Carolina.
Rosario has decent height, at 6-4, and is capable of being targeted close to 40 times in an offense that utilizes the tight end.
Rosario has the ability to assist Pope as an adequate tandem of tight ends while the club goes through the 2011 season without Moeaki.
Rosario's biggest edge over Becht is his age, speed and his route running ability.
Rosario would be a good compliment to Pope (28) and give the Chiefs another mobile tight end without the restrictions of Becht, as Jake O'Connell is dealing with ankle issues and is primarily a blocking tight end.
If the Chiefs are willing to take a gamble, it may pay off for a one year contract and to serve their purpose in the 2011 NFL season.