Oregon Ducks Football: The 5 Most Electrifying Ducks Players of the 2011 Team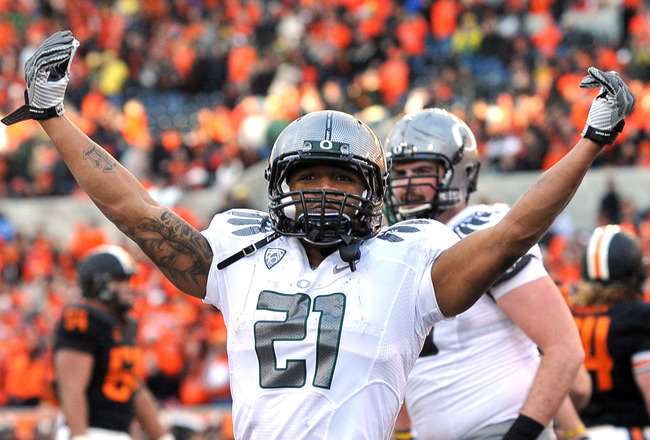 Steve Dykes/Getty Images
The Oregon Ducks have caught national attention through their offense, which surprised opponents and viewers with unconventional decisions and tremendous speed.
The Ducks scored on average 47.0 points per game in 2010 and led all of the FBS in this category.
However, Oregon's offense was not the only reason why the Ducks played an undefeated Pac-10 season and advanced to the BCS championship game, where they lost a heart breaker against Auburn.
The defense out of Eugene, Ore., also had an outstanding year in 2010 and ranked No.12 nationwide allowing only 18.7 points per game.
Here's a list of five players who contributed with their electrifying playing style to last season's success and will try to do the same this year.
5. John Boyett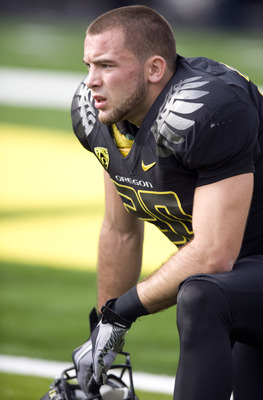 Steve Dykes/Getty Images
Northern California native John Boyett, after the departure of Casey Matthews, is the new leader of the Ducks' defense.
A two-year starter, Boyett is going into his junior year with Oregon and defensive coordinator Nick Allioti's could not be happier with the progress of his standout defensive back.
"He makes a lot of plays and plays with such a tenacious attitude. He's just a very good football player and loves the game," Aliotti said in an interview with the Corvallis Gazette-Times.
Boyett recorded five interceptions last season and returned them for 57 yards and one touchdown.
During his freshman campaign, the 21-year-old defensive back collected 62 solo tackles, which was the third most in whole conference.
Boyett has an outstanding football IQ and is able to anticipate opposing plays. Therefore, he is able to position himself in the right spots and break them up.
The new defensive leader will have great influence on how successful the 2011 Ducks team is going to be.
4. Darron Thomas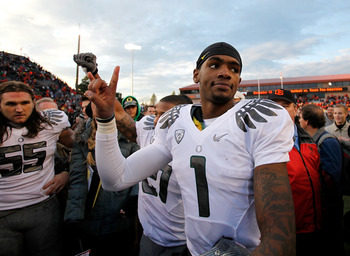 Jonathan Ferrey/Getty Images
Oregon quarterback Darron Thomas is the key to the Ducks' offensive success.
Thomas is able to execute head coach Chip Kelly's high-speed offensive scheme in a flawless manner.
The 21-year-old Thomas recorded 30 TDs and only nine INT's in his first year as the Ducks' starting QB, in addition he rushed for another 486 yards and five TDs.
His performance in 2010 came as surprise to everyone including fans and coaching staff.
"For Darron to do what he did last year, to go undefeated in the regular season was really kind of unheard of. And I'd be lying if I said we knew that's exactly what we were going to get out of him, because you really weren't sure (when Thomas beat out Nate Costa to win the job a year ago). But he got better and better each week," Kelly said in an interview with The Register-Guard.
If Oregon wants to have another shot at the national championship, Thomas has to prove that 2010 was more than a one-hit wonder and perform consistently at the highest level.
He undoubtedly has the talent, but does he have the mindset?
3. De'Anthony Thomas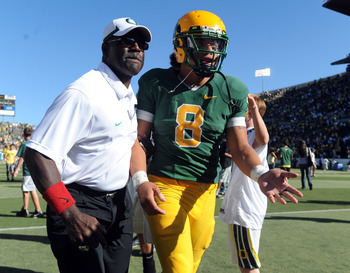 Oregon's running back coach Gary Campbell with fromer Ducks' QB Jeremiah Masoli during the 2009 season
Steve Dykes/Getty Images
Oregon's biggest offseason coup was the signing of high school prospect De'Anthony Thomas. The 18-year-old Los Angeles native surprisingly turned down USC on signing day and committed to the Ducks.
He will enter the 2011 season as the Ducks' third string running back behind starter LaMichael James and Kenjon Barner.
However, it appears we will not have to wait long to see what Thomas is capable of doing, he will get at least a few touches in the season opener against LSU, and if he continues to impress on the practice field, he could already make an impact in his freshman season.
"De'Anthony definitely is a great, great football player. He's going to be able to help us early, I believe. And one day he's going to be an outstanding football player," UO running back coach Gary Campbell told The Oregonian.
Thomas might be the biggest talent to ever wear a Ducks jersey. His talent, running style and stature make comparison with former Heisman winner Reggie Bush inevitable.
Oregon Ducks' fans are already dreaming of multiple national championships in the seasons to come.
2. Cliff Harris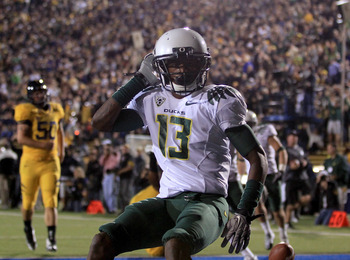 Ezra Shaw/Getty Images
Let's start with bad news: Cliff Harris was caught speeding at 118 mph June 12 and got suspended indefinitely by head coach Chip Kelly.
That means Oregon will start the season without their best punt and kick returner, and arguably best cornerback.
The good news: As soon as Harris will get reinstated, the Ducks have one of most feared punt and kickoff returners in the nation.
He led all of college football with four punt return touchdowns last season; in addition, he collected six interceptions along the way and returned them for a total of 92 yards and one touchdown.
Cliff Harris can make the big play on defense, or on special teams that puts the game away.
Every time the 20-year-old Harris touches the ball something spectacular could happen, so keep your eyes on No. 13.
The sooner he returns, the better are the chances for Oregon football.
1. LaMichael James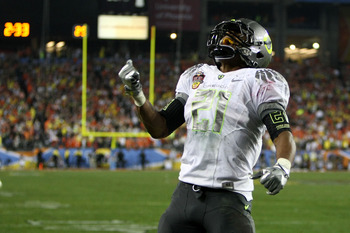 Jonathan Ferrey/Getty Images
Do I have to say more than Heisman front runner? LaMichael James has been the most outstanding player for the Oregon Ducks the last two seasons.
He finished third in last year's Heisman Trophy voting and was able to win the Doak Walker Award for college football's most outstanding running back.
James rushed for at total of 1,731 yards and 21 touchdowns, topping all running backs in college football in those two categories.
He also added 17 receptions and three more touchdowns to his list of achievements.
Many people are wondering if he and his teammates can top last season and put on another show.
Somebody who has no doubt about this is James himself.
"We can get better," he told The Washington Post. "The sky's the limit for us."
As fans of college football, and especially the Oregon Ducks, there is nothing else to do than lean back and watch the LaMichael James show raising the curtain for its third act. Guest start of the opening scene with be the LSU Tigers.
Keep Reading

Oregon Ducks Football: Like this team?