WWE Night of Champions: Top 5 Challengers for the WWE Internet Championship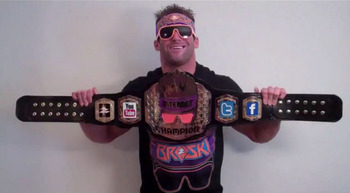 The most coveted belt in all Sports Entertainment.
I had a thought not too long ago while watching an episode of "Z: True Long Island Story." I remembered hearing that at a house show, Zack Ryder defended the WWE Internet Championship (against Primo, I think). So, with that thought in my head, I asked, "I wonder if Zack will get a dark match at NoC..."
Then I got to thinking—a lot of guys probably throw challenges at Zack (if "Z: TLIS" is any evidence). Honestly though, I think WWE should follow up on these challenges. They have an Internet show, so they could always defend the Internet Championship on Superstars. That's a whole different subject, though.
Anyway, all this got me thinking about who would be a suitable opponent for Long Island Iced Z at Night of Champions for the Internet Championship, and these are the guys I came up with.
Curt Hawkins
We've seen it before, but there's nothing wrong with the classic "jealous friend" storyline, which would be a perfect setup for a match over the Internet Championship. It also helps that both are mainly Superstars regulars when it comes to having an actual match.
Hawkins and Ryder, former WWE tag team champions, haven't been able to make much headway since they were split a few years back. Hawkins was sent to FCW, before being brought back with new tag partner, Vance Archer, who was eventually fired.
Ryder did fare a bit better, becoming a big name on ECW and getting himself out there with the WWE Internet Championship and his show, "Z: True Long Island Story."
Now, they both may not be the best wrestlers in the world, but I think, given a good 10 minutes, The Party Starter and Long Island Iced Z could put on a very good match, worthy of the Internet Championship.
Primo
The very first man to challenge for the Internet Championship and also, coincidentally, another former tag team partner of Zack Ryder. Formerly one-half of DZP (Down with Zack and Primo), Primo has enough skill to be a very difficult opponent for Woo-Z to handle.
Primo's had a good career so far, being the first man, along with Carlito, to unify the WWE and World Tag Team Championships at WrestleMania.
That said, Primo has not yet one singles championship, and I have no doubt he'd like to change that as soon as possible—and what better place to start than at Night of Champions?
Primo and Zack's styles play very well together, and I believe the former members of DZP could put on a good match for the Internet Championship.
John Morrison
If "Z: True Long Island Story" has shown anything, besides the fact Ryder is very creative, it's that Zack's dad loves John Morrison. That may be a bit of an understatement, but let's go with that he loves John Morrison.
Anyway, Morrison has also been a pain, more recently, in the side of Zack's friend The Big O, stemming from JoMo following, then un-following him on Twitter, causing Big O to call The Prince of Parkour out.
This call, however, was answered by Zack's dad, who claimed The Big O would have to get through him first.
Zack has a very good reason to want to challenge Morrison at this point, and while Morrison hasn't really had much interaction with Zack for a while, it would be interesting to see who wins in this match between The Guru of Greatness and The Ultimate Broski.
Trent Barreta
SmackDown's resident Dudebuster, Trent Barreta has been doing a lot of nothing on SmackDown as of late, except jobbing.
His forte seems to be that of the Internet show, WWE Superstars, so how fitting would it be for Trent to get a shot at the WWE Internet Championship against his old friend, Zack Ryder?
Trent himself has appeared before and was even Broski of the Week at one point. Aside from that, though, Trent is a reliable worker in the ring and would be more than able to hold his own against Ryder.
William Regal
William Regal has begun making appearances on "Z: True Long Island Story," and if these are any indication, it seems The Regal One has started to think rather highly of himself, calling himself "incredibly over," if my memory serves me.
Regal is a former WWE Intercontinental, World tag team, hardcore and European champion. Add to that, William is also the 2008 King of the Ring, and one of the best to never have won the big one in WWE. Now, the Internet Championship wouldn't quite make up for that, but it's a nice belt, to say the least.
William Regal is one of the best technical wrestlers going right now, and when you add that to his brawling ability, it should make a good contrast to Zack Ryder's style of high-impact combined with theatrics.
End
Thanks for reading, and please let me know your thoughts on the subject.
Keep Reading