Boston Red Sox: Josh Reddick, Ryan Kalish and the Red Sox Future in Right Field
August 31, 2011
Elsa/Getty Images
At the start of the 2010 season, starting Red Sox right fielder Josh Reddick was more of an afterthought than anything else.
After being ranked as the Red Sox' second-best prospect by soxprospects.com at the start of the 2009 season, he had managed to drop out of the ranking's top 10 just one year later.
Given Reddick's performance in both AAA Pawtucket and his brief stints in the majors, how could you blame them? Between two seasons and 100 major league at-bats with the Red Sox, Reddick failed to hit over .200 and amassed only 11 extra-base hits.
His minor league numbers were not much better. Although Reddick put up good power numbers, he was striking out more and walking less, alarming trends in today's sabermetric society.
As if that wasn't enough, the emergence of prospect Ryan Kalish in the 2010 campaign all but cemented Reddick as trade bait for the 2010 offseason. Luckily for the Red Sox, they decided to hang onto him.
In 2011, Reddick has been anything but disappointing.
In just under 200 ABs, he's mashed six homers and collected 26 RBI. He's also produced an .806 OPS, helping fill the void left by J.D. Drew's and Carl Crawford's disappointing seasons. However, as hot as Reddick was early on (1.161 OPS in his first 22 games) he's been just as cold as of late.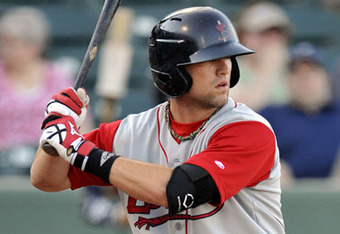 In the month of August, the youngster has struggled mightily, going 15 for 73 with only five extra-base hits in 26 contests.
With Reddick's fortunes taking a turn for the worse and J.D. Drew's contract up at the end of the season, Sox fans are itching to know who will be patrolling right field at the Fens for 2012 and beyond?
Well, if history tells us anything, we shouldn't forget about our old friend Ryan Kalish. After making a diving catch in early April, Kalish came up lame. He was ultimately diagnosed with a torn labrum in his left shoulder, shelving him for almost three months.
Kalish's injury opened the door for Reddick's stellar third impression, much like Reddick's futility allowed Kalish to thrive. It seems that entering spring training in 2012, Kalish and Reddick will be the two front runners for the job. However, both are not without flaws. 
Kalish has often been compared to Red Sox folk hero Trot Nixon for both his skill set and dirt-dog playing style. Although he's a hit with the fans, Kalish's all-or-nothing approach can lead to a laundry list of medical issues, often resulting in lost seasons and hobbled production.
Reddick's biggest issue is his inconsistency, along with the fact that he doesn't walk as much as the Red Sox would like. Reddick's 16 walks to 39 strikeouts show an inability to recognize pitches, a key to sustaining success at the major league level.
Although it may appear to be a two-horse race, there are a couple of dark horses that may charge from the rear.
In 2010 the Red Sox selected Bryce Brentz, a junior outfielder from obscure Middle Tennessee St., with their first pick in the supplemental round. In college, Brentz was known for his immense power, bashing 61 home runs in 684 collegiate ABs.
Although his raw power left scouts drooling, many wondered if the enormity of his success was attributed to a lower level of collegiate competition. Brentz did little to silence his critics in 2010, batting only .198 with five home runs in 69 games in Lowell.
However, 2011 has been a breakout year for the 22-year old, as he's put up exceptional power numbers between both Single A Greenville and Advanced A Salem. Brentz's 18 home runs with Salem is good enough for fourth in the Carolina League, impressive considering he joined the team just before Memorial Day and was sidelined for several weeks with a wrist injury.
Although Brentz has the tools to compete for the job, Salem manager Mike Crabbe thinks he needs more time in the minors, categorizing him as "a bit of an adventure in the outfield."
Perhaps a long shot to win the job out of spring training next year, it seems that Bryce Brentz will be knocking balls over the monster sooner rather than later.
Another prospect who has impressed in 2011 is 2009 10th-round pick Brandon Jacobs. Selected out of high school in Georgia, Jacobs is categorized as a rawer talent than Brentz.
However, Jacobs has found a way to put it all together this season, toting a line of .307/.380/.507 in a full season with Salem.
The 20-year old Jacobs offers one thing Brentz lacks—speed.
At 6'1" and 225 pounds, Jacobs is categorized as "deceptively fast," evidenced by his 29 stolen bases on the season. His outfield range is good, but his overall fielding needs work, making him more of a long-term project than a short-term solution.
Despite the strength of these four candidates, there are many more directions the Red Sox could choose to go in their quest for a right fielder.
One thing is for sure—the future is bright at Fenway.