UFC 134 Fight Card: Is Yushin Okami the Greatest Japanese Fighter Ever?
August 26, 2011
At UFC 134 in Rio de Janeiro, Brazil, we will finally get to see the rematch between Yushin "Thunder" Okami and UFC middleweight champion Anderson Silva.
Okami is the last man to beat Silva, albeit by DQ.
Recently, UFC president Dana White made some bold claims about Okami to MMAfighting.com.
"In my opinion, Yushin Okami is the best fighter ever to come out of Japan," White said. "This guy didn't fight cans and get this built up, mythological record."
You can argue that White has a valid point.
Okami is 10-2 in the UFC with his only losses coming to former middleweight champion Rich Franklin and Chael Sonnen. Out of his six total losses, Okami has only been stopped once.
If Okami can pick up a convincing win against Silva, he should be looked at as the best fighter out of Japan, and could start to make his mark on becoming the best pound-for-pound fighter in MMA today.
Given his UFC record, Okami has had more success outside of Japan than just about any Japanese fighter in MMA.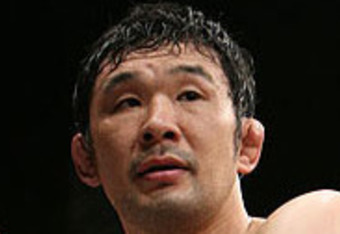 But is he the greatest ever? You could also make a few arguments that Okami is not.
The first name that usually comes to mind with that title goes to Kazushi Sakuraba.
Sakuraba was known as the "the Gracie Hunter" for his wins over Royler, Renzo, Ryan and Royce Gracie. The latter of which was a 90-minute fight.
Sakuraba also holds wins over former UFC champions Ken Shamrock, Kevin Randleman, Quinton "Rampage" Jackson, Carlos Newton and Vitor Belfort.
Although Sakuraba never won a title in Pride, he was looked at as the face of the company as well as Japanese MMA. Sakuraba only fought in the UFC twice, winning the UFC Japan tournament after two fights with Marcus Silveria in the same night.
Two other names that can be brought into the debate are Takanori Gomi and Shinya Aoki.
In his prime, Gomi was looked at as the best lightweight in the world. Gomi was the first and only Pride lightweight champion and holds the record for the quickest KO in Pride history. 
Gomi has also never been knocked out.
Although Gomi was successful in Pride, he has gone 5-4 (1-2 in the UFC) since the company closed.
Aoki, on the other hand, is 28-5 (1) with a five-fight winning streak. Aoki is known for his submissions that can come out of nowhere and holds wins over Bellator lightweight champion Eddie Alvarez as well as UFC vets Rich Clementi, Caol Uno and George Sotiropoulos.
Despite Aoki having some great wins, he has never fought in the UFC.
In terms of UFC success, Okami is without a doubt the most successful Japanese fighter. But greatest ever could be an understatement.
Of course, a second win over Anderson Silva could change that.
Do you think Okami is the greatest fighter out of Japan? Share your thoughts!