The Funniest Promo Botches in Wrestling History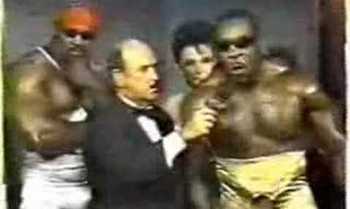 Promoters dread them, wrestlers fear them and fans love them. That's right, I'm speaking of the almighty promo botch.
As fans, we tune into wrestling for pure entertainment. And nothing says "entertainment" more than a hilarious screwup.
So here is a list of just a few of the most memorable promo botches in wrestling history.
Hulk Hogan
Here, Hulk Hogan manages to provide us with perhaps the most painful promo botch of all-time.
Hogan drops his lines a handful of times and attempts to go back and repeat them. He even unintentionally calls himself a "gay." Ouch...
It may have been his real-life heat with Vince that got to him, but even Hulk Hogan isn't immortal to the almighty promo botch.
Kevin Nash
This interview with Big Daddy Cool was far from being exactly that.
During a WrestleMania XI promo, the interviewer's mic goes off and Nash proceeds to add a botch of his own. It was a small one, but it was still hilarious. Nash says he came to "reh, deh, hold onto this belt."
Sid Vicious
When discussing wrestling botches, Sid is a man that needs no introduction. Sure, he left his stamp on the wrestling world during his time. However, I'm not so sure he left the stamp he wanted.
Simply put, Sid is to botches as Babe Ruth is to baseball. He is the one.
We all remember his live interviews, and we all remember his infamous broken leg incident.
But this botch stands above the rest.
Gene Okerlund
This isn't exactly one of the most memorable botches of all-time, but dammit it's pretty funny.
While staging an interview with Rick Rude and Bobby Hennan, Mean Gene shows his displeasure with a failed SummerSlam sign. The sign falls behind him and, well watch for yourself...
Mike Adamle
The name just sends migraines to all wrestling fans around the world.
No, not Jeff Harvey. I mean Mike Adamle. His screw-ups as a WWE employee are far too plentiful to count. So I'll give you one of his worst.
In case you didn't know, this guy was so bad that promo botches are often referred to as an "Adamle."
Yes, he was that bad.
Booker T
Of course!
How can we have a list of all-time promo botches without this one? We can't.
Here's that classic Booker T moment.
Batista
Batista, or should I say 'Botchtista," made his fair share of screw-ups under the WWE spotlight.
In this one, Dave mispronounces the name of the company's golden boy, John Cena.
Sure, everyone messes up a name here and there. However, the way Batista did it made this botch that much funnier.
Lex Luger
This could very well be the second greatest promo fail of all-time.
While conducting an interview for Cyberspace Wrestling Federation, Lex Luger gives us the total package of botches.
He mispronounces despicable, he doesn't know the name of the promotion's event and he can't take his own shirt off.
John Bradshaw Layfield
Bradshaw's promo didn't look great from the start. After he completed his first sentence, it looked like he didn't knew where it was going with it.
I still don't know if he was going to finish off John Cena or Kane.
Michael McGillicutty
Was anybody really sure of what Michael McGillicutty was trying to say here?
Let's just say he's a long way from being perfect.
The Shockmaster
Ladies and gentlemen, I give you the holy grail of promo fail.
It's a superhero. No, it's a storm trooper.
No, it's the one, the only...Shockmaster!
What Do You Think?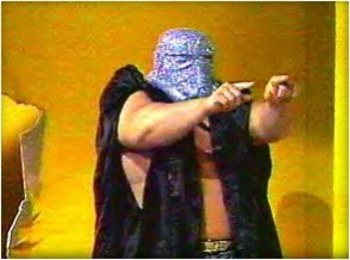 What about your favorite promo botches?
If I missed any of your favorites, feel free to add it into the comment section.
Keep Reading