Looking Back at the 10 Biggest Sports Fights of All Time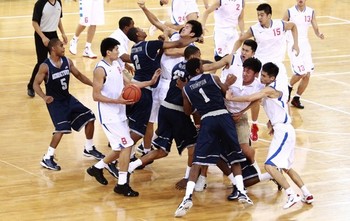 Around a month ago, the Georgetown Hoyas basketball team, and a national collegiate-level Chinese basketball team, shocked fans around the world alike when they broke out into a massive fight.
It started early in the game with pushes more rough than necessary, and evident jarring and trash-talking coming from both sides of the court.
Yet, no one expected what ended up occurring; one of the biggest sports brawls in recent memory, which led to a fan in attendance attempting to stomp on Jason Clark's (perhaps the Hoyas' most talented player) head.
John Thompson III handled it perfectly and diplomatically, getting his team out of the arena as quickly as possible, and making sure the teams met up to apologize and so forth. Yet, this didn't stop the fight, produced in a simple friendly game, from being video footage clicked on thousands of times on YouTube, or from being the headline picture of many sports section of many newspapers across America.
It was a huge, huge sports fight. But how does it compare to the top ten?
--Hope you enjoy, and remember this is in no order; you can comment with your own order though.
Malice at the Palace
At first, Ron Artest was doing everything right. Known for being a hothead, he didn't get into the face of an enraged Ben Wallace after stupidly committing a hard foul with the game all but over.
However, everything got ugly when a fan threw his beer can at Artest. The rest is history.
Artest charged the crowd, punched a fan, missed the rest of the season and his career was forever tarnished.
It's rare enough to see one man go into the stands, but at the Palace, there were players and coaches alike going into the crowd. Walking off the court, a chair was thrown in the direction of Artest symbolizing just how shocked and disgusted the audience was that night.
One of the most intense, memorable fights in any sport ever.
Miami vs. FIU
A Miami PAT started this fight between one football powerhouse and another no-name school.
Chris Smith and Matt Perelli engaged in a sort of wrestling, which led to a free-for-all between the two sides, which eventually accumulated in 13 penalties and an unheard of 31 suspensions.
This fight took place during the first meeting between the schools and now will forever live on in the history of both schools.
San Francisco Giants vs. Los Angeles Dodgers
Catcher Johnny Roseboro accidentally threw a ball at Juan Marichal. What transpired was a big fight, a big injury and a big moment in baseball history.
Marichal smacked Roseboro in the head opening a gash and then charged the mound.
Both benches followed and Roseboro was the villain for this day, picking up a hefty suspension and fine.
His career always goes hand-in-hand with when he opened a wound on the forehead of a Dodgers catcher.
Kermit Washington vs. Rudy Tomjanovich
--Start at 1: 28
One of the most stunning events in NBA history.
In a Houston Rockets, LA Lakers matchup, the players engaged in a fight at half court.
But what proceeded should never have happened; Rudy Tomjanovich ran in to break up the fight when Rockets player Kermit Washington crushed him in the face with a roundhouse punch.
Rudy was left unconscious, and apparently the hit was so loud that the people in the second floor press box heard it and rushed down.
Washington's sub-par career is only remembered by this event, and Tomjanovich, who was a good player, was left with a completely messed up face for a while.
New York Knicks vs. Denver Nuggets
Knicks players decided that it was too much. After George Karl had kept his first-team in through a 19 point lead with less than two minutes left in the game, bench warmer Mardy Collins fouled him badly, resulting in one of the worst fights in history.
A multitude of fights ensued, including a sucker punch by Carmelo Anthony on Mardy Collins and a wrestling match between Nate Robinson and JR Smith into the stands.
The Nuggets may have been at fault after showboating for fast break dunks when they were up 16 and never removing the starters, and George Karl will most likely regret this decision for the remainder of his coaching career.
Everyone got into this fight, with 10 players ejected. Although for some reason none of these players are solely remembered by this incident (besides Mardy Collins), this is still one of the more remembered fights in sports history.
New York Yankees vs. Boston Red Sox (2003 Version)
One of the most shocking results of a brawl came in this edition, when Red Sox pitcher Pedro Martinez decided to hit 72-year-old Yankees bench coach Don Zimmer (who, in all fairness, charged Pedro).
This was the climax of the fights between the rivals, as later in the game, two Yankees players attacked a Boston Red Sox groundskeeper.
Tempers have always flared when these two sides meet, but since they had not played in such a high stakes game in a while, this one is where the tempers reached a peak.
When does a 72-year-old man charge the mound, and proceed to get knocked down by a pitcher?
When does a game ever see two bench-clearing brawls, and another physical altercation later on?
The answer should be an obvious never. Yet the Yankees and Red Sox proved us wrong in the ALCS.
Frank Francisco vs. Crowd
When racial slurs were yelled out at a Rangers pitcher, Frank Francisco had to get involved. With a history for fan violence, he went up to a whole other level.
Francisco raced to the stands and threw a folding chair at the audience aggressor, Craig Bueno and ended up hitting Jennifer Bueno, Craig's fiancee.
Francisco was never a very good player, so his career is defined by the number of physical events he was involved in. This one definitely tops that list.
Eric Cantona vs. Crowd
In 1994, France and Manchester United legend Eric Cantona kicked a Crystal Palace fan "Kung-Fu" style.
He seemed to do it for no reason at all, as he had recently been sent off for a bad tackle, and was heading for the showers.
Cantona flew into the crowd, kicked and punched the fan and left. Later, at a mandatory press conference, he delivered a confusing quote, saying "When the seagulls follow the trawler, it's because they think sardines will be thrown into the sea. Thank you very much". Then he left.
Although Cantona will always be remembered as a great player, this moment has forever tarnished his legacy.
New York Knicks vs. Miami Heat
In 1998, arch-rivals Miami Heat and New York Knicks met in the playoffs, something that had become somewhat of a ritual over the years.
During Game 5 of this series, a huge fight went down.
After a scuffle late in the game between Miami center Alonzo Mourning and Knicks guard Larry Johnson, both benches, including Knicks coach Jeff Van Gundy, stormed the court.
Although the fight did not include any fights both teams got feisty, and one very memorable event took place.
Van Gundy hung onto Mourning's leg and followed the Heat star everywhere.
This was a huge brawl and both Mourning's and Van Gundy's careers are forever linked with this historic fight.
Detroit Red Wings vs. Colorado Avalanche
Surely one of the biggest fights in hockey took place in 1997, between the Detroit Red Wings and Colorado Avalanche.
It was all in the aftermath of a check during Game 6 of the previous season's playoffs, when Claude Lemieux drilled Kris Draper into the wall.
The next year, the two teams met again, and what ensued was a bloody, nine fight melee, which ended up defining the careers of many of the players involved.
The biggest fight of the game came when Igor Larionov and Pete Forsberg collided. Danny McCarthy then proceeded to throw many combinations of punches, kicks and knees at Lemieux.
This fight basically brought out the entire teams, including goaltenders, and led to a bloodied brawl.
There were four more relatively minor fights before the game ended.
The two players who careers are most associated with this brawl are McCarthy, the Red Wings enforcer, who took part in many of the subplots, and Claude Lemieux, the man who initiated it all.
Keep Reading