2011 PGA Championship: Why Phil Mickelson Won't Be a Factor in Atlanta
August 8, 2011
Stuart Franklin/Getty Images
The season's final major is here!
For the 2011 PGA Championship, the players head to Atlanta, Georgia, and the Atlanta Athletic Club. The last time the club hosted this championship was back in 2001, when David Toms took home his first and only major. 
Ten years later, the course has been changed significantly. 
In perhaps the most important change, the grass on the greens is now Bermuda as opposed to the bent grass in 2001. 
And with the start of the tournament only three days away, the names of favorites are already being tossed about with regularity. 
As always, Phil Mickelson is included in this talk. Most years, I would agree that Mickelson is a favorite to win. 
This year, however, is not like most years. 
Mickelson finished tied for 27th and tied for 54th in the Masters and U.S. Open, respectively, in 2011. Those are normally two majors in which he performs well. 
The major he normally does not compete well in is the British Open. A second-place finish this year was the best finish in his career.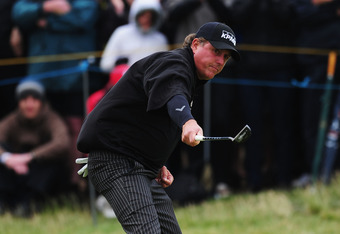 Stuart Franklin/Getty Images
That shows that something in Mickelson's game is simply off. 
To win majors, the two most important factors are hitting fairways and making putts. 
His inability to hit fairways at Congressional cost Mickelson a chance at the U.S. Open, and his ice-cold putter cost him a chance at the British Open.
So far in 2011, Mickelson is ranked 181st in driving percentage, hitting a mere 53 percent of fairways. If he only finds the short grass on half of his drives this week, Mickelson is greatly hurting his chances at making pars or birdies. 
Once Mickelson scrambles to the greens, he is ranked 73rd in strokes gained in putting. This relatively new stat intends to show how many strokes a player gains on the field by making putts. 
While 73rd is not awful, it is far from good. 
Mickelson is a very streaky putter. He can be hot for nine holes and then not make a putt into a paint bucket on the next nine. 
That simply will not get it done at Atlanta Athletic Club. 
Mickelson is now 41 years old. He doesn't have many more chances to win majors, especially with Tiger Woods making a comeback.
Unfortunately for all you Mickelson fans, the 2011 PGA Championship will not be the place where he wins his fifth major.