Florida Football: The Top 10 Gator Quarterbacks of the Last 50 Years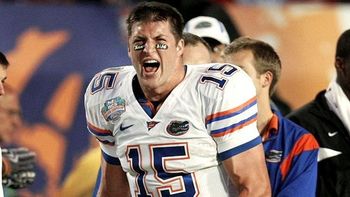 In the past 50 years quarterbacks have came and gone making their own marks on their era.
The University of Florida was lucky enough to have some amazing quarterbacks play for them.
Included in this is three Heisman winners, All Americans and many All SEC team selections, however which had the best career for the Gators.
In the following slides I will rank the Gators ten best QB's from the past 50 years.
10. Kerwin Bell (1983-1987)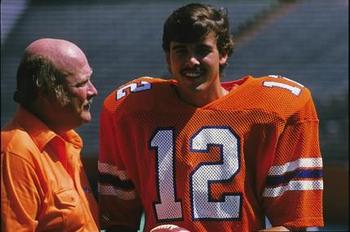 Record: 30-13-2
Completions: 549-949
Yards: 7,585
Touchdowns: 56
First on my list is a quarterback who had to walk on to show his talents, Kerwin Bell.
Bell was ranked 8th on the depth chart in 1984 before jumping to the top as a redshirt freshman. From there on Kerwin never looked back.
Receiving a scholarship in the process, Bell led the Gators to consecutive 9-1-1 seasons while earning himself SEC player of the Year in 1984 and a spot on the first team All SEC team in 1985.
Bell went on to have a long 14 year career in the professionals.
9. Wayne Peace (1980-1983)
Record: 29-15
Completions: 610-991 (highest career completion percentage)
Yards: 7,206
Known for being apart of "The Catch" comes Wayne Peace.
With just over a 1:45 left in the game Peace threw a ball to WR James Jones who caught the 17 yard pass for a TD giving the Gators a 17-14 win over Miami at Gator Field which turns out to be one of the greatest plays in Florida history.
Coming in after the Gators went 0-10-1 in 1979 Peace helped turn to Gators program around going 9-4 in 1980 and leading them to the Tangerine Bowl, in which they beat Maryland 35-20.
At one point Peace held the NCAA completion percentage record in 1982 when he threw for a 70.73 completion percentage.
8. Doug Johnson (1996-1999)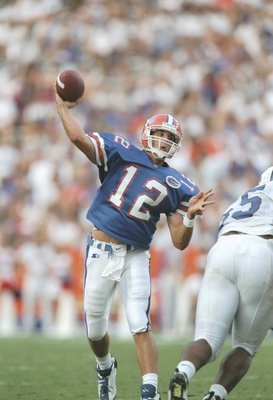 Record: 29-8
Completions: 504-907
Yards: 7,114
Touchdowns: 62
Known for his seven touchdowns in one game- a SEC record- comes the next QB on my list, Doug Johnson.
Johnson a native of Gainesville grew up hoping at some point to play QB at UF. However, before even starting his career at UF, Johnson was drafted to play major league baseball. While playing with Tampa Rays minor league team, Johnson decided to also play football with the Gators.
During his career at UF Johnson led the Gators to three consecutive bowl games, including a win in the Florida Citrus Bowl (1997) and the Orange Bowl (1998).
7. Rex Grossman (1999-2002)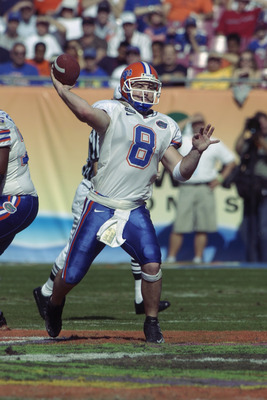 Matt Stroshane/Getty Images
First Team All American (2001)
Record: 23-8
Completions: 677-1,110
Yards: 9,164
Touchdowns: 77
Helped lead the Gators to a 2002 Orange Bowl victory and a 10-2 2002 record comes my next QB, Rex Grossman.
Grossman a redshirt freshman in 2000 helped lead the Gators to the Orange Bowl after starter Jesse Palmer got hurt during the season.
After a great 2000 season, Grossman continued his great play in 2001 by leading UF to a bowl game and receiving 2nd place in the Heisman vote that year. That Heisman vote turned out to be the closest in history losing out of first place by 62 votes.
Grossman decided to forgo his last year of eligibility and enter the NFL Draft in which he was drafted in the first round by the Chicago Bears.
6. Chris Leak (2003-2006)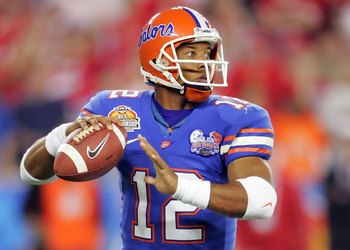 Andy Lyons/Getty Images
BCS National Champion MVP (2007)
Record: 37-14
Completions: 895-1,458
Yards: 11,213
Touchdowns: 88
Known for leading the Gators to their first consensus National Championship in 2007 is four year starter Chris Leak.
Leak went 6-3 as a true freshman in the SEC. After a strong freshman season Leak came back his sophomore year adding a six passing touchdown game- tying a school record.
In 2006, Chris Leak last year at Florida lead his team to a 13-1 record and the rights to face Ohio State University in the National Championship game. Leak went on the lead the Gators to a 41-14 victory, going 25-36 with 213 yards and a touchdown. He also won the MVP of the game.
5. John Reaves (1969-1971)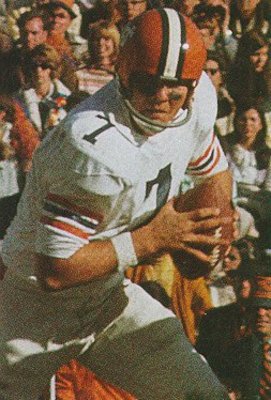 First Team All American (1971)
Record: 20-12-1
Yards: 7,581
Touchdowns: 56
Leading the Gators to their all time best season record at the time of 9-1-1 comes John Reaves.
Within the three seasons that Reaves played at Florida he had set the NCAA record for career passing yards and a SEC record for touchdowns.
Reaves is mostly known for getting the record for passing yards a very controversial way. When Florida defense laid down on the field allowing Miami to score, giving Reaves enough time to break the record. It later became known as the "Florida Flop".
However, Reaves still had a great three years for Florida and led them to a Gator Bowl victory against Tennessee (14-13) in 1969.
4. Steve Spurrier (1964-1966)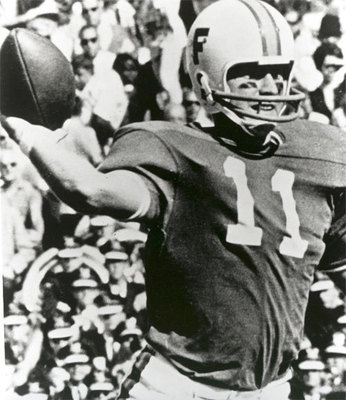 Heisman Trophy Winner (1966)
First Team All American (1965, 1966)
Record: 23-9
Completions: 392-692
Yards: 4,848
Touchdowns: 32
Florida's first Heisman winner and the next person on my list is former Florida QB and coach, Steve Spurrier.
One of Spurrier's high moments wasn't as a quarterback but as a kicker when he waved off the starting place kicker and kicked a 40 yard field goal to beat Auburn 30-27.
Steve led the Gators to two bowl games in his three years including a 1966 Orange Bowl victory against Georgia Tech (27-12)
3. Shane Matthews (1990-1992)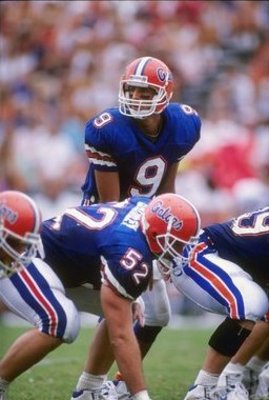 SEC Player of the Year (1991, 1992)
Second Team All American (1992)
Record: 28-8
Completions: 722-1,202
Yards: 9,287
Touchdowns: 74
Our next quarterback who actually played under Steve Spurrier is Shane Matthews.
Matthews led the Gators to their first official SEC championship in 1991. The following year he led his team to another big game at the Gator Bowl where Florida beat North Carolina State 27-10.
Matthews finished 5th in the Heisman voting in 1991 and was selected to the First Team All SEC team three consecutive years (1990-92).
2. Danny Wuerffel (1993-1996)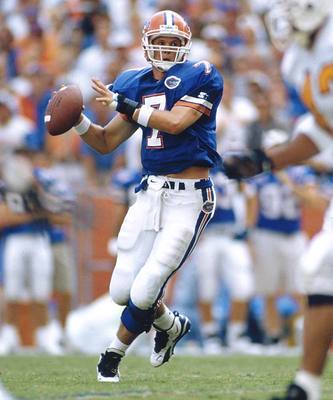 Heisman Trophy Winner (1996)
First Team All American (1995, 1996)
Record: 45-6
Completions: 708-1,170
Yards: 10,875
Touchdowns: 114
Next on my list is a player that pretty much put the Florida Gators on the map and will go down in college football as one of the best quarterbacks to ever played, Danny Wuerffel.
At this point in my list it got very difficult for me to decide who was No. 2 and who should be No. 1. I feel however that Danny Wuerffel should hold the ranking of two.
Danny Wuerffel was known for doing everything for the Gators during the mid 90's. He led Florida to four consecutive SEC championships, two title games- one a win against archrival FSU, and broke many Gator records.
After losing to Nebraska in the Fiesta Bowl in 1995, Wuerffel led the Gators back to the title game in 1996 when he succeeded in beating Florida State 52-20, giving the Gators their first ever title.
Other then achievements he led his team to, Wuerffel won the Heisman Trophy, named to the All American team twice and the following:
QB of the Year-1996, Walter Camp Award-1996, Maxwell Award-1996, Johnny Unitas Award-1996 and the Draddy Trophy-1996.
In all he won 9 awards in 1996 plus a title and a SEC championship.
It can be argued that he was one if not the greatest college quarterback ever.
1. Tim Tebow (2006-2009)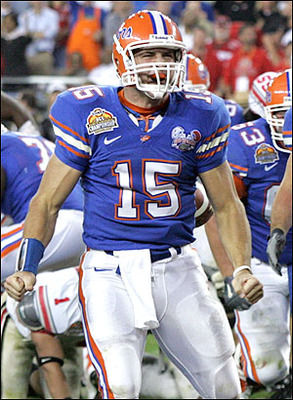 Heisman Trophy Winner (2007)
First Team All American (2007, 2008)
Second Team All American (2009)
Record: 35-6
Completions: 661-985
Total Yards: 12,233
Total Touchdowns: 145
The No. 1 quarterback on my list and probably the most popular QB in University of Florida history, Tim Tebow.
The reason I ranked Tim Tebow at one was for the reason that I saw him play and was able to see the effect he had on people. Many people didn't like him because they thought he was too cocky, however, Tim Tebow was most likely the most influential person that NCAA football has ever seen. I believe that he might not have been the best quarterback the Gators have had but he has made the biggest impact.
The intensity I watched him play games with were unreal, and sometimes unbelievable. He is a winner and he made everyone around him the best they were. During his tenure as the QB for the Gators he won a national championship- in which he defeated Oklahoma in the 2009 National Championship game 24-14. He also led them to a SEC championship in 2008.
During his best season in 2007 Tebow won the Heisman trophy as a sophomore scoring 51 touchdowns.
Also during his 2007 season and after Tim Tebow won a combined 22 awards including: NCAA QB of the Year, First Team Academic All American, Maxwell Award, Sporting News Player of the Year, and many more.
Tebow became an icon to many and for that reason I believed that he was the greatest QB that the Florida Gators have ever had.
Keep Reading

Florida Gators Football: Like this team?