San Francisco Giants: Blowout of Arizona a Sneak Preview of Things to Come?
August 3, 2011
Jed Jacobsohn/Getty Images
When the Giants woke up Wednesday morning, they were no longer in first place by themselves. They had lost four games in the standings in four days.
By the time they walked off the field at AT&T Park Wednesday afternoon, they might as well have been leading the division by 10 games.
That's how uplifting San Francisco's play was between the first and last pitch of the series finale against the Arizona Diamondbacks.
Not to discount the D'backs and their excellent play over the past couple of weeks, but the Giants' 8-1 drubbing of the Snakes Wednesday was a refreshing laugher of a contest, with San Francisco pounding out 12 hits and putting on an offensive show for another sell-out crowd at AT&T Park.
Wait a minute, an "offensive show"? What team is this article about?
Yes, you read that right: offensive show.
The Giants scored more than six runs at home for the first time all year.
What a difference a day makes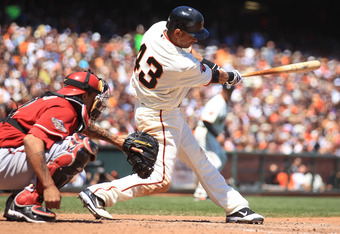 Jed Jacobsohn/Getty Images
The post-game feel just 18 hours earlier was one of grave concern.
Grave concern that the Giants had matched a season-high with five straight defeats.
Grave concern that the Diamondbacks were surging against the Giants the way the Giants surged against the Padres late last season to snatch away a postseason berth from San Diego.
Grave concern that the Giants, despite acquiring three players to bolster their offense prior to the trade deadline, were still averaging just 2 runs per game since the centerpiece of Brian Sabean's trade agenda, Carlos Beltran, put on the orange and black.
Grave concern turned into wondrous revelation on Wednesday afternoon.
Wondrous revelation of what the Giants could really accomplish in the final two months of the season, and beyond into the playoffs.
Everyone knows San Francisco has arguably the best pitching, top to bottom, in the big leagues.
The knock on the Giants has been that they're a light-hitting team. And though last season they proved that a light-hitting team can win it all with lights-out pitching, that club ranked 9th out of 16 NL teams in hitting for 2010.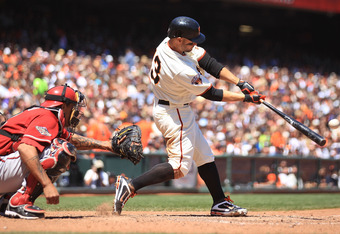 Jed Jacobsohn/Getty Images
This year, following season-ending injuries to key offensive components Buster Posey and Freddy Sanchez, the Giants are ranked dead-last or very near the bottom of the league in most offensive categories.
San Francisco's tenure in the offensive basement may be coming to an end, and the turnaround may have begun Wednesday.
The two-three-four team of Jeff Keppinger, Pablo Sandoval, and Carlos Beltran combined to go 7-for-15. Beltran in particular had his best game yet as a Giant, going 3-for-5 with his second triple in four games at AT&T Park.
Fellow Giants newcomer Orlando Cabrera added a two-run double and had three RBI on the day. Cody Ross joined the hit parade with a three-RBI performance of his own.
A Miracle Makeover?
A lineup that has been so beleaguered and punchless all season long now looks much more formidable, and Brian Sabean's makeover has truly been a statistical miracle:
2. Keppinger - .300, 4 HR, 21 RBI
3. Sandoval -  .309, 11 HR, 40 RBI
4. Beltran -     .287, 15 HR, 68 RBI
So what does this all mean?
It means that the Giants' offense will no longer be easy to silence.
It also means that San Francisco has significantly more offensive firepower in the middle of its lineup to support a pitching staff that is giving up just 3.2 earned runs/game.
An end to the torture?
Let's not get carried away.
But an offense that reaches the middle of the pack in the National League, coupled with perhaps the most dominant pitching staff in baseball?
Now that sounds a lot like the 2010 [World Champion] San Francisco Giants.