Chicago Blackhawks Countdown to Camp: Competition at the Remaining Forward Spots
August 8, 2011
Bruce Bennett/Getty Images
The Chicago Blackhawks took steps to sport a more rugged on-ice persona with their offseason moves this summer.  By signing a host of veterans to one-year deals, they also are attempting to bridge the gap in talent while several prospects realize their potential.
Last week, I took a look at the top two lines as the Blackhawks prepare for training camp. Going on the thinking that Dave Bolland starts the season on the second line, six forward spots seem to be locks.
Jonathan Toews, Patrick Kane, the newly-extended Patrick Sharp, Marian Hossa, Andrew Brunette and Bolland are no-brainers for this year's club.
From there, there's room for some healthy competition.
It looks like the 'Hawks could go with as many as 14 forwards on this year's club, provided they carry seven defensemen and two goalies. To fill the last seven or eight spots, there are twelve players I see battling for the honor of wearing the Indian head sweater.
There are holdovers from the 2010-11 club, newly acquired veterans, and prospects on the make.  All should be in camp trying to find a place on the team.
Holdovers
Bryan Bickell, Michael Frolik and Viktor Stalberg all figure to be on the ice opening night.
Bickell will be returning from wrist surgery in April, but was one of the NHL's best bargains last season. Frolik was signed to a three-year deal last month, so he figures to be in Chicago's plans. The two will likely see time together on the third line, where they teamed effectively with Bolland in the playoffs.
Stalberg, signed to a two-year contract, also figures to be on the roster. Where that will be is still a matter of discussion. Stalberg must prove he has the talent to skate on a scoring line, as he's not a prototypical fourth-liner.
That leaves four, maybe five spots. GM Stan Bowman's plan was to toughen the team up with experienced skaters. Let's look at the veteran pickups.
Veteran Additions
Instead of Rusty, maybe Rostislav Olesz's nickname should be "The Afterthought."
Largely seen as the price of shipping Brian Campbell's contract to Florida, it's difficult projecting what Chicago's plans for Olesz are. Coming off of knee surgery, it's possible Olesz isn't ready to play when camp opens.
Olesz has been projected as high as the second line, but has also been the subject of buyout talk and may wind up in Rockford.
Jamal Mayers is a Joel Quenneville guy, brought to town for the purpose of adding some kick to the fourth line. Unless he has a terrible camp, he should make the team. Daniel Carcillo was the surprise signing of the summer and figures to play a similar role. He may not play every night, but he looks to make the squad.
Brett McLean was signed to provide a veteran presence at the AHL level, though if no one steps up at center, he could see action in Chicago. It doesn't appear that that will be the case.
There is also still the possibility that Bowman will sign a veteran center in waning days before camp.
Will there be a push from some newer faces for playing time? Here's who may have the best shot.
Young Guns
Marcus Kruger looks to be the third line center right now, possibly moving down to the fourth line if Bolland winds up on the checking line.  I still think that he'd be better served with time in Rockford, but unless Chicago adds to their depth, Kruger is going to chance to prove he's ready to bang in the NHL.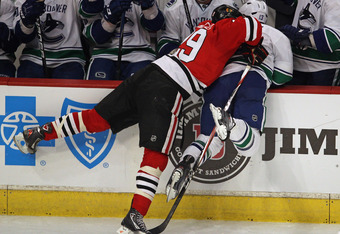 Jonathan Daniel/Getty Images
Ben Smith should also get the opportunity to follow up on an impressive late-season run. I wouldn't be surprised to see him centering one of the bottom two lines.
Jeremy Morin and Rob Klinkhammer are two players who should be in the picture when the final cuts are made. Morin will be with the team very soon, but missing half of last season set him back a bit.
Klinkhammer isn't showing up on any of the hot prospect lists, mostly because he's fourth-line material. However, he has the motor and the size to make it in the NHL and could sneak onto the team with a big preseason.
Brandon Pirri is still in need of development time in Rockford, but could make some noise at camp, especially if he plays like he did toward the end of last season. 
As opposed to last season, I think that players are going to have to earn their way onto the team with strong showings in training camp. I don't think we can pencil in all of the Chicago forwards just yet. Several sports are going to be decided late in the preseason.
To me, that's a good thing.
In the next part of the Countdown to Camp, I'll assess the situation on the blue line.