Arsenal's Transfer Prospects: The Two Signings Arsene Wenger Has to Make
July 31, 2011
Ian Walton/Getty Images
The much-loved and much-watched Emirates Cup commenced Saturday with French giants Paris Saint-Germain encountering Theirry Henry's New York Red Bulls and Arsenal taking on Argentina legends Boca Juniors. It was a much-anticipated clash for the Gunners as the fans were eager to witness the hard work of Arsene Wenger's preseason.
New York were able to defeat PSG but it was a different story for Arsenal. In their own back yard of the Emirates Stadium, it would have been deja vu for all of the Arsenal faithful. The Gunners dominated possession and appeared to have the game secured just after halftime as an Aaron Ramsey goal ensured a two-nil lead.
However it was same old Arsenal as defensive frailty resulted in two Boca Junior goals in quick succession. The match finished two-all and whilst it was only early days and the Emirates Cup lacks the intensity of a routine Premier League match, albeit if anything the tournament is more derived for entertainment. However it is still unappealing for Arsenal fans as it does not raise hopes that Wenger and his squad can eradicate the lingering six-season trophy drought and appease the disgruntled supporters.
Furthermore Cesc Fabregas was once again uninvolved in Arsenal's preseason exhibitions and subsequently left the Emirates Stadium during the main interval of the Gunners' stalemate. Some positives did emerge from the encounter, with marquee summer signing Gervinho impressing once again.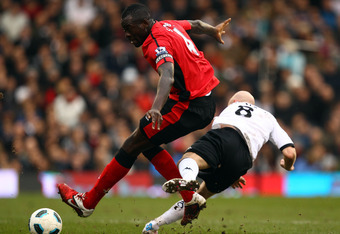 Richard Heathcote/Getty Images
The £10.5 million arrival from French champions Lille was an energetic presence, assisting Robin van Persie for the opening goal and always threatening with the ball at his feet. The Ivorian's impact signified that further new attacking presence are also required as the likes of Marouane Chamakh, Andrei Arshavin and Carlos Vela are leaving much to be desired.
However it is the defensive line that once again requires the most attention. Wenger is still yet to enforce the much needed and anticipated central defensive signature that was promised. After season after season of defensive insecurity, the Frenchman is still yet to implement the quality change fans have been demanding.
Swiss centre half Johan Djourou was lacklustre and made a costly error that consequently resulted in the final equalizer. Meanwhile veteran Frenchman Sebastien Squillaci continued his disappointing performances in Red and White. Laurent Koscielny was solid and is expected to continue his rapid development whilst defensive leader Thomas Vermaelen did not feature.
Granted Vermaelen's renewed presence is equal to a new signing after the Belgian missed almost the entire 2010/2011 with a persistent Achilles injury. Nonetheless, Wenger's central defensive corps simply is not capable of defending Arsenal to either Premier League or UEFA Champions League glory.
So as the 2011/2012 campaign draws closer and the summer transfer window still possessing a month of activity left, there are two signings Wenger has to make.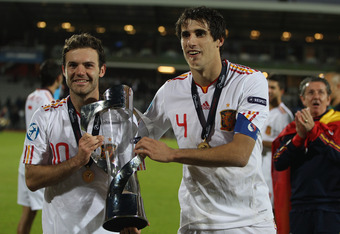 Michael Steele/Getty Images
1. Christopher Samba, Blackburn
For much of the summer, three defensive transfer targets have emerged in the form of Everton's Phil Jagielka, Bolton's Gary Cahill and Blackburn captain Christopher Samba. All are valid option but it is the sheer intimidation and power that separated Samba from the English duo.
The Congo enforcer is eager to sign with the Gunners and the 27-year-old has all the attributed to diminish the lingering defensive woes at Arsenal. At 6'4", Samba is one of biggest, imposing and powerful centre halves in the Premier League and he still manages to possess impressive speed.
The former Hertha Berlin defender has a combative and enforcing nature which is greatly lacking at the Emirates. Furthermore Samba is the captain of Blackburn and can implement increased leadership and direction to Arsenal's young squad.
Samba's desire is also an added plus due to his high intentions of joining the Gunners and gracing UEFA Champions League football. Furthermore Christopher Samba looms as the cheapest and most effective from the aforementioned trio.
2. Juan Mata, Valencia
Fans were swept with relief when it emerged Wenger had intentions of signing the Valencia winger. After the headlines had been dominated with speculation of Samir Nasri and captain Cesc Fabregas' potential departure, Mata's acquisition would be an immensely positive step to attempting to secure silverware in 2011/2012.
The 23-year-old has become one of the best wingers in the Spanish La Liga in recent seasons. An immensely quick dynamo, Mata is not only a clinical assistant but a lethal finisher. The Spaniard has amassed 174 appearances for Valencia since 2007 with 43 goals and 46 assists.
With Fabregas certain to depart, Nasri is expected to remain a Gunner, at least for this season. The French playmaker will immediately take Fabregas's role, ensuring space on the wing which Mata can fill with impact and ease.
The Spanish international, who help achieved the 2010 FIFA World Cup, has expressed interest to join the Emirates but Valencia are tentative to offload their prized attacker. The Spanish giants demand £18 million for Mata, which Wenger is willing to pay.
Rivals Tottenham are also interested in the winger but Mata has publicly stated it will be either departing to Arsenal or remaining at Valencia.
Samba and Mata are the necessary signings required if Arsenal are to sufficiently challenge for silverware this season. There are players currently in the Arsenal squad who have the ability to secure titles for the Gunners but the distinct lack of depth alongside the defensive frailty and Fabregas's potential departure ensure reinforcements are required.