MLB Trade Rumors: Why a Phil Hughes Package Makes Sense for Ubaldo Jimenez
July 29, 2011
Jim McIsaac/Getty Images
Right now, the Colorado Rockies seem to be interested in three New York Yankees players: Jesus Montero, Ivan Nova and Dellin Betances, according to Ken Rosenthal and Jon Morosi of FOX Sports. This could all change as we get closer to the trade deadline, though.
According to Mike Axisa of the River Ave. Blues, the asking price for Jimenez could come down enough by the deadline for the New York Yankees to make a deal. The Colorado Rockies might begin to ask for two MLB-ready players in return for Ubaldo Jimenez.
The possibility of trading away Phil Hughes could be increasing by the waiting day. A package that includes Phil Hughes, Dellin Betances and Austin Romine might be easier for Brian Cashman to pull the trigger on than one that includes Jesus Montero, Ivan Nova AND Manny Banuelos. Cashman wants to be able to keep a significant number of prospects, so it would make sense to trash Hughes, Betances, and Romine.
Phil Hughes seems to have no main role on the Yankees. At first, the team thought that he would be serviceable as a starter. But once the Yankees had major bullpen issues during the 2009 season, it became apparent that Hughes was needed in the bullpen. In 2010, Hughes was used as a starter again and pitched solidly, although he collapsed at the end of the season due to the strain of pitching so many innings.
After this horrible dead arm period Phil Hughes is going through, there is an unknown about how he will even contribute to the Yankees in the long-term. If he does not become a solid starter, Hughes would have an uncertain, wavering position in the bullpen.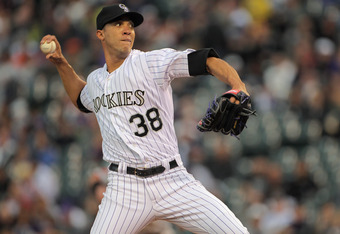 Doug Pensinger/Getty Images
The Yankees should be able to deal Austin Romine, especially with Russell Martin probably starting for the team at catcher next season. Jesus Montero and Gary Sanchez are two other catchers in the system, so the team could afford to cut ties with Romine. Plus, he is not a sure thing at catcher, so the Yanks should not feel uncertain about this.
Dellin Betances is someone else who is not a sure thing. He has had control issues this entire season, so the Yankees need to sell high on him. You could compare Betances' season to Andrew Brackman's Double-A season last year. Despite pitching well, Brackman ended up blowing up in Triple-A. If the Yankees trade away Betances, they will not have to see his stock take a hit in Triple-A.
This trade would be favorable to the team, as the Bombers could get a solid starter in return. The Yankees have to deal, especially with the issues surrounding Phil Hughes. They can sell high on these players and buy low on another player in Ubaldo Jimenez.