Philadelphia Phillies: Hunter Pence Offer Denied by Astros, What's Next?
July 28, 2011
Jeff Gross/Getty Images
Yesterday, ESPN's Jayson Stark revealed that he heard from multiple team officials that earlier in the week, the Phillies made an offer to the Astros for Hunter Pence involving their two top prospects, Jarred Cosart and Jonathan Singleton, and a second-tier pitcher, who was apparently middle reliever Scott Mathieson.
This means two things: one, the Phillies would have paid extremely high for Pence's services, and two, Astros GM Ed Wade was a fool for not accepting the offer.
It was also cited in the same article that the Astros did not necessarily decline the offer; rather, they backed out of the near-deal. But what strikes me as incredible is that the Phillies backed down on their word that they would not trade Cosart, their top pitching prospect.
This is a worse move for the Astros than the Phillies. The Astros, who had the 26th-best farm system in the majors before the season according to Baseball America, are currently in rebuilding mode due to the fact that they are trying to trim payroll and they are looking to bring in young, talented players.
Cosart and Singleton are just that, and trading Pence would have trimmed the payroll down as well, considering that he's only going to make more money over the next two seasons during arbitration.
However, according to CBS Sports' Danny Knobler, the Astros are going to try to trade Pence in the offseason instead of right now. To me, this makes no sense for a few reasons. One is that the Astros would almost certainly have to settle on a price for him for next year before there are any buyers, so his buying team would know what they're in for salary-wise.
The second reason is that if the Astros stand no chance at winning the NL Central (they're 21.5 games back in their division and have the worst record in baseball at 34-70), then why not trade players away who won't benefit by playing on a losing team?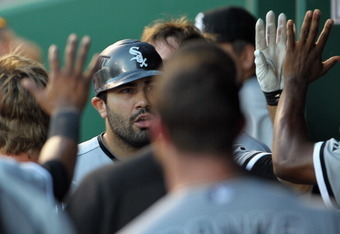 Jamie Squire/Getty Images
Sure, the Astros are shopping starting pitchers Wandy Rodriguez and Brett Myers, and they're also looking to trade speedy center fielder Michael Bourn, but the Astros' excuse for not trading Pence is that he's the new "face of the franchise" since Lance Berkman and Roy Oswalt were traded last year, and it would take a "very top pitching prospect" to get him (which Cosart happens to be).
But the simple truth is this: Pence is virtually off the market for now, whether or not it makes sense.
In spite of this, the Phillies, who were aggressively targeting Pence, will have to explore other options for a right-handed bat.
Such a right-handed hitter who has emerged onto both the trade scene and the Phillies' radar is Chicago White Sox right fielder Carlos Quentin. He, like Pence, is under team control through this season and he's also as old as Pence, both being 28 years old.
However, Quentin isn't as consistent a hitter as Pence is. Pence is hitting .307, whereas Quentin is hitting just .262. However, Quentin does have a bit more pop in hit bat; he's hit 20 home runs this season, compared to just 11 dingers for Pence. Quentin also has a higher OPS than Pence. Quentin's is .863 and Pence's is .821. Both also happened to be All-Stars this year.
The only issue with Quentin is that while he will almost certainly make a raise from his current $5.05 million salary, the White Sox are reportedly keeping him off the market now, despite the fact that they had expressed earlier interest in trading him to lower payroll.
So, after going through Pence and Quentin and being rejected by both of them, what other options do the Phillies really have? There really aren't any other impact right-handed bats left on the trade market, and while the Phillies are still pursuing Padres relievers Heath Bell and Mike Adams, will a new reliever solve the Phillies' offensive woes?
Adams is practically off-limits as it is, and the Padres now think they can re-sign Bell to a cheap contract at the end of the season due to the fact that he likes San Diego.
Now with the Padres' relievers cooling off the market, is there really another option the Phillies have? If they could get an outfield bat like Ryan Ludwick or Jeff Francoeur, it might help, but neither are a true impact bat like Pence, Beltran (who they were pursuing before the Giants got him) and possibly Quentin.
Despite the fact that the Phillies still have baseball's best record at 65-38, there are still a few holes they need to fill, namely in right field and in the bullpen, but the big question is: with the little that's left on the trade market, can they?
There's four days left until time runs out for the Phillies to make a deal. Whether big or small, Ruben Amaro, Jr. has a lot to think about throughout the next few days.