Pirates Trade Rumors: Would They Ever Bring Jason Bay Back to Pittsburgh?
July 28, 2011
Mike Stobe/Getty Images
Ever since the Pittsburgh Pirates began showing staying power in the NL Central race, there have been oodles of speculated deals.
Many names have been mentioned as a result of such speculation—Carlos Pena, Aramis Ramirez, Hunter Pence—just to name a few.
Ramirez, as a 10-and-5 man, has the final word on whether the Chicago Cubs could trade him. At last look, Ramirez was turning thumbs down on any deal, not just returning to Pittsburgh.

Would the Pirates be willing to re-acquire Jason Bay again, especially if the New York Mets pick up about $15 million or so of Bay's remaining contract?
Moreover, would it be a good fit for both the Pirates and Bay? What about from a P/R standpoint? After all, Bay is the only Rookie of the Year winner in Pirate team history.

Let's face it...the Pirates are starved for more offensive punch...particularly, from the right side. Bay has had four seasons of 30 homers or more.
Two of those were in Pittsburgh. One was in cozy Fenway Park and the 2008 season showed him hitting 22 at PNC Park with another nine in Fenway, following a midseason trade.

The Pirates also have a wealth of prospects, which the Mets crave—both pitching and outfield. Pirate G.M. Neal Huntington and team President Frank Coonelly have made no bones about the team's ability and willingness to take on salary.
Should the Mets be agreeable to picking up at least $15 million of Bay's contract, one would think this might be a slam dunk for the Black & Gold.

Ah, but not so fast! The biggest rap against Bay while he was sporting Pirate colors was that he was a defensive liability. Bay has been deceptively swift on the basepaths throughout his career.
He has pilfered 85 bases in 100 tries, and he's played center field periodically, so quickness is not the problem. It's got more to do with positioning himself in left.

Pirate fans will recall that Bay actually wore the grass thin in left field at PNC from playing every hitter the same and standing in one single spot for every opposing hitter, whether right or left-handed, pull hitters, power hitters, spray hitters, alike.
Fans will also recall that Bay owns a rather modest throwing arm and may have even benefited greatly from being traded to Fenway, where the close proximity of the Big Green Monster didn't require anyone with a cannon-esque arm to cover the territory.

The Pirates still don't have anyone resembling the next Roberto Clemente either at the major league level or down in the system. The closest thing to a strong throwing arm belongs to Xavier Paul, a part-timer picked up from the Los Angeles Dodgers earlier in the year.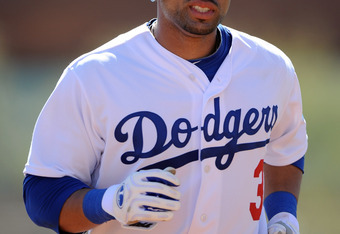 Harry How/Getty Images
Paul's arm is fairly accurate, if not overly strong, plus his foot speed and positioning helps him a great deal, too.

There's also a potential problem with an inflated asking price from New York. Bay is currently hitting a woeful .223, six HRs, 32 RBI and a .622 OPS. Besides the disappointing numbers, Bay is also battling hamstring problems and missing from the Mets' lineup.
When everything is tallied up, Gorkys Hernandez, Jeff Clement, and Pedro Ciriaco might be "equal/fair value", but it's unlikely New York would accept any of the three (or all three) in exchange.
Bucco fans would prefer this deal be left in the New York harbor.