San Diego Padres: What Stars Will Be Dealt Come July 31?
July 28, 2011
Hunter Martin/Getty Images
For the San Diego Padres, their team is filled with lots of talent on the mound, but fail to meet expectations at the plate. Their offensive production has been horrendous compared to the 2010 dream team, and when hitting fails, pitching suffers as well.
Many Padre starters have had quality starts, but end up losing the game while only giving up a few runs, due to the complete lack of run support. A change must be done.
So, the Padres brought up Anthony Rizzo, a promising infielder from Triple-A Tucson, and while early on he proved to be a useful bat in the order, his production dipped—especially during the losing streak. The Pads were forced to send Rizzo down, and brought Kyle Blanks up, who pulled a Rizzo in 2010.
It seems that without an "A-plus" bat in the lineup, which Adrian Gonzalez brought to the club, this offense is nothing more than a joke. The Padres have been shut out too many times for this to go on.
Now, the Padres must make moves at the deadline, to unload some pieces of a great bullpen (and maybe some from the rotation),  in order to hopefully get a prospect who can hit. Still, it seems whenever the Padres get their hand on a special prospect, in a few years, he's gone, due to the cheap payroll.
With the trading deadline ahead, San Diego will most likely been unloading to buyers, Here are some moves that will or will not be happening.
Aaron Harang
Harang has continually been under the radar. And while he is my sleeper pick to be dealt to Cleveland or Detroit, I think the clock has run out on a deal to be done. Not enough interest has turned into Harang staying put in his home town.
Mike Adams
Despite the Padres organization telling Adams he will be staying in San Diego, many teams continue to talk with the organization. The Padres have stayed firm with the price (two top prospects), and ESPN's Buster Olney tweets that talks have quickened in pace for both Mike Adams and Heath Bell.
I have a feeling Adams stays in sunny San Diego.
Heath Bell
Bell has been quite a topic of conversation among countless teams, and new reports from CBSSports.com's Scott Miller say that the Padres will make an effort to sign Bell at a discounted price in the offseason, and risk not getting players in return in a trade if Bell chooses to bolt from San Diego.
Still, the Padres may get a last-minute offer for Bell that they cannot resist, and San Diego could use Adams or Chad Qualls as a temporary or permanent closer. If Bell is dealt, Adams will stay, and vice versa.
I think Adams stays put, and Bell is sent to Philadelphia or Texas.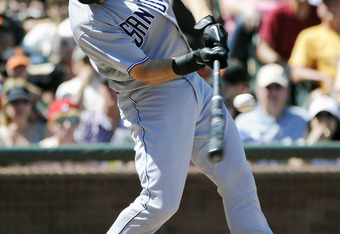 Thearon W. Henderson/Getty Images
Ryan Ludwick
This is a trade I somewhat want to come true, given the fact Ludwick has not turned out as planned. His inconsistency makes me sick; It seems like every time I am watching on 4SD, he blows a scoring opportunity. While he leads the Padres in many offensive categories, a move must be done soon.
Ken Rosenthal has reported that the Atlanta Braves have shown interest in both Astros OF Hunter Pence and Padres OF Ryan Ludwick, and it may be a matter of time before one of the two is dealt.
While talks for Pence seem expendable (Pence is expected to stay in Houston), last-minute talks could prove reports wrong. After all, this is the trading deadline, and many unexpected things have happened.
I think, hope and pray the Padres get something in return for trade-bust Ludwick.
In the end, San Diego will receive prospects, due to one of the leagues lowest payrolls.