MLB Trades: A Look at the Chicago White Sox Swap with Toronto and What's on Deck
July 28, 2011
Rob Carr/Getty Images
Chicago White Sox GM Kenny Williams was expected to make a move one way or the other as the trade deadline approaches. The question was whether Williams would dump salary or try to make his team a little better.
Williams saw a fork in the road, so he took it. His first move this week could be seen as a move in both directions. 
Williams shipped Edwin Jackson and Mark Teahen to the Blue Jays, obtaining right-handed reliever Jason Frasor as well as pitching prospect Zack Stewart. Let's take a closer look at the deal.
Toronto's side of the deal: The Blue Jays got the 27-year-old Jackson (7-7, 3.92 ERA) and the 29-year-old Teahen, who in 51 games has hit .203 with three home runs in a bench role for Chicago.
Toronto quickly used Jackson as part of a package to receive Colby Rasmus and three other players from the Cardinals organization.
Chicago's side of the deal: Williams secured the services of Frasor (2-1 with 10 holds and a 2.98 ERA) as well as Stewart. The 24-year-old pitcher made three starts for Toronto this season and is 0-1 with a 4.86 ERA. He was optioned to Triple-A Charlotte.
What Williams Accomplished: Jackson was an extra arm despite pitching well in his last two starts.  If money had to be trimmed from the payroll without throwing in the towel on the AL Central race, his $8 million salary was a good place to start.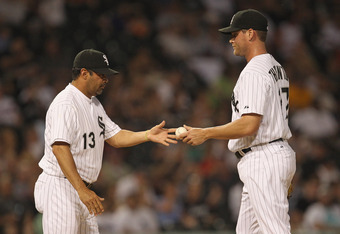 Jonathan Daniel/Getty Images
Teahen's contract, which will see him make $5.5 million next year, has now been exorcised from the organization. He was an expensive bench player who Williams had originally traded for and signed to play third base.
It didn't work out that way, as Teahen was unable to hold on to the starting job.  At least the White Sox were able to make a clean break from an ill-fated signing.
Frasor, who turns 34 in two weeks, is a local guy, having grown up in Oak Forest.  He's made 44 appearances this season and should be another right-hander Ozzie Guillen can go to in the seventh and eighth innings.
He should be familiar with both the Red Sox and Yankees, who are next up for Chicago. Frasor has made 10 appearances against those two clubs.
Where does Williams go from here?
Good question. Does he stick with his remaining roster, or is the bloodletting just getting started?
Picking up Frasor seems to be a precursor to another move, as he is a set-up man much like Matt Thornton and Jesse Crain. With Chris Sale available as a late-inning option from the left side, is Thornton and his salary ($11 million over the next two seasons) expendable?
With Chicago taking two of three from the Tigers, Williams may be making decisions on a game-by-game basis. Unless the White Sox are swept by Boston this weekend, he may avoid a full-scale salary exodus.
If Williams deals another starting pitcher or unloads Carlos Quentin for prospects, consider him to be standing with white flag firmly in hand. If Thornton is the only other player dealt, Williams probably thinks his team still has a shot at taking the division.
With Chicago just 3.5 games off the pace, it may come down to how much faith Williams has in his players. It may not be time to cry out "fire sale" just yet.