Kansas City Chiefs: Breaston Agrees to Terms, Let the Big Three B's Era Begin
July 28, 2011
Christian Petersen/Getty Images
Wednesday evening news broke from Jim Trotter of SI.com that the Kansas City Chiefs have agreed to terms with Steve Breaston.  Trotter is reporting that the deal is for five years with $9.5 million guaranteed. 
This is great news for Chiefs fans.  Near the top of the 2011 NFL free agent wide receiver class Breaston, with his speed and quickness, will add another dimension to the Chiefs offense. 
Breaston had a breakout season in 2008, under then Offensive Coordinator Todd Haley, when he caught 77 balls for 1,003 yards and three scores for the Arizona Cardinals.  Breaston did not do much in Arizona the last two seasons, but outside of Larry Fitzgerald, no wide receiver is going to perform well with Matt Leinart and Max Hall passing the ball. 
Breaston's lack of production the last two seasons appears to be a blessing in disguise as he will sign a very reasonable contract with the Chiefs.
Not only will Breaston be a reliable slot receiver for the Chiefs in 2011 but he could potentially start in if needed.   Due to the lockout, first round pick Jonathan Baldwin is experiencing an abbreviated rookie offseason which will leave him with very limited experience with Haley and the offense.  Breaston will be able to step in with his experience in Haley's offense and give Baldwin time to watch and develop.
Not only does this help the Chiefs receiving core but it also helps the Chiefs in the backfield.  This move allows the Chiefs to put Dexter McCluster back in a role that he is more comfortable with.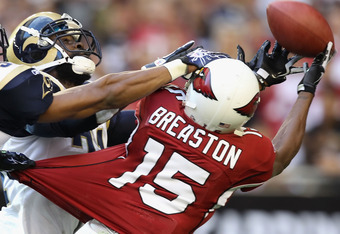 Christian Petersen/Getty Images
Head Coach Todd Haley was quoted after the 2010 season ended saying that the Chiefs are going to use McCluster more out of the backfield.  This move to sign Breaston confirms my previous thought, along with many others, that Haley is going to be making McCluster the Chiefs third-down back.   
"It's really a role that is closer to what he was doing at Mississippi," Haley said at the 2011 NFL Combine. "I think it will give him more chances of break off some big plays."
With McCluster expected to get more touches at running back in 2011 it will be nice to have another offensive weapon with exceptional speed and quickness. Breaston is young and has a proven track record as a slot receiver in a Todd Haley ran offense.
In 2010 Matt Cassel threw 27 touchdowns and led the Chiefs to the playoffs with one legitimate wide receiver (Dwayne Bowe), a rookie tight-end (Tony Moeki), and a phenomenal season from Jamaal Charles. 
With Bowe, Baldwin, and Breaston the Chiefs will have their own big three.  The Big Three B's, (yes, I am trade marking that) will be a great receiving corp for Kansas City in 2011. Add the Big Three B's to a playmaker like Jamaal Charles and Cassel should have no problem improving on his stats from last year and leading the Chiefs back to the playoffs.