Mike Tyson: From Villain to Sympathetic Hero
July 28, 2011
Chris McGrath/Getty Images
I've written in the past about how it seems that my biggest heroes as a youth all seemed to run afoul of the law and disappoint me greatly as a young adult.
I've also written recently about how America loves a comeback story, especially when it's a fallen star who makes the comeback. Finally in my life, the two seem to be on a path for each other.
Enter Mike Tyson.
I've been a fan of Mike Tyson since he exploded into the sports world in the mid '80s. I remember catching glimpses of him on ABC's Wide World of Sports on Saturdays, being entranced by this strange-speaking dynamo whose hands resembled pistons filled with nitroglycerin. I remember being confined to the Restriction Room (in-school suspension) in eighth grade, and one of the tasks a student had to perform in this room was to read something—could be anything—and write an essay about it.
I got my hands on a Sports Illustrated with a cover featuring Mike Tyson and the headline "Kid Dynamite." I hated reading at the time, but this was like I wasn't even being punished. I enjoyed reading about Tyson. I don't quite remember the quality of the essay I wrote, but at the time it felt like I just completed the Declaration of Independence.
As time wore on, Tyson did not disappoint in the ring and became the youngest heavyweight champion in history. In one of his title defenses he knocked out/overwhelmed a frightened Michael Spinks in 91 seconds and looked to become the greatest boxer ever. His Nintendo game, Mike Tyson's Punch-Out!!, was a cultural phenomenon—one I lost a significant amount of homework time playing.
Every Tyson fight was a potential earth-shattering knockout worth planning for and was great indicator of the riches that could be gained by the new invention of pay-per-view television. But, as Isaac Newton professed, what goes up must come down…or something to that effect.
Mike Tyson wasn't exactly the cuddly George Foreman type that you could imagine reading you a bedtime story. He was a ferocious destroyer of men who could barely read, so his fall wasn't necessarily from grace. It was more like a fall from being the guy who was allowed over your house as long as he didn't touch anything.
With his tumultuous marriage and subsequent divorce from Robin Givens and his firing of his manager, Bill Cayton, and his trainer, Kevin Rooney, the wheels started loosening on Tyson's traveling circus. With Don King coming into the fold as Tyson's chief cook and bottle washer, a bad moon was on the rise.
On Feb. 11, 1990, an undefeated Tyson travelled to Japan to fight 42/1 underdog James "Buster" Douglas. The "baddest man on the planet" would return to the United States with his first loss after being knocked out in the 10th round. With his invincible aura gone, the rest of his house of cards would soon fall. One year later he would be arrested and later convicted of raping 18-year-old Desiree Washington, who was Miss Black Rhode Island and sentenced to six years in prison of which he served three.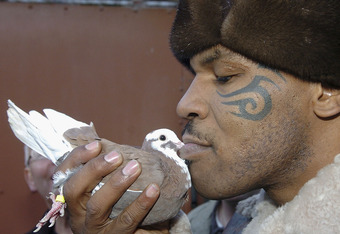 Stringer/Getty Images
It was nearly impossible at the time to like Mike Tyson. Many people, including myself, did not believe he raped Ms. Washington, based on the evidence presented, but he was such an animal and bad person that it was completely believable. The line of reality and perception became blurred and the man who was a monster inside the ring was becoming something much worse outside of it.
After his release from prison, Tyson looked to clean up his image, but positive PR would not be something he could tackle…at least not yet. From biting off a section of Evander Holyfield's ear in the ring to threatening to eat Lennox Lewis' children, Tyson could not get out of his own way. But life has a way of teaching even the "baddest" of men some humility.
Tyson spent the late 2000s tending to his pigeons. Yes, Mike Tyson, Kid Dynamite, had been raising pigeons since he was a young boy. The millions he earned in the ring were either spent or stolen. He was living pay check to pay check, as he confessed on The View, and it seemed that it was only a matter of time until he would fall into depression and do some damage to either himself or someone he cared for.
Luck would start to change for Tyson in the form of James Toback, a man Tyson knew since he was an up-and-coming boxer at the age of 19. Toback offered to feature Tyson in a documentary about the troubled fighter's life but would only do it under the conditions that no topic was off limits and that Tyson had no say in the editing process.
The result was a 2008 award-winning documentary (including a win of the Regard Knockout Award category at the Cannes Film Festival) called Tyson. The documentary showcased Tyson as a humble man who was genuine and completely self aware. He understood his place in the world and he didn't like what he knew about himself.
This wasn't a new thing for Tyson, but it was a new image of him to audience. The former heavyweight champion of the world was humble. He was emotional. He expressed love for those that helped him and acknowledged his displeasure for those who wronged him. Mostly, he expressed regret. There seemed to be no anger left in him anymore. He was no longer the savage animal from Brooklyn, he was human.
In 2009 Tyson experienced a freak tragedy of losing his 4-year-old daughter, who was accidentally strangled on a treadmill. With such an unimaginable loss, it would have been understandable for anyone stray from the right path and make some bad decisions. Tyson stayed clean.
2009 was a year of sorrow for Mike Tyson, but it also symbolized the second part of his rebirth in the form of his cameo in the movie, The Hangover. He came off as likable and funny and a new career as an actor looked like it might be in the cards.
In March of 2011, Animal Planet debuted Taking On Tyson. The reality show centered on his life and one of his first loves—pigeon racing. Tyson came off yet again as honest and vulnerable, and the man who once declared he could "sell out Madison Square Garden masturbating" was once again a mesmerizing figure. But this time around he wasn't threatening to eat anyone's children. He was taking the "Iron" out of "Iron Mike."
The saying goes that everyone deserves a second chance. Celebrated athletes like Mike Tyson seem to get hundreds of chances and never learn their lessons. The difference this time is that he may actually do some good with the opportunity he's been given.
Recently, he made a cameo in The Hangover 2 and will appear in a new CBS reality show called Same Name, which takes ordinary people who share names with famous people and switches their lives for a few weeks. Tyson spent his time in this switch as a male nurse and once again, the man morphs from a feared man to just a man.
In an interview with CBS, he quoted Mark Twain by saying that humans have to be taught to be human beings. He believes he's catching on late, but he is catching on.