SEC College Football Preview 2011: Intra-Conference Games
July 26, 2011
Ronald Martinez/Getty Images
This is part four of a series previewing the 2011 SEC college football season. 
SEC Intra-Conference Race Changers
When the SEC reformed its conference in 1992 by adding Arkansas and South Carolina, the powerhouse teams were in the East division for the first 11 years. The East had won eight of the first 11 SEC title games, five of those games won by Florida in seven appearances.
Since 2003, the West has taken five out of eight SEC titles. The importance of the SEC conference title game on a national level is the national championship implications. Since 1992, the SEC has won or split nine NCAA or BCS National Championships. The SEC has won five straight BCS titles: Florida, LSU, Florida, Alabama, followed by Auburn. 
This year could be another win for a SEC West team in the conference title game, but which one?
Some of these games will give bragging rights and decide recruiting battles, while others will map out a team of destiny or just another top-tier bowl game. The rest will heat up a coach's hot seat or cool it down.
Can't-miss games (teams/date/site): 
South Carolina at Georgia, September 10
LSU at Mississippi State, September 15
Ole Miss at Vanderbilt, September 17
Arkansas at Alabama, September 24
Florida at Kentucky, September 24
Mississippi State at Auburn, September 10
Alabama at Florida, October 1
Florida at LSU, October 8
Georgia vs. Florida, October 24, in Jacksonville, Florida
LSU at Alabama, November 5
South Carolina at Arkansas, November 5
Florida at South Carolina, November 12
Arkansas at LSU, November 25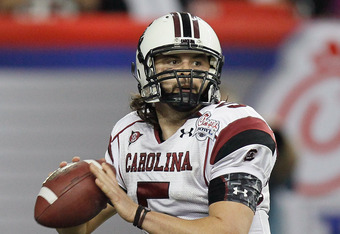 Kevin C. Cox/Getty Images
Either South Carolina or Georgia will be playing following the leader in the SEC East after this Week 2 showdown. 
MSU is either lucky or unlucky that Northwestern State plays LSU in Week 2 after LSU plays Oregon in Week 1. This depends on whether LSU wins or loses. If LSU can't find their offense in in the season opener, they could be in trouble by Week 3 in Starkville. A MSU upset could shake up the SEC West race. 
Puzzling to have Ole Miss and Vanderbilt among the most important games in the SEC this year. But this game means a lot to both schools. If Vanderbilt wins, Franklin's hire looks good for the meantime. On the flip side, an Ole Miss loss could mean the end of the line for Houston Nutt in Oxford. If Nutt loses to Vanderbilt and then to MSU in the Egg Bowl (November 26), you can bet the rumblings for him to get his walking papers will become chants before the Rebels, General Ackbars or Rebel Black Bears are done showering. 
Arkansas, Alabama and LSU are the cream of the crop this season in the SEC. Whenever any of those three teams play each other, everything in the SEC West is on the line. South Carolina deserves to be mentioned, but they are not scheduled to play LSU or Alabama during the regular season. 
Mississippi State will get a chance in Week 2 to show how far along they have come under Dan Mullen, or demonstrate how far Auburn has fallen with the loss of all their talent from last year's BCS Championship team. Wherever your team loyalty lies will influence your take on the outcome of this one. 
Florida gets back-to-back shots at Alabama and LSU to shake up the West. If Florida splits those games, it could make for an interesting break for the winning SEC West team, Arkansas and/or possibly MSU. Georgia and South Carolina will be watching the scoreboard to see who wins those games. 
How many big games does Florida have this year? Five: 'Bama, LSU, South Carolina, Georgia and Florida State. The outcome of those games will have an impact on who will play in the SEC title game, the BCS bowl berths and who could play in the BCS Championship Game. 
Arkansas versus LSU has quietly become one of the best SEC rivalry games and one of the best throughout college football. Since 2005, Arkansas and LSU have split their series 3-3. Only 21 total points separate the winning team from the losing team, with Arkansas having the largest winning margin, winning by eight points in Little Rock, Arkansas in 2010.
This year's winner not only receives the Golden Boot Trophy but should end up in the SEC title game. Thankfully CBS put this game back on the schedule the Friday after Thanksgiving before a college football-hungry crowd.