NFL Free Agency: As NFL Lockout Ends, Teams Prepare for Wild Free-Agency Period
July 26, 2011
Ezra Shaw/Getty Images
We are finally ready for some football, so let the free-agent frenzy begin!
At approximately 2:30 p.m. EST Monday, the NFL and its Players Association wrapped the longest work stoppage in the league's history, paving the way for what should be a hectic free-agency period.
In a normal year, free agency would last from early March until the beginning of training camp. With the lockout taking place this year, four months' worth of moves will be condensed into a week, further escalating the mayhem.
"It's going to be very hectic, with a lot to get done in a short period of time," agent Mark Bartelstein said to Bloomberg. "There's a lot of moving pieces and you've got to get your guys in the right places."
One free agent that looks to garner a lot of attention is Oakland Raiders cornerback Nnamdi Asomugha. Many teams, such as the Houston Texas and the Baltimore Ravens, are interested in him. Asomugha is in his prime, and is a great example of a shutdown corner.
On the offensive side of the ball, an intriguing name will be wide receiver Plaxico Burress. Burress missed the last two seasons due to serving his prison sentence, but his time with the New York Giants could be almost over. However, according to team owner John Mara, nothing is set in stone at this time.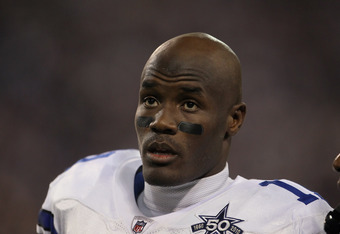 Jeff Gross/Getty Images
"I think that's certainly something that we're going to talk about and have talked about, and I know there will be a conversation with him at some point, but where that goes, I don't know," Mara said on the Michael Kay Show Monday.
It all begins Tuesday, when teams can sign undrafted free agents and their own draft picks, while they can begin signing free agents Friday.
Teams like the Ravens and the Dallas Cowboys are already planning to create salary cap space by releasing players.
ESPN reported Monday that Kelly Gregg, Todd Heap, Derrick Mason and Willis McGahee will be cut by Baltimore. On Tuesday, ESPNDallas.com reported that the Cowboys will release wide receiver Roy Williams and running back Marion Barber.
The cuts will be officially made Thursday, but this is only the tip of the iceberg, as more moves will happen before teams open their training camps next week. It will be interesting to say the least.