Seattle Mariners: Celebrating Their Sweet 16 Losing Streak
July 26, 2011
Jim McIsaac/Getty Images
What can possibly be fun about losing this many games? I have no idea, really. In fact, if you're in such a sour mood that you'd rather kick dirt and curse under your breath, you may want to move on because I'm in the mood to make light of it.
The Mariners have been pretty lousy lately. Worse than usual, in fact. Over the past 16 games, they have only won zero games. So, to celebrate their "Sweet 16," here's a look at the benefits they've gained from crossing this important milestone.
The Mariners losing streak can get a driver's license.
The Mariners losing streak can consent to having sex in some states.
The Mariners losing streak has acne.
That acne has been really nasty. The worst part is that I can't make any jokes about it being shaped like Chone Figgins or Jack Cust because they've barely played. Their contribution to the losing streak has been minimal compared to guys like Justin Smoak, Franklin Gutierrez, Adam Kennedy and all the pitchers that had previously been so solid.
The Mariners losing streak can get a job.
The Mariners losing streak can have boys over, but has to leave their door open.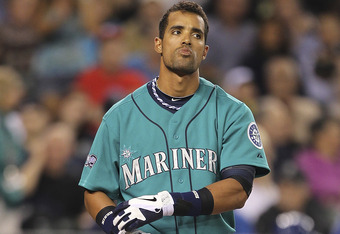 Otto Greule Jr/Getty Images
The Mariners losing streak can drink if it travels to places such as Sudan, Jamaica or Germany.
The Mariners losing streak can join the Air Force ROTC but cannot get a scholarship until it turns 17 (likely tonight).
I'm sorry that you're all going to have to endure another night of this. Then again, why am I apologizing? I'll be enduring it also. It's not like I'm the one not hitting, pitching, fielding, running or managing. Remember when our biggest worries were an Ichiro slump or no one in the stadium being able to count to four?
The Mariners losing streak thinks it knows everything and can't wait to move out.
The Mariners losing streak is now an upperclassman and can leave campus for lunch.
The Mariners losing streak can file for emancipation.
The problem with emancipation filings is that they can be denied. In our case, I think we can safely assume the judge would deem the Mariners unfit to survive on their own. This means they will likely have to stay with their parents until they're 18 (tomorrow).
So that's where we are. We wait this thing out until the Mariners losing streak graduates from high school. We try our best to embrace its delinquent lifestyle, hope it gets accepted to college and matures. If not, we kick the punk out and let them learn things the hard way.
Come on, Mariners losing streak. Change your ways.