West Virginia Football 2011: Luck Believes Holgorsen Has Real Offense
July 23, 2011
Expectations in Morgantown, West Virginia, are continuing to mount, those expectations are fueled by new head football coach Dana Holgorsen and his record-setting offense.
West Virginia University athletic director Oliver Luck is among the individuals with high expectations for the coming football season.
Luck was recently quoted stating, "I think folks who do follow the Mountaineer football program will be delighted to see we will have a real offense this year that can score some points".
Luck went on to say, "It's very important, I think, that we put on kind of a fun show for Mountaineer fans. I'm pretty sure this year, and as we go into the future, we are going to have a very good, exciting, fun, high-octane kind of season for all of our fans".
I wonder how Holgorsen feels about Luck placing a bulls-eye on his chest; Holgorsen has to turn those expectations into reality,
The only way for Holgorsen to succeed is if Eugene "Geno" Smith succeeds.
The starter at quarterback for the Mountaineer football team posted impressive stats in 2010. Smith threw 372 passes and completed 241 for a completion percentage of .647, with 24 touchdowns and seven interceptions.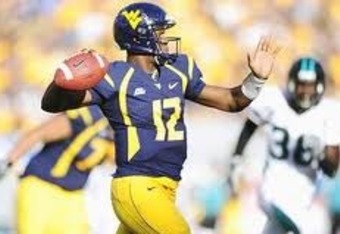 Smith's yardage total, 2,763, is No. 2 on the all-time passing yards list at WVU.
Keep in mind that Smith posted those numbers as a sophomore and first-year starter, in a fake offense.
In Holgorsen's offense, Smith is expected to shine and set passing records in the process. How bright Smith shines seems to be the only question.
It is beginning to look like Smith is expected to compete for the Heisman this season at WVU.
Which begs the question, how realistic is a run at the Heisman for Smith?
Since 2000, only two players to win the Heisman Trophy have not been a quarterback.
The last five quarterbacks to win the Heisman were:
Can Newton (2010), Auburn Tigers, 185 completions on 280 attempts for a 66.1 percent completion percentage for 2,854 yards passing. Newton threw 30 touchdowns with seven interceptions and rushed 264 times for 1,473 yards and one touchdown.
Sam Bradford (2008), Oklahoma, 328 completions on 483 attempts for .679 completion percentage and 50 touchdowns with eight interceptions. Bradford threw for 4,728 yards in his Heisman campaign.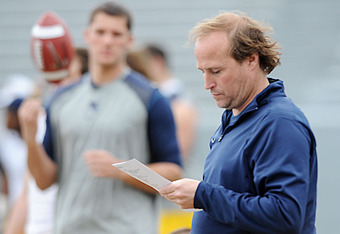 Tim Tebow (2007), Florida, 234 completions on 317 attempts for 3,132 yards for 32 touchdowns and six interceptions. Add 210 carries for 895 yards with 23 rushing touchdowns to the mix.
Troy Smith(2006), Ohio State, 203 completions on 311 attempts for 2,542 yards and a .653 completion percentage with 30 touchdowns and six interceptions. Add 72 rushing attempts for 204 yards and one touchdown.
Matt Leinhart (2004), University of Southern California, 283 completions on 431 attempts for a .657 completion percentage for 3,815 yards. Leinhart added 28 touchdowns and eight interceptions, with 36 yards rushing for six touchdowns.
With those five as the barometer, we can establish some benchmarks for Smith in 2011.
Smith boasts a career 65 percent completion percentage, a stat that puts him in contention; Smith needs to maintain that stat.
Next, Smith must increase his number of attempts by 25 percent. By maintaining a 65 percent completion percentage and attempting 465 passes, Smith will complete 302.
Smith's career yards per reception stands at 11.2; that too will need improvement. With the aforementioned 25 percent improvement, Smith's yards per reception would raise to 14. That equates to 4,228 total passing yards for the season.
Finally, Smith must increase his touchdown passes to 30 while maintaining his interceptions to single digits.
It appears, on paper that Smith can compete for college football's most coveted award.
It comes back to the original question, can Holgorsen, with Smith as his leader, fulfill the expectations Luck obviously has for this football team?
The only certainty in July is there appears to be no margin for error. If Holgorsen does not, Luck will consider it a real offense.