2011 SEC Media Days: Auburn Has New Faces, Same Drive
July 21, 2011
Christian Petersen/Getty Images
Cam Newton and Nick Fairley are gone, but Auburn head coach Gene Chizik and the Auburn football team are not looking at the 2011 season as a rebuilding one as they believe they will build off of last year's momentum.
At the SEC Media Days in Birmingham, Ala. Thursday, Chizik explained to sports writers gathered at the Wynfrey Hotel that the Tigers will continue to have high expectations even though they lost 18 starters from a National Championship team.
"There's going to be a lot of new names and a lot of new faces you're going to have to get used to this year. We have a very young team, as you know," Chizik said.
"But make no mistake about it, the standard for Auburn University and the goals for Auburn University, no matter if we were going to play 22 freshmen, have not changed. That is to graduate our players and win championships," he said.
Auburn is expected to be voted by the writers as the fourth or fifth best team in the SEC West, but Auburn's returning junior tight end Philip Lutzenkirchen looks to last year's preseason rankings to prove a point.
"They picked us that last year right?" Lutzenkirchen said. "They picked us fourth or fifth last year, and we ended up winning the national championship. It's one thing to know what's going on in your own program and you know how good you can be because of how hard you work."
Returning junior wide receiver Emory Blake feels the same way about those "naysayers" who believe Auburn will finish the bottom of the pack in the SEC West this year.
"We just take it as fuel to motivate us and keep us going," Blake said. "We say all of our good players are gone, and it's just a saying that we have to remind us that people are doubting us out there."
Blake and Lutzenkirchen are the returning main targets this year, and will be joined by other returning offensive starters such as sophomore running back Michael Dyer, senior offensive tackle Brandon Mosley and junior running back Onterio McCalebb.
With so much attention being given to Dyer preseason, sophomore defensive tackle Nosa Eguae believes McCalebb is poised for a breakout season.
"You don't see (Onterio McCalebb's) name in the paper too much," Eguae said. "He's a guy that people just say speed, speed. But this spring, he ran between the tackles. He did the hard runs that you got to ask out of a back in the SEC. I'm looking forward to a big year out of him and I know the Auburn family is too."
Chizik said the team gathered in a room for a meeting and he asked for players with playing experience to raise their hands and not too many hands went up. He believes that even with the limited experience he has returning to the offense that those guys know what it takes to be "great."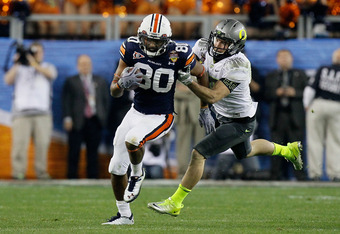 Kevin C. Cox/Getty Images
"The good thing is that the majority of the guys we have coming back, they know what 'great' looks like," Chizik said. "They also know we're a far cry from that."
Auburn landed seven players on the 2011 Coaches Preseason All-SEC football team and will go through a critical stretch midway through the season when they play at South Carolina, at Arkansas, Florida and at LSU four weeks straight.
For the Tigers to get back to Atlanta this year, they will need newcomers to gel in the offense and step up and fill holes of 18 starters. Blake said freshman tight end Brandon Fulse and freshman athlete Quan Bray have gotten his attention this offseason on offense, while Eguae said freshmen defensive linemen Gabe Wright, Angelo Blackson and Jabrian Niles have impressed him thus far on the defensive side of the ball.
"I would say Brandon Fulse and Quan Bray have really caught my eye," Blake said. "Brandon looks real good. He's a big tight end. We have Phil who's awesome, but we kind of need another fullback/tight end guy in there. He looks real good catching the ball. He catches everything, runs good routes and he's fast for his size. Quan looks real good coming in out of his breaks, picking up the plays real fast and he's real dedicated."
"There's been a lot of new guys that have come in and just done work," Equa said. "They've done the little things right and holding themselves accountable. Guys like Gabe Wright who has just came in here and has just been chopping wood, guys like Angelo Blackson who came all the way from Delaware, to Jabrian Niles and the list goes on."
Replacing the gaudy stats of Cam Newton will be no easy task for the Tigers, especially now that Russell Wilson has made the decision to be a Wisconsin Badger, but Chizik believes he has a couple of guys at the quarterback position who can get the job done.
"I've got two really good quarterbacks that have battled it out all spring practice," Chizik said. "We've got a third one in Kiehl (Frazier) that will come into the mix. Again, whatever one of the three gives us the best opportunity to win, that's who's going to be calling the shots on game day."
Lutzenkirchen believes that the guy who makes the fewest mistakes will lead the offense onto the field this season.
"I think that it's going to come down to who gives this team the best opportunity to win and who's going to keep the ball safe and not turn the ball over," Lutzenchirken said.
Auburn will begin their road back to the National Championship on Sept. 3 when they open at home against Utah State.
Jake Martin is a Member of Bleacher Report and a sports writer for the Concordia Sentinel in Ferriday, La. Unless otherwise noted, all quotes were obtained first-hand or from official interview materials from the Concordia Sentinel.