MLB Trade Deadline: Milwaukee Brewers Should Trade to Replace Betancourt
July 19, 2011
Ezra Shaw/Getty Images
For about nine years, Seattle Mariners GM Jack Zduriencik worked in the Milwaukee Brewers' front office as the scouting director. There he was responsible for the drafting and development of the core nucleus of talent for the team, including future All-Stars Prince Fielder, Ryan Braun, Rickie Weeks, Corey Hart and Yovani Gallardo. Even though Zduriencik has long since left the club, he may not be out of ways to help them.
Three years after Zduriencik's departure from the Brew Crew to run the Mariners, those same stars find themselves in the fight of their lives—a four-team race for the NL Central Division. Entering Tuesday, July 19, the Brewers found themselves in a tie with the St. Louis Cardinals for second in the division, half a game back of Pittsburgh and 3.5 games ahead of the Cincinnati Reds.
By clearing out his farm system the past off-season to add right-handed pitchers Zack Greinke and Shaun Marcum, Brewers GM Doug Melvin indicated that the Brewers were all in for 2011. He reaffirmed this do-or-die mentality by trading for Francisco Rodriguez mere minutes after the conclusion of the All-Star game.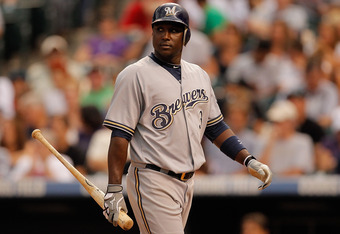 Justin Edmonds/Getty Images
Coming short of a playoff berth this season is not an option for the Milwaukee Brewers. The window is rapidly closing. The time to win is now.
In addition to giving up four prospects, three of whom were Major League ready, to acquire Zack Greinke, Doug Melvin was forced to take on the contract and sheer lineup hole of Yuniesky Betancourt.
Widely regarded as one of, if not the, worst player in all of Major League Baseball, Yuniesky Betancourt has hit just .239 with nine walks in 331 plate appearances. No National League position player has reached base less frequently than Betancourt. No one has even done less to challenge opposing pitchers, as evidenced by Betancourt's league-worst 3.08 pitches per plate appearance and league-high 57.8 swing percentage. That includes swinging at a ridiculous 42 percent of balls outside the zone!
In addition, he grades out as bad-to-terrible with the glove. Among NL shortstops, only Jamey Carroll of the Dodgers has a lower range factor (computed as putouts and assists per nine innings) than Betancourt's 4.00.
Simply put, Doug Melvin has put all his chips on the line but has allowed a nearly automatic out who can't field to save his life play every day for over half the season. To exhaust the poker metaphor, Melvin has gone all-in while discarding one of his cards.
That's where Jack Zduriencik comes into play.
If the Brewers are truly in it to win it in 2011, they have to make a play for Brendan Ryan, the current shortstop of the Seattle Mariners and release Yuniesky Betancourt without looking back.
At this point, you're probably thinking: "Oh okay. So Ryan's probably hitting .304 with 14 homers and gold-glove quality defense or something like that." And you would be one for 3.
Brendan Ryan currently has a .249/.310/.304 line. His OPS is in the bottom 15 of qualifiers. He has yet to homer.
No one is going to mistake him for Jose Reyes with the bat. No one is even going to mistake him for Ryan Theriot. On the other hand, he represents a significant improvement over Yuniesky Betancourt.
His .310 OBP, while awful, projects to an extra twenty times on base over the rest of the season over Betancourt. More significantly, his willingness to take an occasional pitch means that he could help Fielder, Braun, and Weeks in wearing pitchers down rather than giving them consistent one and two pitch outs as Betancourt has.
But the main reason Ryan needs to come to Milwaukee is to solidify a defense that has been poor all season long. Ryan has been as rock solid defensively as Betancourt has been atrocious: his 4.91 range factor ranks fourth among all Major League shortstops. That puts him behind Troy Tulowitzki and not surprisingly, the last two Brewers shortstops, Alcides Escobar and JJ Hardy.
Advanced metrics rate him at +10 zone runs, also fourth among Major League shortstops. Even the much less encompassing fielding percentage statistic ranks him in the top-10 in baseball, well ahead of Betancourt.
The foundation of a good overall defense is a good defense up the middle, and that starts with a rock solid shortstop. The shortstop is the anchor of the infield. He has the potential to make everybody else better and everyone else worse. Ryan has done the former; Betancourt, the latter.
Make no mistake: Brendan Ryan isn't going to make or break this ballclub. There are about 12 players who have a greater capacity to make or break this ballclub and propel them towards their first pennant in 29 years.
But if the first three and a half months of the season have served as any indication, the National League Central is going to be a close race. Everyone thought it was going to be a tight three-way battle before the season even started, and then the Pittsburgh Pirates jumped right into (and are, as of this article, actually leading) the fray. One or two games either way could make the difference between a playoff team and an also-ran.
Consider that Ryan has graded out at +1.8 Wins Above Replacement (WAR) so far this season. That projects to a solid, above-average season (2.0 is considered average for a full season). Yuniesky Betancourt sits at -0.8 WAR, meaning that he has cost this team a win compared to what a typical AAA player could have hypothetically provided (and recall that the Crew is half a game out of first).
Of course, the theoretical "replacement level" player is just that – theoretical. The Brewers don't have a guy like that in their system who could out-perform Betancourt; otherwise, they would have called him up.
That's why Doug Melvin needs to call his old buddy Dr. Z and see what it would take to acquire Ryan.
The Brewers' farm system is, of course, very weak right now, but at the same time, they wouldn't be looking to acquire a marquee, carry-the-team kind of player like they did three years ago when they traded top prospects Matt LaPorta and Michael Brantley to get CC Sabathia.
They're looking to acquire a slightly above-average overall player. The Mariners are rebuilding right now, having lost 100 games a year ago and aren't likely to challenge for the AL West Crown in 2011. Jack Zduriencik is very familiar with Melvin and the Brewers' system and is intimately familiar with his team's own system and potential needs. He knows the Brewers aren't going to trade one of their top prospects for a dependable middle infielder.
The best hope for making this trade happen is that there are low-level prospects still in the system that Zduriencik, who may have originally drafted them to begin with, thinks highly of and wants to bring over to his group to address his system's needs.
If there's a deal that could be done: Melvin can't let it slip away.
Yuniesky Betancourt has hurt his team for long enough.