British Open 2011: The 10 Best Come-from-Behind Wins in Tournament History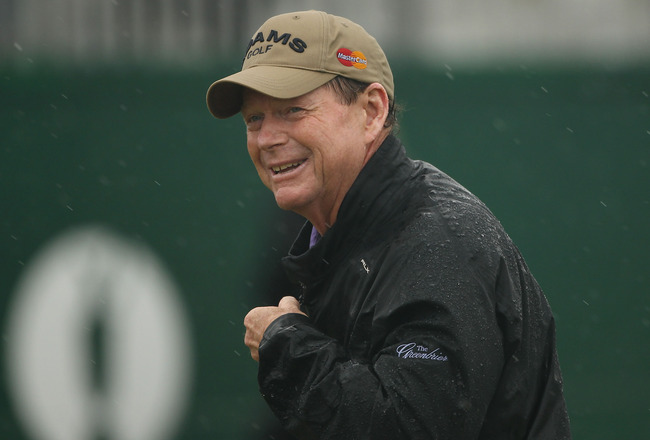 Andrew Redington/Getty Images
We went from a clump at the top to sparse company. There are now only six people under par, clearly less than the U.S. Open. And only one man stands on a lead. This man has no experience with this sort of pressure, as it's his first 54-hole Open Championship lead in his 20 years of Open Championships.
So, what is possible? Well Dustin Johnson is right there, so let your imagination play.
And while it's playing, let's use some of the past comebacks in British Open history to imagine some potential finishes.
1976: Johnny Miller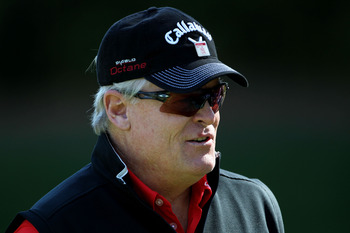 Jamie Squire/Getty Images
In 1976, Johnny Miller was faced with an extremely difficult task. Take Seve Ballesteros' spot at the top of the leaderboard. That was a task that had not been accomplished yet, as Ballesteros led after the conclusion of the first three rounds.
However, Seve slipped up, shooting 74. But, to be honest, it didn't matter. Miller went lights out, shooting 66 in the final round en route to a nine-under total for the tournament, six shots clear of Seve and four clear of him if Seve had shot even.
Miller's final day performance is something that would be wonderful to see replicated, and hopefully someone like Dustin Johnson could do that tomorrow.
1979: Seve Ballesteros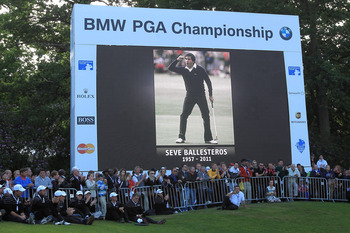 David Cannon/Getty Images
A few years removed from his loss at the hands of Johnny Miller, Seve finally captured his first career major.
He did so by posting a final round of one-under par, making him one-under par for the tournament. He was the only person to be under par, so subsequently Seve took the win.
He entered the final round two shots back of Hale Irwin, but Irwin would shoot seven over and never be a factor. In fact, nobody was enough of a factor, as Seve took home a three-stroke victory over the next closest competitors, Ben Crenshaw and Jack Nicklaus.
1984: Seve Ballesteros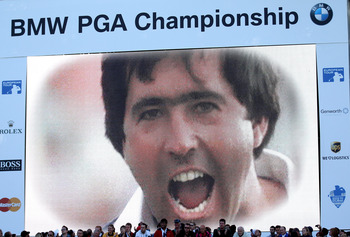 Warren Little/Getty Images
Those Spaniards sure have a taste for the drama. After his first major was won in come-from-behind fashion, Seve decided to make this one memorable as well.
Entering the final round, the top four included Ian Baker-Finch, Tom Watson, Ballesteros and Bernhard Langer. Baker-Finch and Watson held the co-lead, with the latter two strokes back. What happened was a reversal of roles. Seve surged, Watson and Langer held steadier, and Baker-Finch tumbled.
Seve had snatched victory once again from behind.
1989: Mark Calcavecchia
Stuart Franklin/Getty Images
Talk about a comeback of proportions. Down three strokes to Wayner Grady, Calc managed to force a playoff with Grady and Greg Norman. Norman had just sizzled off a round of 64, nearly himself snatching victory.
However, in the playoff, a terrible last hole doomed Norman and Calc set his five iron to six feet, setting his winning putt up on a platter.
1995: John Daly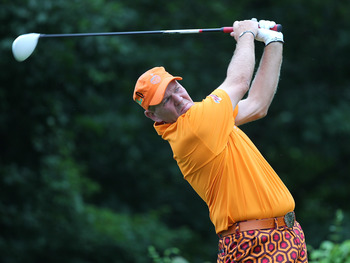 Jim Rogash/Getty Images
This is where the world fell in love with John Daly, a nobody. This is where everything began and, in a way, ended.
John Daly defeated Constantino Rocca after one of the best putts ever hit at St. Andrew's. Daly only went one under, but everyone else in front went over par. From there, the career of John Daly has been either a comedy act or a sob story with some of the in between coming out now.
1997: Justin Leonard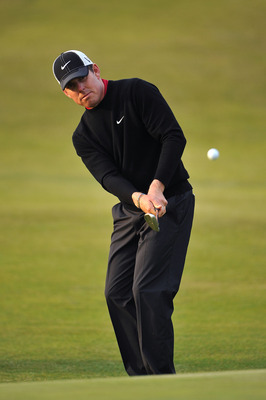 Stuart Franklin/Getty Images
Justin Leonard went huge in this final round. A six-under par final round was more than necessary as Leonard skyrocketed to 12-under par for the tournament, defeating a Jesper Parnevik who would go two over.
Another side note to this noteworthy victory: Darren Clarke shot even par, leaving himself at nine under and finishing in a tie for second. Omen for tomorrow?
1999: Paul Lawrie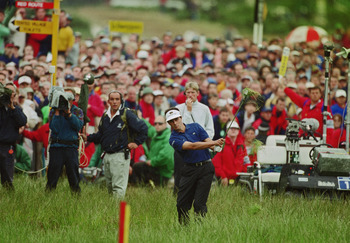 David Cannon/Getty Images
I don't know whether this is a comeback or a meltdown of epic proportions. Jean Van de Velde pulled off the single most famous choke in major history, and in the process also created somewhat of a comeback on Lawrie's part.
Lawrie overcame a 10-stroke deficit and an ensuing playoff against a demoralized Van de Velde and Justin Leonard.
From there, he completed the victory. Lawrie never led the tournament until the final hole, when he finished out and Jean Van de Velde tapped in with the worst feeling in the world.
2007: Padraig Harrington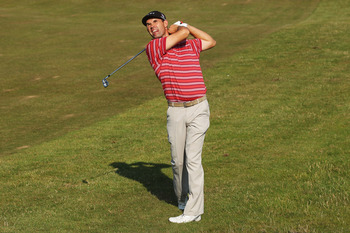 Andrew Redington/Getty Images
In this major, it seemed everything was going right for Sergio Garcia. He had the putting, the swing and a six-stroke lead going into the final round. However, Padraig Harrington wasn't about to let Garcia walk away.
Harrington shot a final-round four under, coupled with Garcia's two over to force a playoff. The video of Garcia's lip out to win is always associated with Garcia's failures, and it won't go away until he changes his fortunes.
2009: Stewart Cink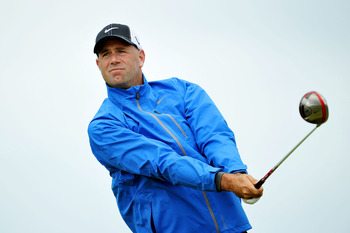 Stuart Franklin/Getty Images
To many people, this was more a disappointment. It's nothing against Cink, one of the game's class acts, but everyone wanted to see old Tom Watson recreate the magic that no American may ever bring to the British Open.
Watson's loss in the playoff broke hearts across the world, however he has made a habit of quality play at the Open, ensuring his place in the hearts of Europeans and Americans alike.
1977: "Duel in the Sun" Tom Watson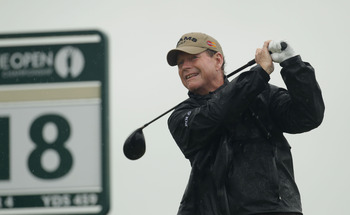 Ross Kinnaird/Getty Images
Not so much a final-round comeback, but Jack and Tom both went low on moving day, setting them up for what was to be one of the best, if not the best, final rounds in a major championship.
However, as the story goes, it was Tom Watson who won this round, defeating Nicklaus by one overall and in the final round.
Keep Reading